Puerto Vallarta, Mexico - What better place to enjoy Restaurant Week 2019 than at Tu Casa en Vallarta? Award-winning Mexican restaurant, No Way José! is offering a scrumptious three course menu for just $466 pesos. Come and enjoy an unforgettable meal that will exceed your expectations.
No Way José! 2019 Restaurant Week Menu
Choose one dish per course for $466 pesos
APPETIZERS
• Wild Mushroom Soup with grasshoppers and epazote
• Eggplant Toast with peppers, radish, hummus and mezcal dressing
• Salmon Salad with vegetables in lemon-fennel vinaigrette
MAIN COURSES
• Fish Mixiote in hoja santa leaf, chile emulsion, beet and limonette mousseline
• Duck Leg and Thigh Confit in Dijon mustard sauce with sweet potato purée
• Beef Picanha in Tempranillo sauce, artichoke hearts and potato spheres
DESSERTS
• Dark and White Chocolate Mousse with red berry sauce
• Symphony of Mexican Sweets in rum sauce
• Churros, Caramel-stuffed with coffee dipping sauce
By providing an array of authentic Mexican cuisine served by the most charming service team in La Zona Romantica, No Way José! has quickly become a must-visit restaurant, especially during Restaurant Week(s)! The Terrace fills up quickly, so reserve your table today by calling 223-2853 or online at NoWayJoseMx.com.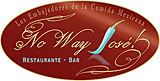 No Way José! is located on the south side of downtown at 5 de Febrero 260, just over the Vallarta street bridge on your left heading south from the Malecón. Open Tuesday-Sunday from 5:00 pm to 11:00 pm. Reservations are recommended and available by calling (322) 223-2853 or online at NoWayJoseMx.com. For more information, visit NoWayJoseMx.com, or join us on Facebook for real-time updates and special offers.

Click HERE to learn more about No Way José!