After almost any vacation, you're going to look a bit more relaxed and refreshed, at least for a few days or weeks. But when you come to Mexico for plastic surgery, you'll be able to enjoy a more attractive, revitalized look that can last for many years to come.
Internationally recognized as a top-notch medical tourism destination, Mexico is an ideal location for vacation surgery. And, with plastic surgery treatments performed by highly trained and board certified medical professionals costing significantly less in Mexico than they do up North, you can enjoy the vacation of your dreams and return home looking, and feeling, better.
Since one of the most appealing things about cosmetic surgery vacations is being able to relax and enjoy yourself while recovering from your treatment, NASHIELLI Plastic Surgery Specialists offer aesthetic and reconstructive plastic surgery procedures in two of Mexico's most popular vacation destinations: Puerto Vallarta and Guadalajara.
Whether you are looking to freshen up your face, breasts, body, or want a combination of restorative procedures, NASHIELLI's team of medical professionals will work with you to determine the perfect balance of your image from an objective, aesthetic, harmonious and healthy point of view, so the final results exceed all of your expectations.
About Doctor Nashielli Torres Espinosa Chiu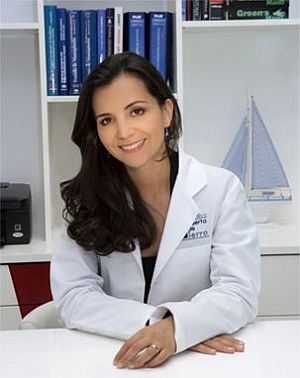 Doctor Nashielli Torres Espinosa Chiu
With a renowned reputation for her expertise, attention to detail, and relaxed and friendly bedside manner, Doctor Nashielli Torres Espinosa Chiu offers personalized surgeries and patient consultations at Hospital San Javier Marina in Puerto Vallarta, as well as in her office in Guadalajara.
Board certified by the Mexican Board of Plastic and Reconstructive Surgery, and a member of the International Society of Aesthetic Plastic Surgeons and the American Society of Plastic Surgeons, Dr. Nashielli Torres has been specializing in facial surgeries as well as body procedures for more than 10 years. (Click HERE for a full list of her medical credentials.)
For those who are looking for a change but are not ready for surgery, Dr. Nashielli offers the latest non-invasive techniques for skin tightening, including HI-FU and Dermapen.
Dr. Nashielli's goal is to provide the most natural results possible to help you look your best but, since your safety always comes first, she insists on pre-op consultations and exams to ascertain that it's safe to proceed with the desired procedure.
Understanding the importance of personalized attention, NASHIELLI Plastic Surgery Center also offers an excellent International Patient Coordinators team that focuses on your specific needs to make your cosmetic surgery vacation in Mexico as comfortable and pleasant as possible.
For more information, call +1 52 (333) 848-5454 or visit
nashielli.com
or
facialplasticsurgerymexico.com.
For a virtual consultation, contact International Patient Coordinator, Lori Payne, at
support(at)nashielli.com.