If shopping is your bag
, Puerto Vallarta is a paradise where you'll always find something to surprise, amaze and delight you. There's no one specific shopping district in the Banderas Bay area . . . you might find what you're looking for in a tiny shop, boutique or art gallery on a back street - or in a large department store at one of the area's modern shopping centers.
On Calles Libertad
, Juarez and Morelos, small shops selling traditional Mexican apparel, folk art, and beachwear juxtapose with art galleries and boutiques offering original art, pottery and designer clothing at prices that are sure to make you "shop 'til you drop." And as far as shopping malls are concerned, Plaza Marina, Plaza Neptuno, Plaza Caracol and Paradise Village are packed with specialty stores selling clothing, jewelry, original art and home decor.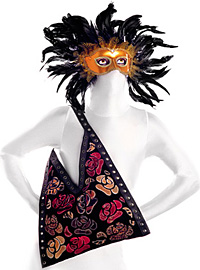 But for many savvy shoppers the real fun
begins when haggling with beach vendors, at street-side stands and in flea markets. Haggling is a common practice in Mexico, and in most cases, if you offer to pay about 40% less than the asking price, you'll end up paying somewhere between the initial amount and your counter offer. The only rule of the game is to maintain mutual respect while wavering between impulse and indifference.
The stalls and kiosks along
Cuale Island, in the Municipal Market and at the Pueblo Viejo Artisans' Market are also popular with visitors on the lookout for vacation souvenirs at bargain prices. The owners of these shops are always ready to bargain, so take an unhurried look around, fall into the temptation and buy, buy, buy!
Shopping in Puerto Vallarta
has a somewhat different focus for residents and long-term visitors than it does for tourists - centering more on every day necessities and all the "must do" chores of daily life. Unlike most other resort destinations, you can find stores and supermarkets all around Banderas Bay that cater to locals rather than tourists.
On almost every street you'll find
stores selling hardware, furniture, kitchenware, appliances, groceries, and just about anything else you can possibly imagine. Most stores stock international brands in addition to regional products at reasonable prices. And, if you just can't find what you're looking for - there's always Home Depot, Costco, Sam's Club or Walmart...
Click HERE to learn more about some of the many art galleries in Puerto Vallarta.
• B E L O W T H E F O L D •
Meet the Mexican Willy Wonka in Puerto Vallarta

Sandra Cesca
The always smiling Jesus, whose nickname is 'Willy Wonka,' and I became friends at least 10 years ago when I started to bring people to one of his family's Puerto Vallarta 'dulcerias' to taste his many yummy products. Caramelized nuts, not chocolate, are his specialty.
---
Ikea Plans to Open First Mexico Store in 2020

Reuters
IKEA, the world's largest furniture seller, will open its first store in Mexico City next year and plans to launch other stores around the country. The Swedish chain known for its modern and inexpensive furnishing designs also plans to sell its products online.
---
Mexico's 'Hot Sale' Offers Online Deals & Discounts

BanderasNews.com
From May 27-31, some of Mexico's largest online retail companies and e-commerce sites will participate in the country's biggest Internet shopping event. The annual 'Hot Sale,' a four-day version of 'Cyber Monday,' offers online shoppers incredible discounts and deals.
---
Discover The Miracle of 'Milagros' in Puerto Vallarta

Sandra Cesca
I was walking by this shop in downtown Puerto Vallarta when I was attracted to the hundreds of wooden shapes hanging on the walls. Turns out they were 'milagros,' which means 'miracles' in Spanish, and they have been used for over 4000 years as a way to express gratitude.
---
Villa Premiere Art Gallery Supports PV Orchestra School

BanderasNews.com
A weekly event whose main objective is to support and promote the culture of Puerto Vallarta, 'Art Gallery by Villa Premiere Boutique Hotel' is an initiative that showcases the work of local artists, while supporting the Orchestra School of Puerto Vallarta.
---
Discovering Indigenous Art in Puerto Vallarta

Sandra Cesca
Mexico has long been known for its talented artists and craftsmen. Some techniques date back hundreds of years. Many shops and galleries in Puerto Vallarta carry these beautiful, handmade pieces, some examples of which can be seen on some of my walking tours.
---
Mexico's Top Corner Stores Tap into Corona, Pacifico

Reuters
Mexican bottler and retailer Femsa will start selling popular national beers, including Corona and Pacifico, at Oxxo stores, Mexico's biggest convenience store chain in April. Sales will begin in Mexico City and Guadalajara and spread to stores nationwide by the end of 2022.
---
Montreal Artists Exhibit Opens March 8 at Galleria Dante

Claire Guarniere
Exhibitions by Montreal artists Yvan Genest and Jean-Gabriel Lambert open at Galleria Dante on Friday, March 8, as part of the South Side Shuffle. Stop by Puerto Vallarta's largest and most eclectic art gallery to meet the artists and enjoy complimentary cocktails from 6:00-10:00 pm.
---
'Artists for Orphans' Fundraiser at The River Café

Bill Makley
Artists from across the Banderas Bay region are coming together to support Puerto Vallarta's Corazón de Nińa children's home in an 'Artists for Orphans' fundraiser to be held on Saturday, March 9th from 1-4 pm, at The River Café on La Isla Rio Cuale in El Centro.
---
June Rosen Lopez Valentine's Jewelry Party, Feb 9 & 10

BanderasNews.com
Looking for the perfect Valentine's Day gift? June Rosen Lopez is hosting her annual Valentine's jewelry party on Feb 9 and 10 from 1-7 pm at her home gallery in Puerto Vallarta's Romantic Zone. Everyone is invited to stop by to see her new collection and maybe find a gift or two.
---
Art Exhibition by Angeline Kyba Opens February 7

BanderasNews.com
Don't miss the opening reception of Angeline Kyba's newest art works on Thursday, February 7, from 6-9 pm. Everyone is invited to come to the artist's home studio in downtown Puerto Vallarta to celebrate the opening of the exhibition, which features 40 + oil paintings.
---
Champagne Brunch & Fashion Show to Benefit SPCA de PV

Janice Gonzalez
SPCA de PV is pleased to announce our upcoming 'Beauty and the Beast' fundraiser on Tuesday, February 19. Make plans now to join us for a delicious champagne brunch and Spring fashion show, featuring local designers, in The Iguana Restaurant & Tequila Bar in Casa Kimberly.
---
Daiquiri Dick's Does Brunch With PuRR-fect Style

Banderas News Team
On Tuesday, January 29, Daiquiri Dick's Restaurant is hosting an elegant brunch and fashion show to benefit PuRR Project, a non-profit feline shelter in Puerto Vallarta. Join us for a 3-course brunch with mimosas, original fashions and jewelry, and a raffle for fabulous prizes.
---
Marijuana-based Products Coming to Mexico Drugstores

El Financiero
Marijuana-based products will reach the Mexican market this year, with the first batch of CBD 'gummies' arriving on shelves by the end of this month. CBD, or cannabidiol, is an extract used for the relief of pain and nervous system imbalances, like anxiety, stress and depression.
---
Los Mangos Library 19th Annual Art Auction, January 24

Lorena Sonrisas
Get ready folks! It's time for the yearly 'Subasta de Arte' at Puerto Vallarta's Public Library, Biblioteca Los Mangos. Set to take place on January 24 from 6:00 to 10:00 pm, this will be the 19th annual art auction & sale - and the library's biggest fund raising event of the year.
---
Two Artist Exhibit Opens at Galleria Dante this Friday

Gena Guarniere
Exhibits by artists Jean Jaques Hudon and Gerald Gallant open at Galleria Dante on Friday, November 30, as part of this week's South Side Shuffle. Stop by Puerto Vallarta's largest and most eclectic art gallery to meet the artists and enjoy complimentary cocktails from 6-10 pm.
---
BP Opens First Convenience Store & Café in Jalisco

Mexico News Daily
British oil and gas company BP continues its expansion in Mexico with the opening of its first ToGo convenience store in Guadalajara, where it also introduced its Wild Bean Café to customers as part of a strategy to transform the concept of service stations in Mexico.
---
Season's First South Side Shuffle at Galleria Dante

Claire Guarniere
Exhibitions by artists Eva Mondragon and Luc Gauthier open at Galleria Dante November 16 as part of the first South Side Shuffle of the season. Stop by Vallarta's largest and most eclectic art gallery to meet the artists and enjoy complimentary cocktails from 6-10 pm.
---
Marina Vallarta Art & Market Every Thursday

Lorena Sonrisas
The Marina Vallarta Art & Market runs every Thursday from 6-10 pm through May 30, 2019. Shoppers will find art & jewelery, organic foods & homemade breads, clothes & handicrafts, among many other wonderful things while enjoying live music in a festive atmosphere.
---
Thor Goes Loco in Mexico, Opening 3 Retail Centers

Chain Store Age
Within the span of little more than a month, Thor Equities will have opened retail centers with more than 5 million buildable sq. ft. in Mexico. The developer opened The Harbor Merida on Oct. 19, Town Square Metepec opens Nov. 9, and The Landmark Guadalajara is set to open Nov. 22.
---
Troubles with Technology? PVTEC Has Your Back!

BanderasNews.com
PV Technology Solutions is a specialized MAC and PC computer repair and accessory shop in the Romantic Zone of Puerto Vallarta that offers a wide variety of services, from computer and mobile device repairs and tutoring, to networking, drone videos and photo and video editing.
---
November 10 Garage Sale to Benefit PuRR Project

Marilyn Khan
PuRR Project's Fall Garage Sale will be held in Marina Vallarta on Saturday, November 10, 2018 from 8 am-3 pm. All proceeds will benefit the 200+ furry residents at Puerto Vallarta's non-profit, no-kill, feline shelter. It's been a long, hot, wet summer and the coffers need replenishment.
---
In Mexico, E-commerce Comes to the Corner Store

pri.org
With more than 17,000 locations, you can't go far in Mexico without seeing an Oxxo store. And now, Mexico's largest convenience store chain has cracked two of the biggest barriers to online shopping - payments and pickup - in a country where traditional bank accounts are shunned by many.
---
Mercurio Swim Launches on Puerto Vallarta's South Side

BanderasNews.com
Paul Crist, owner of Hotel Mercurio since 2002, and fashion designer Todd Barnes announce the launch of Mercurio Swim, men's swimwear. The swimwear line is available at their new boutique and atelier at Lazaro Cardenas 279-C on the south side of Puerto Vallarta.
---