If shopping is your bag
, Puerto Vallarta is a paradise where you'll always find something to surprise, amaze and delight you. There's no one specific shopping district in the Banderas Bay area . . . you might find what you're looking for in a tiny shop, boutique or art gallery on a back street - or in a large department store at one of the area's modern shopping centers.
On Calles Libertad
, Juarez and Morelos, small shops selling traditional Mexican apparel, folk art, and beachwear juxtapose with art galleries and boutiques offering original art, pottery and designer clothing at prices that are sure to make you "shop 'til you drop." And as far as shopping malls are concerned, Plaza Marina, Plaza Neptuno, Plaza Caracol and Paradise Village are packed with specialty stores selling clothing, jewelry, original art and home decor.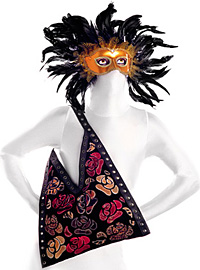 But for many savvy shoppers the real fun
begins when haggling with beach vendors, at street-side stands and in flea markets. Haggling is a common practice in Mexico, and in most cases, if you offer to pay about 40% less than the asking price, you'll end up paying somewhere between the initial amount and your counter offer. The only rule of the game is to maintain mutual respect while wavering between impulse and indifference.
The stalls and kiosks along
Cuale Island, in the Municipal Market and at the Pueblo Viejo Artisans' Market are also popular with visitors on the lookout for vacation souvenirs at bargain prices. The owners of these shops are always ready to bargain, so take an unhurried look around, fall into the temptation and buy, buy, buy!
Shopping in Puerto Vallarta
has a somewhat different focus for residents and long-term visitors than it does for tourists - centering more on every day necessities and all the "must do" chores of daily life. Unlike most other resort destinations, you can find stores and supermarkets all around Banderas Bay that cater to locals rather than tourists.
On almost every street you'll find
stores selling hardware, furniture, kitchenware, appliances, groceries, and just about anything else you can possibly imagine. Most stores stock international brands in addition to regional products at reasonable prices. And, if you just can't find what you're looking for - there's always Home Depot, Costco, Sam's Club or Walmart...
Click HERE to learn more about some of the many art galleries in Puerto Vallarta.
• B E L O W T H E F O L D •
Walmart Opens $42M Distribution Center in Chihuahua
Freight Waves
Walmart recently opened a new omnichannel distribution center in Ciudad Chihuahua, aimed at strengthening its supply chain network in northern Mexico. The $42 million facility currently employs 700 workers and could eventually create 1,800 jobs.
---
Aguascalientes Artisan Paola Rangel is Corazón Vallarta
Sandra Cesca
Shortly after I moved here in 2008, I happened on a woman selling whimsical paintings of hearts as I strolled along the Malecón, Puerto Vallarta's boardwalk along the ocean. Her name was Paola and she had moved here in 2003 from Aguascalientes looking for a new opportunity.
---
Puerto Vallarta News Brief and Local Information
Banderas News Team
With the COVID-19 pandemic dominating the world's news and social media channels, it can be difficult to find out what's happening in Puerto Vallarta and around Banderas Bay, so here's a look at some of the latest local news and headlines.
---
Organic Select Expands to Better Serve Puerto Vallarta
Claire Makley
The Organic Select store, bakery, and restaurant has been a mainstay in Vallarta for 8 years. Recently, owners Krystal Frost and Ana Rios announced an expansion of operations to serve a broader clientele with more offerings and greater variety, under the name Versalles Market by Organic Select.
---
Tequilas Cheap Enough to Mix, Smooth Enough to Shoot
uproxx.com
The great thing about good tequila is that it doesn't have to cost a small fortune. There's a nice range to choose from at $19-39 per bottle - each offering smooth drinkability. Here we list ten that work as both a tasty shooter and a solid cocktail base.
---
September News from Galleria Dante and Di Vino Dante
Claire Guarniere
September news from Galleria Dante, the largest and most eclectic art gallery in Puerto Vallarta, and Di Vino Dante, a chic wine and tapas bar overlooking the gallery's sculpture garden. Read all about the gallery and restaurant's newly renovated spaces, new hours and more.
---
Choosing Mexican Floor Tiles for Your Home in Vallarta
Tropicasa Realty
While there are many modern properties on the Puerto Vallarta real estate market, some buyers are drawn to a more traditional Mexican home. One of the hallmarks of this design is floors made from Mexican tiles, which come in a variety of colors, patterns and styles.
---
Pandemic Rapidly Accelerating E-commerce in Mexico
FreightWaves.com
COVID-19 has significantly altered consumer shopping patterns across Mexico, according to industry insiders. Mexico's largest e-commerce platforms - WalMart, Amazon and Mercado Libre - all reported gains in users and revenue during the second quarter of 2020.
---
'The Dog Lady of Mexico' Book is Based on a True Story
BanderasNews.com
Already a best seller on Amazon, 'The Dog Lady of Mexico: A Heartwarming Journey into Animal Rescue' transforms Alison Sawyer Current's heroic, real-life efforts to save the neglected and starving dogs and cats of Isla Mujeres, Mexico, into an inspiring and moving story.
---
Mercado Libre to Invest $27.1 Million USD in Jalisco
Contxto
Mercado Libre plans to disperse $27.1 million of its $420 million USD investment in Mexico for a new warehouse and distribution center in the state of Jalisco. The project will lead to creating 3,500 direct jobs at a time when unemployment is rising.
---