If shopping is your bag
, Puerto Vallarta is a paradise where you'll always find something to surprise, amaze and delight you. There's no one specific shopping district in the Banderas Bay area . . . you might find what you're looking for in a tiny shop, boutique or art gallery on a back street - or in a large department store at one of the area's modern shopping centers.
On Calles Libertad
, Juarez and Morelos, small shops selling traditional Mexican apparel, folk art, and beachwear juxtapose with art galleries and boutiques offering original art, pottery and designer clothing at prices that are sure to make you "shop 'til you drop." And as far as shopping malls are concerned, Plaza Marina, Plaza Neptuno, Plaza Caracol and Paradise Village are packed with specialty stores selling clothing, jewelry, original art and home decor.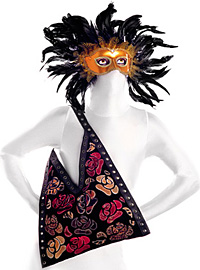 But for many savvy shoppers the real fun
begins when haggling with beach vendors, at street-side stands and in flea markets. Haggling is a common practice in Mexico, and in most cases, if you offer to pay about 40% less than the asking price, you'll end up paying somewhere between the initial amount and your counter offer. The only rule of the game is to maintain mutual respect while wavering between impulse and indifference.
The stalls and kiosks along
Cuale Island, in the Municipal Market and at the Pueblo Viejo Artisans' Market are also popular with visitors on the lookout for vacation souvenirs at bargain prices. The owners of these shops are always ready to bargain, so take an unhurried look around, fall into the temptation and buy, buy, buy!
Shopping in Puerto Vallarta
has a somewhat different focus for residents and long-term visitors than it does for tourists - centering more on every day necessities and all the "must do" chores of daily life. Unlike most other resort destinations, you can find stores and supermarkets all around Banderas Bay that cater to locals rather than tourists.
On almost every street you'll find
stores selling hardware, furniture, kitchenware, appliances, groceries, and just about anything else you can possibly imagine. Most stores stock international brands in addition to regional products at reasonable prices. And, if you just can't find what you're looking for - there's always Home Depot, Costco, Sam's Club or Walmart...
Click HERE to learn more about some of the many art galleries in Puerto Vallarta.
• B E L O W T H E F O L D •
February FUNdraisers for R.I.S.E. Children's Shelter
Lisa Manoogian
Last weekend's bazaar was a huge success. Thank you, Puerto Vallarta, for supporting the children at Refugio Infantil Santa Esperanza! February will be fantastic, with two fun events planned: the Int'l Food Festival at Fidencio's and the RISE for Fashion luncheon at Di Vino Dante.
---
Exploring the Saturday Market on Vallarta's Libramiento
Paco Ojeda
Several open air markets take place in Puerto Vallarta on different days of the week, but perhaps the most noticeable is the Saturday tianguis that takes place along the Libramiento. It may not look like much as you are driving by, but the tianguis extends around an entire block.
---
Online Auction Benefits PV's Mobile Spay/Neuter Clinic
Gretchen DeWitt
PEACEAnimals is raising money for the continuation of free mobile spay/neuter clinics in Puerto Vallarta via an online auction. Approximately 50 items are being auctioned off, from art and collectibles to gift certificates for hotels, restaurants, tours and salon services.
---
Street Bazaar to Benefit R.I.S.E. This Weekend
Lisa Manoogian
RISE is on the RISE - come out to our first Bazaar and support the children at Refugio Infantil Santa Esperanza. The Bazaar will be held on Lazaro Cardenas street, across from 'Tony's Please' restaurant on the south side of Puerto Vallarta, Jan 18 & 19 from 10 am-2 pm.
---
20th Annual Angeline Kyba Art Exhibition Opens Feb. 6
BanderasNews.com
Don't miss the opening reception of Angeline Kyba's newest art works on Thursday, February 6, from 6-9 pm. Everyone is invited to come to the artist's home studio in downtown Puerto Vallarta to celebrate the opening of the exhibition, which will feature 20 + oil paintings.
---
Mexico City Goes Back to the Future with Plastic Bag Ban
Reuters
Mexico City's government last week banned single-use plastic bags to complement worldwide efforts to protect the environment. The ban that began Jan 1 prohibits the sale or distribution of the bags pervasive everywhere from Walmart to corner shops.
---
Patrón Sells Bottles of Top Shelf Tequila for $7,500
Business Insider
Patrón is synonymous with tequila, but the premium brand's starting price tag may be difficult for many to swallow. A bottle of Patrón Silver costs $50, and a top-shelf handmade crystal bottle of Patrón en Lalique Serie 2 costs $7,500 USD.
---
Poinsettias, Ornaments Among Mexico's Holiday Exports
Freight Waves
The Christmas trade is big business in Mexico. While Christmas-related goods represent only a fraction of Mexico's $346.5 billion in total exports to the US, the nation's poinsettia exports totaled around $15.9 million in 2019, while ornaments generate $3 to $4.5 million annually.
---
Efren Gonzalez Exhibit Opens Dec. 27 at Galleria Dante
Michaela Flores
On Friday, December 27 from 6-10 pm, a cocktail reception will open an art exhibition by Mexican artist Efren Gonzalez at Galleria Dante, Basilio Badillo #269, in Puerto Vallarta's Romantic Zone. Be sure to stop by and meet him while you're out doing the South Side Shuffle.
---
The Living Room Bookstore Opens in Marina Vallarta
Paco Ojeda
The Living Room Bookstore & Café has recently opened in Marina Vallarta, offering Puerto Vallarta residents in general and those living in that neighborhood, in particular, a new source of new and gently used English language books. It also has a dedicated children's bookstore!
---