If shopping is your bag
, Puerto Vallarta is a paradise where you'll always find something to surprise, amaze and delight you. There's no one specific shopping district in the Banderas Bay area . . . you might find what you're looking for in a tiny shop, boutique or art gallery on a back street - or in a large department store at one of the area's modern shopping centers.
On Calles Libertad
, Juarez and Morelos, small shops selling traditional Mexican apparel, folk art, and beachwear juxtapose with art galleries and boutiques offering original art, pottery and designer clothing at prices that are sure to make you "shop 'til you drop." And as far as shopping malls are concerned, Plaza Marina, Plaza Neptuno, Plaza Caracol and Paradise Village are packed with specialty stores selling clothing, jewelry, original art and home decor.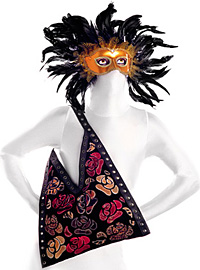 But for many savvy shoppers the real fun
begins when haggling with beach vendors, at street-side stands and in flea markets. Haggling is a common practice in Mexico, and in most cases, if you offer to pay about 40% less than the asking price, you'll end up paying somewhere between the initial amount and your counter offer. The only rule of the game is to maintain mutual respect while wavering between impulse and indifference.
The stalls and kiosks along
Cuale Island, in the Municipal Market and at the Pueblo Viejo Artisans' Market are also popular with visitors on the lookout for vacation souvenirs at bargain prices. The owners of these shops are always ready to bargain, so take an unhurried look around, fall into the temptation and buy, buy, buy!
Shopping in Puerto Vallarta
has a somewhat different focus for residents and long-term visitors than it does for tourists - centering more on every day necessities and all the "must do" chores of daily life. Unlike most other resort destinations, you can find stores and supermarkets all around Banderas Bay that cater to locals rather than tourists.
On almost every street you'll find
stores selling hardware, furniture, kitchenware, appliances, groceries, and just about anything else you can possibly imagine. Most stores stock international brands in addition to regional products at reasonable prices. And, if you just can't find what you're looking for - there's always Home Depot, Costco, Sam's Club or Walmart...
Click HERE to learn more about some of the many art galleries in Puerto Vallarta.
• B E L O W T H E F O L D •
CRATE Interiors: The Gift that Awakens all Five Senses
BanderasNews.com
Now more than ever CRATE Interiors finds friends, family and clients making heart-felt decisions about what's truly important to those we love. Whether you enjoy your Vallarta home for a week, a month or forever, CRATE's turn-key interior décor service is the gift that awakens all five senses.
---
Be Sure to Count Your Change in Puerto Vallarta Stores
Adam Garcia
Recently we heard about a disgruntled tourist in Puerto Vallarta who was unhappy after being short-changed at a convenience store. Seems the wife sent him for avocados, beer and water with a $500 peso note, and he came back with $50. Sometimes things just don't add up and this was one of those times.
---
Delivering Valentine's Day Romance in Puerto Vallarta
Tropicasa Realty
These last months, as we have been sequestered at home with our loved ones, we've found that spending so much together sometimes makes loving them a little challenging. But that is all the more reason to do something extra special and romantic for Valentine's Day in Vallarta.
---
Setting Up My Business in Vallarta was the Right Choice
BanderasNews.com
Solopreneur Nicolas Tranchant shares the story of how he and his wife came to live in Puerto Vallarta, where he started Viva Latina, a jewelry workshop that hires local talent to make custom-made jewelry from gold, silver, organic materials and precious stones that is sold via his website.
---
The Daiquiri Dick's Kitchen Workbook is Now on Sale
Marie Callan
Don't feel like going out to dinner? Now you can create your favorite Daiquiri Dick's dishes in the comfort of your own home. This popular Puerto Vallarta restaurant shares over 100 recipes in 'Sand in Your Shoes, The Daiquiri Dick's Kitchen Workbook,' which is on sale now for just 150 pesos.
---
Shining Sprouts at Banderas Bay Area Farmers' Markets
Sandra Cesca
Sprouts are loaded with nutrition and are easy to grow. If you'd rather not grow your own, stop in one of the Farmers' Markets around Banderas Bay and buy your weekly supply from Fabiola and Roberto. They have been growing sprouts in their Puerto Vallarta home and selling them at the market for over 10 years.
---
Making Hand-Blown Glass Ornaments in Chignahuapan
YourCulturalInsider.com
The town of Chignahuapan, in the state of Puebla, is known for its traditional artisanry. In particular, the making of blown glass Christmas ornaments at some 200 workshops, which has earned this Magic Town the moniker of the 'Christmas spheres capital of Mexico.'
---
CRATE Interiors Celebrates a Year of Home and Heart
BanderasNews.com
Incredibly we are at the end of a most unforgettable year. And what defines these past months more than anything else is the shared desire to celebrate home and heart with a community of like-minded visionaries. That's why buying Puerto Vallarta real estate is a CRATE Idea!
---
Uber will Soon Offer Grocery Delivery Service in Mexico
BanderasNews.com
Mexico's Federal Economic Competition Commission on Monday gave Uber Technologies Inc. the green light to acquire a majority stake in grocery delivery service Cornershop. Uber is looking at grocery delivery as a way to grow as more people stay home during the pandemic.
---
Holiday Shopping with Puerto Vallarta Walking Tours
Sandra Cesca
Looking for something different to give to family or friends this holiday season? Shoppers on the lookout for unique Christmas gifts are in luck! Puerto Vallarta Walking Tours offers two fun ways to give everyone on your shopping list something special.
---