If shopping is your bag
, Puerto Vallarta is a paradise where you'll always find something to surprise, amaze and delight you. There's no one specific shopping district in the Banderas Bay area . . . you might find what you're looking for in a tiny shop, boutique or art gallery on a back street - or in a large department store at one of the area's modern shopping centers.
On Calles Libertad
, Juarez and Morelos, small shops selling traditional Mexican apparel, folk art, and beachwear juxtapose with art galleries and boutiques offering original art, pottery and designer clothing at prices that are sure to make you "shop 'til you drop." And as far as shopping malls are concerned, Plaza Marina, Plaza Neptuno, Plaza Caracol and Paradise Village are packed with specialty stores selling clothing, jewelry, original art and home decor.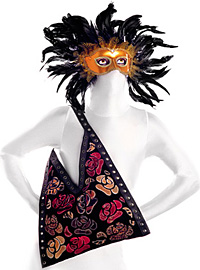 But for many savvy shoppers the real fun
begins when haggling with beach vendors, at street-side stands and in flea markets. Haggling is a common practice in Mexico, and in most cases, if you offer to pay about 40% less than the asking price, you'll end up paying somewhere between the initial amount and your counter offer. The only rule of the game is to maintain mutual respect while wavering between impulse and indifference.
The stalls and kiosks along
Cuale Island, in the Municipal Market and at the Pueblo Viejo Artisans' Market are also popular with visitors on the lookout for vacation souvenirs at bargain prices. The owners of these shops are always ready to bargain, so take an unhurried look around, fall into the temptation and buy, buy, buy!
Shopping in Puerto Vallarta
has a somewhat different focus for residents and long-term visitors than it does for tourists - centering more on every day necessities and all the "must do" chores of daily life. Unlike most other resort destinations, you can find stores and supermarkets all around Banderas Bay that cater to locals rather than tourists.
On almost every street you'll find
stores selling hardware, furniture, kitchenware, appliances, groceries, and just about anything else you can possibly imagine. Most stores stock international brands in addition to regional products at reasonable prices. And, if you just can't find what you're looking for - there's always Home Depot, Costco, Sam's Club or Walmart...
Click HERE to learn more about some of the many art galleries in Puerto Vallarta.
• B E L O W T H E F O L D •
Oscar Zamarripa Opens at Galleria Dante December 13
Gena Guarniere
On Friday, December 13 from 6-10 pm, as part of the South Side Shuffle, a cocktail reception will open an art exhibit featuring the works of Guadalajara artist Oscar Zamarripa at Puerto Vallarta's largest and most eclectic fine art gallery, Galleria Dante.
---
DIF Vallarta Toy Drive: 'Donate a Toy, a Gift of Love'
María Francesca
'Tis the season of giving, and with Christmas just around the corner, the Puerto Vallarta System for Integral Family Development, could use your help in bringing a little joy to disadvantaged children. DIF president Candelaria Tovar Davalos invites everyone to 'Donate a toy, a gift of love.'
---
Season's First South Side Shuffle Expo at Galleria Dante
Claire Guarniere
An art exhibition by Guadalajara artist Luis Castellanos Valui opens at Galleria Dante November 29 as part of the first South Side Shuffle of the season. Stop by Vallarta's largest and most eclectic art gallery to meet the artists and enjoy complimentary cocktails from 6-10 pm.
---
Mixtli Christmas FUNdraiser for Vallarta Orphanages
Gabrielle Tenney Ibarra
Mark your calendar for December 6, so you won't miss Mixtli's 2nd annual Christmas Party for Charity. You'll enjoy live music, food, drink and a silent auction with lots of great products and prizes. All proceeds will be used to spread Christmas cheer in Puerto Vallarta orphanages.
---
OPC Pop-Up Store to Feature Puerto Vallarta Designers
Marie Callan
On Friday, November 22, the Oficina de Proyectos Culturales will present 'Llévele!' - a special event and Pop-Up Store that gives Puerto Vallarta residents and visitors the opportunity to buy art, clothing, accessories and jewelry made by some of the city's best artists and designers.
---
Shopping for Talavera Pottery in Puerto Vallarta, Mexico
Sandra Cesca
Blue & white pottery has always been a favorite of mine since my grandmother gave me a small pitcher from Italy. So, imagine my joy when I discovered Señor Talavera, a local shop operated by Moises Jimenez. His is one of four Talavera shops that I know of in Puerto Vallarta.
---
Thursday Shopping at the Marina Vallarta Art & Market
Lorena Sonrisas
Shoppers will find art & jewelery, organic foods & homemade breads, clothes & handicrafts, and many other wonderful things, every Thursday from 6-10 pm at the Marina Vallarta Art & Market. Live music and dance performances add to the festive atmosphere.
---
Making Old Vallarta New Again: Casita Epoca a Must See
Debra Stevenson Peganyee
CRATE Interiors and Timothy Real Estate Group are hosting an Open House at Casita Epoca, a newly revitalized and stylishly re-furnished two bedrooms, two bath, Hacienda-style home in the Alta Vista neighborhood of Puerto Vallarta, on Saturday, November 9, from 5-8 pm.
---
Dwayne 'The Rock' Johnson Launches Teremana Tequila
Black Enterprise
Dwayne 'The Rock' Johnson is the latest celebrity to launch a tequila brand - Teremana Tequila. Few details have been released prior to, or even following Johnson's announcement of the spirit's name, but thirsty fans can expect to get their hands on a bottle beginning in early 2020.
---
Starving Artists' Pop-up Gallery at Nacho Daddy Nov. 15
Banderas News Team
The next Starving Artists' Traveling Pop-up Gallery will be on Friday, November 15 from 2-5 pm at Nacho Daddy Restaurant & Sports Bar on the south side of Puerto Vallarta. Come meet local artists and browse through the many types of art and crafts they'll have for sale.
---