If shopping is your bag
, Puerto Vallarta is a paradise where you'll always find something to surprise, amaze and delight you. There's no one specific shopping district in the Banderas Bay area . . . you might find what you're looking for in a tiny shop, boutique or art gallery on a back street - or in a large department store at one of the area's modern shopping centers.
On Calles Libertad
, Juarez and Morelos, small shops selling traditional Mexican apparel, folk art, and beachwear juxtapose with art galleries and boutiques offering original art, pottery and designer clothing at prices that are sure to make you "shop 'til you drop." And as far as shopping malls are concerned, Plaza Marina, Plaza Neptuno, Plaza Caracol and Paradise Village are packed with specialty stores selling clothing, jewelry, original art and home decor.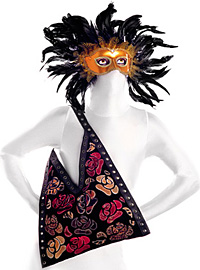 But for many savvy shoppers the real fun
begins when haggling with beach vendors, at street-side stands and in flea markets. Haggling is a common practice in Mexico, and in most cases, if you offer to pay about 40% less than the asking price, you'll end up paying somewhere between the initial amount and your counter offer. The only rule of the game is to maintain mutual respect while wavering between impulse and indifference.
The stalls and kiosks along
Cuale Island, in the Municipal Market and at the Pueblo Viejo Artisans' Market are also popular with visitors on the lookout for vacation souvenirs at bargain prices. The owners of these shops are always ready to bargain, so take an unhurried look around, fall into the temptation and buy, buy, buy!
Shopping in Puerto Vallarta
has a somewhat different focus for residents and long-term visitors than it does for tourists - centering more on every day necessities and all the "must do" chores of daily life. Unlike most other resort destinations, you can find stores and supermarkets all around Banderas Bay that cater to locals rather than tourists.
On almost every street you'll find
stores selling hardware, furniture, kitchenware, appliances, groceries, and just about anything else you can possibly imagine. Most stores stock international brands in addition to regional products at reasonable prices. And, if you just can't find what you're looking for - there's always Home Depot, Costco, Sam's Club or Walmart...
Click HERE to learn more about some of the many art galleries in Puerto Vallarta.
• B E L O W T H E F O L D •
Online Auction Supports Nutrients for Natives in Mexico
Dr. Leslie Korn
The CWIS Center for Traditional Medicine, which has provided free health care to Indigenous peoples in Cabo Corrientes, Mexico, for over 40 years, has organized an online auction to help carry out their mission. Up for bid are unique items that make great holiday gifts.
---
Three Popular Puerto Vallarta Walking Tours Resume
BanderasNews.com
Puerto Vallarta Walking Tours owner, operator and tour guide, Sandra Cesca, recently announced that three of her most popular walks have resumed, with your safety in mind. These private tours allow small groups to learn more about this fascinating town and the Mexican culture.
---
Mercado Libre Invests $1B in Mexico Logistics Network
Entrepreneur
Mercado Libre announced an investment of one billion pesos to create its own logistics network that allows it to reach the entire Mexican territory in 24 hours. The platform's network will feature yellow planes and vans, as well as new distribution centers to cover the entire country.
---
Mexico Extends El Buen Fin 2020 Sales Event to 12 Days
BanderasNews.com
More than 60,000 retailers throughout Mexico will be offering discounts from November 9-20 during El Buen Fin, a nationwide shopping event inspired by Black Friday. Over these 12 days, special promotions, including extended credit terms, will be offered in physical and online stores.
---
It's All in the Details: CRATE Designs Dream Rentals
Debra Stevenson Peganyee
Imagine walking into your new Puerto Vallarta vacation home or rental property to find everything in it's place, totally move-in ready? From furnishings to accessories, bedding, kitchen and tabletop items stocked and staged for your arrival... now that's a CRATE idea!
---
Farmers Markets are Opening in the Riviera Nayarit
Norma Hernández
Shopping will be an exciting experience from November through April, thanks to the reopening of traditional outdoor markets in coastal towns along the Riviera Nayarit, where local vendors are offering organic & artisanal products with all safety measures in place.
---
Uncork Mexico: a Boutique Wine Shop in Puerto Vallarta
Sandra Cesca
Wine tastings have always attracted me ever since I lived near Napa Valley, California, one of the meccas of American Wineries. So, after I moved to Puerto Vallarta, I was happy to hear about Uncork Mexico, a boutique wine business run by two very knowledgeable women.
---
Christie's Art Auction Features Works by Diego Rivera
BanderasNews.com
Christie's, the world's leading auction house, announces the fall season of Latin American Art with a live auction taking place Nov. 13 and an online auction running from Nov. 6-18. Art works up for bid include masterpieces by Diego Rivera, Rufino Tamayo and Francisco Toledo.
---
Design Week Mexico Aims to Unite in Divisive Times
Architectural Digest
The twelfth edition of Design Week Mexico (DWM), under the motto: Design is the answer, continues through October 31. While certain aspects of DWM can only be seen firsthand in Mexico City, organizers continue working to digitize the event experience for your enjoyment.
---
Apple May be Launching Apple Pay in Mexico Very Soon
Apple Insider
While neither Apple Inc. nor any Mexican financial institutions have made an official announcement, a new page on Apple's Mexico website details Apple Pay, suggesting that the country is finally about to get the mobile payment system.
---