If shopping is your bag
, Puerto Vallarta is a paradise where you'll always find something to surprise, amaze and delight you. There's no one specific shopping district in the Banderas Bay area . . . you might find what you're looking for in a tiny shop, boutique or art gallery on a back street - or in a large department store at one of the area's modern shopping centers.
On Calles Libertad
, Juarez and Morelos, small shops selling traditional Mexican apparel, folk art, and beachwear juxtapose with art galleries and boutiques offering original art, pottery and designer clothing at prices that are sure to make you "shop 'til you drop." And as far as shopping malls are concerned, Plaza Marina, Plaza Neptuno, Plaza Caracol and Paradise Village are packed with specialty stores selling clothing, jewelry, original art and home decor.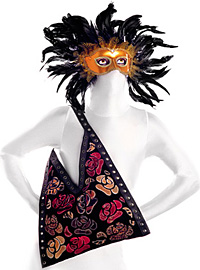 But for many savvy shoppers the real fun
begins when haggling with beach vendors, at street-side stands and in flea markets. Haggling is a common practice in Mexico, and in most cases, if you offer to pay about 40% less than the asking price, you'll end up paying somewhere between the initial amount and your counter offer. The only rule of the game is to maintain mutual respect while wavering between impulse and indifference.
The stalls and kiosks along
Cuale Island, in the Municipal Market and at the Pueblo Viejo Artisans' Market are also popular with visitors on the lookout for vacation souvenirs at bargain prices. The owners of these shops are always ready to bargain, so take an unhurried look around, fall into the temptation and buy, buy, buy!
Shopping in Puerto Vallarta
has a somewhat different focus for residents and long-term visitors than it does for tourists - centering more on every day necessities and all the "must do" chores of daily life. Unlike most other resort destinations, you can find stores and supermarkets all around Banderas Bay that cater to locals rather than tourists.
On almost every street you'll find
stores selling hardware, furniture, kitchenware, appliances, groceries, and just about anything else you can possibly imagine. Most stores stock international brands in addition to regional products at reasonable prices. And, if you just can't find what you're looking for - there's always Home Depot, Costco, Sam's Club or Walmart...
Click HERE to learn more about some of the many art galleries in Puerto Vallarta.
• B E L O W T H E F O L D •
Handmade Tortillas at Vallarta's Mercado Los Mangos

Adriana Garcia
Mercado Los Mangos will be open this Saturday for another day of sunshine, community and locally produced artisan products. Choose from honey, yogurt, fermented foods, sauces and dips, sweet and savory baked goods, and this week's featured corn-based products from Everything Corn.
---
Quench Your Thirst for Shopping at Mercado Los Mangos

Adriana Garcia
Immerse yourself in the culture of Puerto Vallarta at it's newest 'buy local' market, Mercado Los Mangos. We offer a great selection of artisan products, live music and a children's crafting tent. When you're ready to quench your thirst, try the flavored waters of Refresca Aguas Artesanales.
---
Give a Gift of Mexican Hearts This Valentine's Day

Sandra Cesca
In Mexico, February 14 is known as 'Dia del Amor y Amistad' - a special day for loved ones, lovers, and friends. Since it is the day to focus on giving back to those who have given us so much, here are some ideas for Valentine's Day gifts that are made by Puerto Vallarta artisans.
---
Valentine Day Shopping is Sweet at Mercado Los Mangos

Adriana Garcia
Valentine's Day is just around the corner, and there's no better way to share the love with friends and family than to visit Vallarta's new 'buy local' market, Mercado Los Mangos. Meet up with your sweetie, dance to live music and scoop up some sweet gifts, like Xocodiva Artisan Chocolates.
---
Limited Edition CarnavalPV 2017 Shirts Now on Sale

Tim Longpré
Whether you choose to watch Puerto Vallarta's Annual Mardi Gras Parade on the world-famous Malecón, on Olas Altas or anywhere else along the 3-kilometer route, you won't want to be caught without your CarnavalPV 2017 tee shirt! Get yours at PVRPV, Lazaro Cardenas 205, south side PV.
---
Mercado Los Mangos' Opening Day Was a Huge Success

BanderasNews.com
Last Saturday's opening of Puerto Vallarta's newest outdoor market, Mercado Los Mangos, was a huge success! Held weekly at the Library, this 'buy local' market offers locally produced artisan products, live music, 'made on site' food, a children's craft tent and more.
---
Mercado Los Mangos Opens Saturday at Los Mangos Library

BanderasNews.com
PV's newest outdoor market, Mercado Los Mangos, opens at Biblioteca Los Mangos this Saturday. With locally produced artisan products, live entertainment, an international food area and a children's craft tent, this is the 'place to be' every Saturday from 9:30 am to 2:00 pm.
---
Artist Juan Carlos Navarro Opens at Galleria Dante

Claire Guarniere
An art exhibition by Juan Carlos Navarro opens at Galleria Dante on Friday, January 27, as part of this week's Southside Shuffle. Stop by Puerto Vallarta's largest and most eclectic art gallery from 6-10 pm to meet the artist, view his works, and enjoy complimentary cocktails.
---
'Buy Local' Market on Saturdays at Los Mangos Library

Biblioteca Los Mangos
Join us on Saturday, January 28th from 9:30 am to 2 pm for opening day of Vallarta's newest outdoor market, Mercado Los Mangos! Located at the public library, Biblioteca Los Mangos, this weekly 'buy local' market will offer a great selection of locally produced artisan products.
---
Vallarta Yacht Club Style Show & High Tea Luncheon

Richard Williams
Vallarta Yacht Club will be hosting their 2017 Style Show and Luncheon on Wednesday, February 8th from 12:00-3:00 pm. You'll enjoy a 'high tea' style luncheon followed by a fashion show featuring creative clothing, jewelry and accessories from local and regional designers.
---
Daiquiri Dick's Does Brunch With PuRR-fect Style

BanderasNews.com
On Tuesday, February 7, Daiquiri Dick's Restaurant is hosting an elegant brunch and fashion show to benefit PuRR Project, a non-profit feline shelter in Puerto Vallarta, Mexico. Join us for a 3-course brunch with mimosas, original fashions & jewelry, and a raffle for fabulous prizes.
---
Wal-Mart Mexico Looks to Boost E-Commerce Operations

InternetRetailer.com
Wal-Mart Stores Inc.'s e-commerce operations in Mexico will benefit from the retailer's decision to invest $1.3 billion in logistics improvements, which primarily involves building new distribution centers for e-commerce and expanding and updating its existing fulfillment facilities.
---
The 10 Rules of Holiday Gift Giving Etiquette

Marie Callan
Thanksgiving is over and the holiday shopping season is in full swing. Buying all those gifts for everyone on your list can get expensive and overwhelming. How much do you spend? Do you have to buy for absolutely everyone? Is it alright to re-gift? What if you don't know what to get them?
---
June Rosen Lopez Holiday Jewelry Party, Dec. 17 & 18

BanderasNews.com
Whether you are looking for a unique Christmas gift, or an exceptional piece of jewelry for yourself, Galería June Rosen Lopez should be a must on your list of places to visit when shopping in Puerto Vallarta. Don't miss June's annual Holiday Jewelry Party and Sale on December 17 and 18.
---