If shopping is your bag
, Puerto Vallarta is a paradise where you'll always find something to surprise, amaze and delight you. There's no one specific shopping district in the Banderas Bay area . . . you might find what you're looking for in a tiny shop, boutique or art gallery on a back street - or in a large department store at one of the area's modern shopping centers.
On Calles Libertad
, Juarez and Morelos, small shops selling traditional Mexican apparel, folk art, and beachwear juxtapose with art galleries and boutiques offering original art, pottery and designer clothing at prices that are sure to make you "shop 'til you drop." And as far as shopping malls are concerned, Plaza Marina, Plaza Neptuno, Plaza Caracol and Paradise Village are packed with specialty stores selling clothing, jewelry, original art and home decor.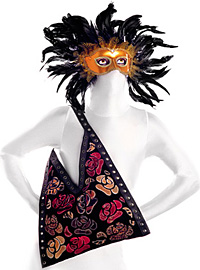 But for many savvy shoppers the real fun
begins when haggling with beach vendors, at street-side stands and in flea markets. Haggling is a common practice in Mexico, and in most cases, if you offer to pay about 40% less than the asking price, you'll end up paying somewhere between the initial amount and your counter offer. The only rule of the game is to maintain mutual respect while wavering between impulse and indifference.
The stalls and kiosks along
Cuale Island, in the Municipal Market and at the Pueblo Viejo Artisans' Market are also popular with visitors on the lookout for vacation souvenirs at bargain prices. The owners of these shops are always ready to bargain, so take an unhurried look around, fall into the temptation and buy, buy, buy!
Shopping in Puerto Vallarta
has a somewhat different focus for residents and long-term visitors than it does for tourists - centering more on every day necessities and all the "must do" chores of daily life. Unlike most other resort destinations, you can find stores and supermarkets all around Banderas Bay that cater to locals rather than tourists.
On almost every street you'll find
stores selling hardware, furniture, kitchenware, appliances, groceries, and just about anything else you can possibly imagine. Most stores stock international brands in addition to regional products at reasonable prices. And, if you just can't find what you're looking for - there's always Home Depot, Costco, Sam's Club or Walmart...
Click HERE to learn more about some of the many art galleries in Puerto Vallarta.
• B E L O W T H E F O L D •
Savvy & Well Seasonings: Made in Puerto Vallarta

Marie Callan
What started out as an online meal delivery service has morphed into a seasoning line produced right here in Puerto Vallarta. Savvy & Well now offers a line of 8 seasoning blends containing 5-14 herbs and spices that make preparing healthy and delicious food a breeze.
---
Tianguis Lo De Marcos' 5th Season Begins November 3

BanderasNews.com
The Tianguis Lo de Marcos will reopen its doors for its fifth season on November 3, 2018. Held every Saturday from 9:00 am to 2:00 pm, this weekly event expects to continue its growth and history of drawing shoppers from around Banderas Bay to this small town on the Riviera Nayarit.
---
Walmart Acquires Cornershop Delivery Service in Mexico

Talk Business
To ramp up its online grocery business in Mexico and Chile, Walmart Inc has acquired food delivery service Cornershop for $225 million. Walmex will offer Cornershop users goods at the same prices as in the company's physical stores, initially in Mexico City, Guadalajara and Monterrey.
---
Exciting New Season at Galleria Dante & Di Vino Dante

Gena Guarniere
After a short two week hiatus in September to do some renovations, Galleria Dante reopens October 1 and Di Vino Dante on Oct 8. There's always something new to experience here, and we've got the scoop on the 2018/2019 season at Vallarta's largest & most eclectic art gallery.
---
Puerto Vallarta South Side Shuffle Returns November 16

Banderas News Team
Starting Friday, November 16, 2018, and every other Friday evening through April 5, 2019, the Zona Romantica will come to life as locals and tourists alike head over to Basilio Badillo to do the South Side Shuffle, the only ongoing party of its kind in all of Puerto Vallarta.
---
Amazon to Launch Online Food and Drink Sales in Mexico

CNBC
Amazon.com will begin selling food and drinks in Mexico, including snacks, sweets and wines, the online retailer said last week, a move that could intensify its competition with Walmart de Mexico to claim shoppers in the country's emerging e-commerce market.
---
$208.204.81 mn for SETAC Breaks Oxxo 'Redondeo' Record

Banderas News Team
Thanks to the customers, cashiers and leaders of local OXXO stores, the $208,204.81 pesos collected for SETAC through the OXXO Redondeo (round up at checkout) Program was the largest amount of money ever amassed for a non-profit organization in the greater Puerto Vallarta region.
---
Beyond Puerto Vallarta: Shopping in Tonalá, Jalisco

Adam García
If you are visiting Puerto Vallarta, consider a trip to Tonalá, a municipality near Guadalajara that's famous for its artisanal handicrafts. On Thursdays and Sundays a 'tianguis' (open air market) features as many as 4000 craftsmen selling everything from pottery to handcrafted furniture.
---
How Much Will It Cost to Furnish My Vallarta Home?

Umberto Ciccolella
Whether you already own, or are purchasing a new home in Puerto Vallarta, interior design is the most important element in creating your perfect living space. Naturally, when you start thinking about it, that inevitable question pops into your head: How much is this going to cost me?
---
Tips for Decorating Your Puerto Vallarta Vacation Home

MEXLend Mortgages for Mexico
For many foreigners who purchase a second home or vacation property in Mexico hiring an interior designer can be an invaluable asset. One of the leading interior design firms in Puerto Vallarta tells us how furnishings and home décor can make your new house or condo feel like a home.
---
'Qulture' Artists' Co-Op & Jazz Bistro to Open in August

Jim Lee
'Qulture,' a unique venue that will blend art, music and food in one beautiful setting, is set to open next month in the heart of Old Town Puerto Vallarta. The Galería, featuring local artists in individual studio/galleries, and a gift shop will open in mid-August, followed by a bistro and a bar.
---
Mercurio Swim Launches on Puerto Vallarta's South Side

BanderasNews.com
Paul Crist, owner of Hotel Mercurio since 2002, and fashion designer Todd Barnes announce the launch of Mercurio Swim, men's swimwear. The swimwear line is available at their new boutique and atelier at Lazaro Cardenas 279-C on the south side of Puerto Vallarta.
---
Mexican Entrepreneurs Create No Rinse Laundry Detergent

Latin American Herald Tribune
A group of Mexican entrepreneurs have created a biodegradable laundry detergent that does not require rinsing, which save water & electricity. The young men, who live in Guadalajara, started developing the detergent in 2013 and selling it locally a year later. 'Newen' is now sold online.
---
Woolworth's Another Shopping Option in El Pitillal

Boardwalk Realty PV
We remember when El Pitillal was not much more than a series of unpaved roads and a fun escape from Puerto Vallarta. Today, it is a veritable open-air shopping mall with a variety of great shops and restaurants, cinemas, a Walmart, and now a new Woolworth's store!
---
Galleria Dante's Summer News, Specials and Art Sale

Claire Guarniere
Galleria Dante, the largest and most eclectic art gallery in Puerto Vallarta, has launched its Summer Art Sale, with prices reduced 25-50% through October 15th. If you've been eyeing one of the gorgeous works of art in their gallery or website, now is the time to make it yours!
---
2018 Vallarta Fashion Awards – Fashion for a Cause

Lorena Sonrisas
If you are a fashion enthusiast, there's an event coming up that you won't want to miss: The 2018 Vallarta Fashion Awards. Set to be held at 7:00 pm on May 18 at Club Regina Puerto Vallarta, four Mexican designers will present their latest collections - for a good cause.
---
OXXO's 'Redondeo' Program Supports Vallarta's SETAC

Banderas News Team
Since its inception in 2002, OXXO's 'Redondeo' program (round up at checkout) has supported over 1,800 non-profit organizations in Mexico with over $750 million Pesos delivered to them. SETAC, Puerto Vallarta's LGBTQ Community Center, will be the beneficiary from May to July, 2018.
---