If shopping is your bag
, Puerto Vallarta is a paradise where you'll always find something to surprise, amaze and delight you. There's no one specific shopping district in the Banderas Bay area . . . you might find what you're looking for in a tiny shop, boutique or art gallery on a back street - or in a large department store at one of the area's modern shopping centers.
On Calles Libertad
, Juarez and Morelos, small shops selling traditional Mexican apparel, folk art, and beachwear juxtapose with art galleries and boutiques offering original art, pottery and designer clothing at prices that are sure to make you "shop 'til you drop." And as far as shopping malls are concerned, Plaza Marina, Plaza Neptuno, Plaza Caracol and Paradise Village are packed with specialty stores selling clothing, jewelry, original art and home decor.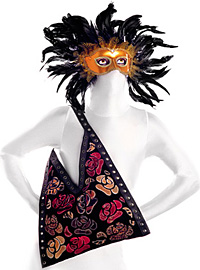 But for many savvy shoppers the real fun
begins when haggling with beach vendors, at street-side stands and in flea markets. Haggling is a common practice in Mexico, and in most cases, if you offer to pay about 40% less than the asking price, you'll end up paying somewhere between the initial amount and your counter offer. The only rule of the game is to maintain mutual respect while wavering between impulse and indifference.
The stalls and kiosks along
Cuale Island, in the Municipal Market and at the Pueblo Viejo Artisans' Market are also popular with visitors on the lookout for vacation souvenirs at bargain prices. The owners of these shops are always ready to bargain, so take an unhurried look around, fall into the temptation and buy, buy, buy!
Shopping in Puerto Vallarta
has a somewhat different focus for residents and long-term visitors than it does for tourists - centering more on every day necessities and all the "must do" chores of daily life. Unlike most other resort destinations, you can find stores and supermarkets all around Banderas Bay that cater to locals rather than tourists.
On almost every street you'll find
stores selling hardware, furniture, kitchenware, appliances, groceries, and just about anything else you can possibly imagine. Most stores stock international brands in addition to regional products at reasonable prices. And, if you just can't find what you're looking for - there's always Home Depot, Costco, Sam's Club or Walmart...
Click HERE to learn more about some of the many art galleries in Puerto Vallarta.
• B E L O W T H E F O L D •
Puerto Vallarta Walking Tours: A Tortillaria in El Tuito
Sandra Cesca
Alex has been working in his family's 'tortillaria' in El Tuito since he was ten years old. He happily greets me every time I bring folks by to see the whole process of making tortillas. The next time you are visiting Puerto Vallarta, I will happily take you there.
---
Distribution of Goods, Basic Services Continue in Jalisco
BanderasNews.com
Jalisco Governor Enrique Alfaro Ramírez assures that the distribution of basic goods and essential services, including: public services and transportation, hospitals, pharmacies and clinics, banks, gas stations, supermarkets and stores, will not be interrupted.
---
Walmart Mexico Opens e-Commerce Distribution Center
BanderasNews.com
Walmart de Mexico recently opened a $27 million distribution center in Tepotzotlán, a town just north of Mexico City. Company officials said the new 646,000 square-foot center strengthens its logistics network across Mexico, and will employ 350 people.
---
Mexico Tackles Obesity Crisis with Tough Food Labels
BanderasNews.com
Mexican consumers will soon be confronted with warning labels on food and beverages that contain too much sugar, fat or calories, as changes to the country's health regulations aimed at reducing the country's obesity and diabetes epidemics advance towards finalization.
---
Mercado Libre to Invest $420 Million in Mexico in 2020
FreightWaves.com
Latin American e-commerce giant Mercado Libre will invest $420 million in Mexico in 2020 in an effort to gain a larger slice of the country's lucrative online retailing market. The online retailer has invested more than $1 billion in Mexico since 2017.
---
Corazón de Niña Benefit Fundraiser, Sunday, March 1st
Banderas News Team
Artists from across the Banderas Bay region are coming together at 1:00 pm on Sunday, March 1st at Le Bistro Café on the shores of the Rio Cuale at the Insurgentes bridge to support Puerto Vallarta's Corazón de Niña children's home in an 'Artists for Orphans' fundraiser.
---
Itinerant Mexican Crafts Fair is Visiting Puerto Vallarta
Paco Ojeda
Another itinerant Mexican crafts fair has set up shop along the main throughway in the Puerto Vallarta Hotel Zone. There are several good reasons to check these fairs out when they come into town, like a wide variety of crafts and edibles from different parts of Mexico.
---
Los Mangos Library 20° Annual Art Auction February 20
Lorena Sonrisas
It's time for the yearly 'Subasta de Arte' at the Puerto Vallarta Public Library, Biblioteca Los Mangos. Set to take place from 6-9 pm on February 20, 2020, this will be the 20th annual art auction & sale - and the library's biggest fundraising event of the year.
---
Casa Vaquera: A Great Source of Mexican Sombreros
Paco Ojeda
It is always nice to see folks opening businesses that address a specific niche, particularly when there are not many local sources for a particular line of products. When I learned that an acquaintance had opened a Mexican sombrero store in Pitillal, I had to go take a look!
---
Mexico City, a Megalopolis' War on Plastic Bags
unenvironment.org
Paper cones have been traditionally used by shoppers in Mexico City for carrying spices and grains. Now these plastic-free alternatives are making a comeback, along with straw baskets and reusable cloth bags, after a ban on plastic bags entered into effect in the megalopolis on Jan 1.
---