If shopping is your bag
, Puerto Vallarta is a paradise where you'll always find something to surprise, amaze and delight you. There's no one specific shopping district in the Banderas Bay area . . . you might find what you're looking for in a tiny shop, boutique or art gallery on a back street - or in a large department store at one of the area's modern shopping centers.
On Calles Libertad
, Juarez and Morelos, small shops selling traditional Mexican apparel, folk art, and beachwear juxtapose with art galleries and boutiques offering original art, pottery and designer clothing at prices that are sure to make you "shop 'til you drop." And as far as shopping malls are concerned, Plaza Marina, Plaza Neptuno, Plaza Caracol and Paradise Village are packed with specialty stores selling clothing, jewelry, original art and home decor.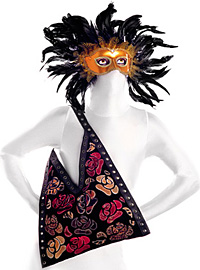 But for many savvy shoppers the real fun
begins when haggling with beach vendors, at street-side stands and in flea markets. Haggling is a common practice in Mexico, and in most cases, if you offer to pay about 40% less than the asking price, you'll end up paying somewhere between the initial amount and your counter offer. The only rule of the game is to maintain mutual respect while wavering between impulse and indifference.
The stalls and kiosks along
Cuale Island, in the Municipal Market and at the Pueblo Viejo Artisans' Market are also popular with visitors on the lookout for vacation souvenirs at bargain prices. The owners of these shops are always ready to bargain, so take an unhurried look around, fall into the temptation and buy, buy, buy!
Shopping in Puerto Vallarta
has a somewhat different focus for residents and long-term visitors than it does for tourists - centering more on every day necessities and all the "must do" chores of daily life. Unlike most other resort destinations, you can find stores and supermarkets all around Banderas Bay that cater to locals rather than tourists.
On almost every street you'll find
stores selling hardware, furniture, kitchenware, appliances, groceries, and just about anything else you can possibly imagine. Most stores stock international brands in addition to regional products at reasonable prices. And, if you just can't find what you're looking for - there's always Home Depot, Costco, Sam's Club or Walmart...
Click HERE to learn more about some of the many art galleries in Puerto Vallarta.
• B E L O W T H E F O L D •
'Buy Local' Market on Saturdays at Los Mangos Library

Biblioteca Los Mangos
Join us on Saturday, January 28th from 9:30 am to 2 pm for opening day of Vallarta's newest outdoor market, Mercado Los Mangos! Located at the public library, Biblioteca Los Mangos, this weekly 'buy local' market will offer a great selection of locally produced artisan products.
---
Vallarta Yacht Club Style Show & High Tea Luncheon

Richard Williams
Vallarta Yacht Club will be hosting their 2017 Style Show and Luncheon on Wednesday, February 8th from 12:00-3:00 pm. You'll enjoy a 'high tea' style luncheon followed by a fashion show featuring creative clothing, jewelry and accessories from local and regional designers.
---
Daiquiri Dick's Does Brunch With PuRR-fect Style

BanderasNews.com
On Tuesday, February 7, Daiquiri Dick's Restaurant is hosting an elegant brunch and fashion show to benefit PuRR Project, a non-profit feline shelter in Puerto Vallarta, Mexico. Join us for a 3-course brunch with mimosas, original fashions & jewelry, and a raffle for fabulous prizes.
---
Wal-Mart Mexico Looks to Boost E-Commerce Operations

InternetRetailer.com
Wal-Mart Stores Inc.'s e-commerce operations in Mexico will benefit from the retailer's decision to invest $1.3 billion in logistics improvements, which primarily involves building new distribution centers for e-commerce and expanding and updating its existing fulfillment facilities.
---
The 10 Rules of Holiday Gift Giving Etiquette

Marie Callan
Thanksgiving is over and the holiday shopping season is in full swing. Buying all those gifts for everyone on your list can get expensive and overwhelming. How much do you spend? Do you have to buy for absolutely everyone? Is it alright to re-gift? What if you don't know what to get them?
---
June Rosen Lopez Holiday Jewelry Party, Dec. 17 & 18

BanderasNews.com
Whether you are looking for a unique Christmas gift, or an exceptional piece of jewelry for yourself, Galería June Rosen Lopez should be a must on your list of places to visit when shopping in Puerto Vallarta. Don't miss June's annual Holiday Jewelry Party and Sale on December 17 and 18.
---
Tips for Buying a Christmas Tree in Puerto Vallarta

Tropicasa Realty
While it may seem a bit early to start talking about buying a Christmas tree, those who are spending the holidays in their new home in Puerto Vallarta need to know that cut trees are only available for 2-3 weeks - and usually sell out by the end of the second week of December.
---
Let the Stars Help You with Your Christmas Shopping

Ron Morgan Properties
The holiday season is here, so why not let the stars help you with your Christmas shopping list in Puerto Vallarta this year? Ron Morgan Properties has gift suggestions perfectly suited for every sign in the zodiac, because even Santa could use a little help now and then.
---
Beachfront Fashion Show to Benefit Corazón de Niña

Banderas News Team
Tired of wearing the same old beachwear day in and day out? Then come to El Dorado Restaurant on Playa de Los Muertos on Saturday, November 26 at 1:00 pm for a Beachfront Fashion Show to benefit Corazon de Nina, a shelter for abused and abandoned children in Puerto Vallarta.
---
Quebec Artist Marc Galipeau Opens at Galleria Dante

Claire Guarniere
An art exhibition by Quebec artist Marc Galipeau opens at Galleria Dante on Friday, November 18, as part of the first Southside Shuffle of the 2016-2017 season. Stop by Puerto Vallarta's largest and most eclectic art gallery from 6-10 pm to meet the artist and enjoy complimentary cocktails.
---
Season 3 of Tianguis in Lo De Marcos Opened with Flair

Galvan Real Estate
Shoppers and artisans alike enjoyed a successful opening of Tianguis Lo De Marcos' Third Season on Saturday, November 5. The weekly market has gained the support of the town's merchants, many of whom report increased sales driven by the appearance of new faces in the Pueblo.
---
Scentsy Products Now Available in Puerto Vallarta

BanderasNews.com
With Scentsy now being sold in the Banderas Bay area it will soon be easier to fill your personal space with a wide variety of fragrances. If you are not familiar with these products, you can learn more at Scentsy parties to be held at various Puerto Vallarta venues on Nov. 9, 11 & 16.
---
Huge Garage Sale to Benefit Purr Project, Nov 12-13

Marilyn Khan
Purr Project's 3rd annual garage sale will be held in Marina Vallarta on Saturday and Sunday, November 12-13, 2016 with all proceeds benefiting the 150+ furry residents of the Purr Project shelter just north of Puerto Vallarta. Get there early for the best selection!
---
South Side Shuffle Offers Fun and Friendly Shopping

Banderas News Team
Starting Friday, November 18, 2016, and every other Friday through April 21, 2017, Puerto Vallarta's Zona Romantica will come to life from 6 to 10 pm as locals and tourists alike head over to Basilio Badillo and Constitution streets to do the South Side Shuffle.
---
October is Frighteningly Fun at Galerías Vallarta

Banderas News Team
One of the best things about living in Puerto Vallarta is the variety of activities and attractions available for family fun. There's always something fun to do at Galerías Vallarta - especially during October, when the mall celebrates its 9th anniversary and El Dia de Los Muertos.
---
Tianguis Lo de Marcos Plans Opening Day Excitement

BanderasNews.com
Returning to the Riviera Nayarit for its third season on November 5, 2016, Tianguis Lo De Marcos will feature the works of over 50 talented artisans, including growers of organic produce and makers of hand blown glass, clothing, unique artisan items, fresh baked goods, salsas and more.
---
Apple Inc. Opens First Mexico Retail Store in CDMX

International Business Times
Apple on Saturday opened its first retail store in Mexico, its third outlet in Latin America. Located in the heart of Mexico City's entrepreneurial community, Apple Vía Santa Fe will offer hands-on training to entrepreneurs, developers and other business customers in a unique Boardroom.
---
Tianguis Lo De Marcos Prepares for its Third Season

BanderasNews.com
The Tianguis Lo de Marcos will reopen its doors for its third season on November 5, 2016. Held on Saturdays from 9 am - 2 pm, this weekly event offers Vallarta-Nayarit locals and visitors another year of shopping pleasures and loads of treasures in beautiful Lo de Marcos, Nayarit.
---
San Sebastian Products & Services Expo at Plaza Caracol

Nuestras Noticias
Thirteen producers and entrepreneurs from the San Sebastian del Oeste region will showcase their products at Plaza Caracol in Puerto Vallarta this weekend. The public is invited to come out on July 29 & 30 to taste and buy regional goods and learn about the area's tours and services.
---
Gallería Dante Vallarta Summer Art News and Sale

Claire Guarniere
The owners of Galleria Dante, the largest and most eclectic art gallery in Puerto Vallarta, have been keeping busy this Summer. They've been marking down their entire inventory from 20-30% for their Summer Art Sale, which means you can save big on more than 2,500 art works.
---
Fun Ways to Beat the Heat at Galerías Vallarta

Banderas News Team
One of the best things about living year-round in Vallarta is the variety of activities and attractions available for family fun. But what is one to do when the temperature soars, or the sky opens up and pours? The answer is simple. Gather up the family and head over to Galerias Vallarta.
---
Western Union Teams Up with Walmart de Mexico

BanderasNews.com
As part of its expansion strategy in Mexico, The Western Union Company, a leader in global payment services, yesterday announced an agreement with Walmart de Mexico to offer international money transfer services at Bodega Aurrera, Walmart, Superama & Suburbia stores in Mexico.
---
Vallarta Life: Hard to Find Items at Bodega de Vallarta

Banderas News Team
In this episode of Vallarta Life, Laura visits Bodega de Vallarta, a small shop in downtown Puerto Vallarta that carries one of the Banderas Bay area's largest selections of bulk herbs, dried peppers, spices, nuts, dried fruit, medicinal herbs, teas, essential oils and much more.
---
New Free Mobile App Offers Banderas Bay Area Discounts

Guillermo Sautou
Offering 25-60% discounts on all kinds of products and services, Nomad Mexico, a new and FREE app for mobile devices, has hit Puerto Vallarta by storm. From restaurants and bars, tours, casinos and health & beauty services, Nomad offers savings at Banderas Bay area businesses.
---
Vallarta Adventures Declines La Isla Dolphinarium Offer

Marie Callan
The Delfines en Libertad (Free Dolphins) organization reports that Vallarta Adventures, through its founder Ricardo Farkas, has declined to participate in the operation of a new dolphinarium in the La Isla shopping plaza. The mall is currently under construction in the hotel zone.
---
Sucesos Boutique: Hand Painted One of a Kind Art-wear

For those who dare to be different
Located on the corner of Hidalgo and Libertad in downtown Puerto Vallarta, Sucesos Boutique has been selling Hand Painted, One of a Kind Art-wear for 38 years. Every item of Sucesos clothing is distinctive, and distinctively flattering to woman of every age and size.
---
Mexican Designers are Shaking Up the Fashion World

fusion.net
Mexican fashion is making a strong comeback - at home and abroad. Suddenly, local clothing brands are selling internationally, and the unique Mexican fashion style that blends traditional designs with modern cuts are appearing on models strutting down catwalks around the globe.
---