Tales of Retirement in Paradise
Chapter 16: Something For Everyone

Polly G. Vicars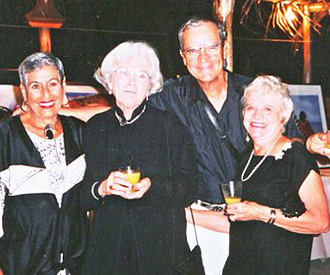 The 1994 evening began with Margaritas served during a complimentary cocktail hour. Husband with me, Myra McLean and Barb Topete.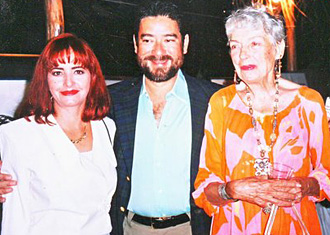 Mayor Fernando González Corona, wife Eva and Founder Bernice Starr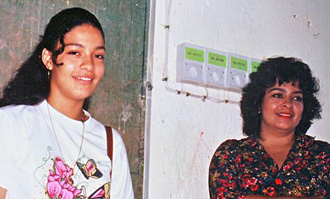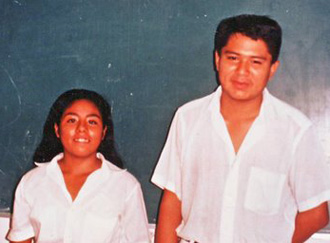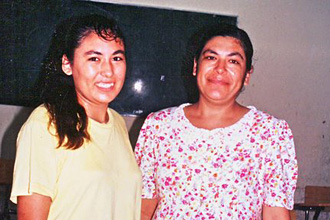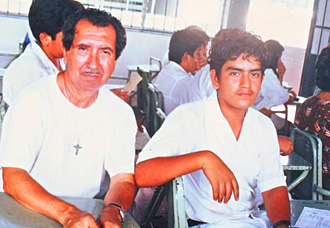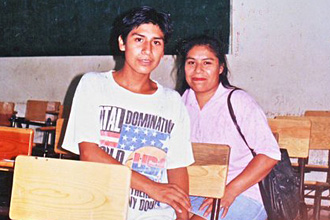 Though from different parts of the city and living in varied family situations, the things they have in common are intellectual ability, desire to better themselves, good citizenship, appreciation for the Foundation's help, and almost no available money for anything other than life's basic needs.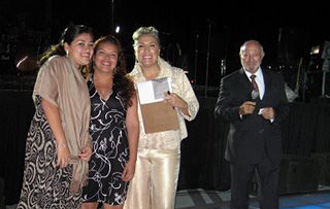 Recent University graduates with Presidents Mariel and Carlos Fregoso at the 2008 Ball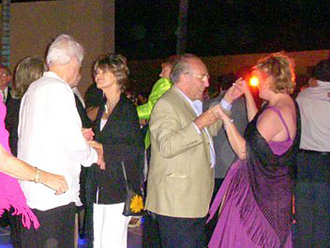 Everyone was enticed to the dance floor by the fabulous band Oidesa!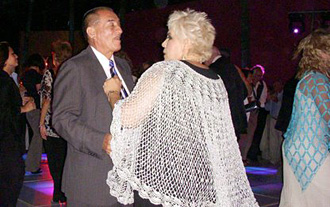 Long time Vallarta Beauty Salon Owner, Cuquita, and her husband enjoying a dance at the Ball.
Making dreams come true is everyday fare for our forty member Foundation. Writing personal letters to friends world-wide, we explain the scholarship program, and ask for donations to keep it going.


Then, as you just read in "It's the People, Stupid," right after Christmas each year we shift into high gear to organize our annual fund raising dinner-dance.

You are cordially invited to attend
The social event of the season
The America-México Foundation's
Annual Benefit Dinner-Dance,
The first Saturday in March
Hotel Bel-Air, Puerto Vallarta, México

To set the mood, your evening will begin with Margaritas served during a complimentary happy hour. This will be your opportunity to get to know some unique Vallartenses, both foreign and domestic. You will be greeted by the warm smiles of Bernice Starr and Guadalupe Covarrubias, the President and Vice President, one American, the other Mexican, but both charming and among the original founders of this organization.


Be sure to ask Lupe about the early days of Vallarta when it was home to only a few thousand and there were no bridges over the Cuale and no roads leading out. You should not miss hearing about Bernice's adventures with Richard Burton and cast when she worked as one of the school teachers in John Huston's famous film, "Night of the Iguana" or her latest endeavor in writing and illustrating a children's book about a Mexican cat and his travails.


Look for the young scholarship students who will be passing among you selling tickets to the fabulous raffle held hourly during the evening. Try your Spanish with ˇBuenas Noches! żCómo está usted? and you will be rewarded with perhaps the warmest smile you'll ever feel and maybe even a lilting, "I'm fine. How are you?" as they practice their English.


These kids are the Foundation's reason for being. You have read some of their individual stories - stories of strength and determination coupled with generous and warm hearts - stories that lead them right into your heart.


Though from different parts of the city and living in varied family situations, the things they have in common are intellectual ability, desire to better themselves, good citizenship, appreciation for the Foundation's help, and almost no available money for anything other than life's basic needs.


If you were to search their backpacks you would find stacks of heavy books, perhaps an orange or a mango, but never a gun or knife. If you ask what they do after school, you will find they care for smaller children in their families, help their mothers cook and clean, and help their fathers with work around the casa. Many also work at odd jobs in the community. They do not have the time or inclination to commit acts of vandalism or join gangs.


Talk to Joan Blake, the Foundation's secretary and John Huston's assistant for the last ten years of his life (you heard about her in, "Mastering the Mouse"). She spins quite a tale of the old days, as well as the new. She divides her time between active volunteerism for the Foundation and the IFC, tennis, bridge, and world travel. Catch her if you can!


Every person you meet can regale you with wonderful stories of Vallarta and its people. Before you go in to dinner, you will make friends that may be with you for the rest of your life. Don't be surprised if you receive an invitation to dine in someone's home, or for a tennis game, or for a day's fishing, or just for cocktails on one of our spectacular beaches. Vallartenses are that kind - warm, friendly, open, and generous. Just meeting and getting to know the locals, Mexican and non-Mexican, is probably worth the price of admission.


You ain't heard nothing yet! After the Margarita Hour, guests will move to a lush tropical setting where candle-lit tables are artfully placed around the sinuous pool. Choose a table to your liking where you may be joined by any of the congenial people you met earlier or by some late comers who will prove equally engaging.


You may be lucky enough to find yourself sitting at the table with Ingé Lökös, wife of the late Stefan Lökös, a woman of infinite charm. Her stories of their lives in Germany and Hungary before escaping to the West will keep you on the edge of your seat.


Stefan, a world class violinist, was best known as a fine artist whose work is internationally collected and can still be bought in Vallarta and in Woodstock, New York, their summer residence. Stefan - we miss your charm that sent many a maiden's heart soaring! We can now tell you that we always knew your bark was worse than your bite because we knew your heart belonged only to Ingé! Keep them charmed up there, and now and then send down a ray of your smile!


The music will astonish you. You will think you are in the Blue Room listening to Harry James or Jimmy Dorsey smoothly playing the oldies, not a young Mexican band. Then, as you are gliding across the dance floor with your favorite pal, they will break into a hot Latin number bringing out young locals whose dancing defies nature as they move in places that were never meant to move.


Dance or listen - either or both will delight you! Dinner is served! You savor the tastes of a scrumptious five-course meal attended by the always well trained, courteous, and friendly Vallarta waiters. Don't worry about overeating! You can exercise it off dancing, placing your bids on the Silent Auction items, and going up to check the Raffle Winner's Board every hour to see which of the fabulous prizes you have won.


When you world-class shoppers see what the Silent Auction has to offer, you will be in heaven. At this year's dance, I bid as high as I could on a whimsical watercolor painted and donated by President Bernice, but the new Mayor of Vallarta and his lovely wife got in the last bid. Unfortunately, I also lost a delicate silver necklace and earrings to another reveler. They say you can't win them all, and I always wonder, "Why not?"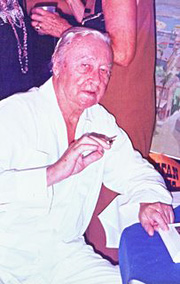 Stefan - keep them charmed up there and every now and then send us a ray of your smile.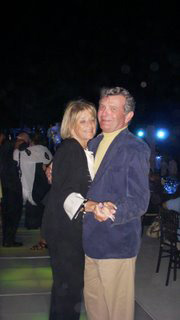 Ball Co-Chairman Eleanor Prawer dancing with her handsome husband, Harvey.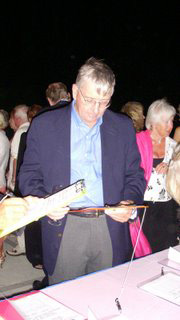 America-Mexico Foundation Treasurer bidding on the Four Season Rounds of Golf

You may prefer to bid on original watercolors, oils or sculptures donated by internationally known artists. However, you don't have to be an art lover to find something to your liking. Maybe you'll want to bid on a week in a luxurious condo or a long weekend in one our five star hotels or an exquisite hand-embroidered Mexican dress, or dozens and dozens of other equally valuable items.


If you are not one of "the last of the big spenders," but do enjoy taking a chance now and then, for less than $5.00 you can buy a raffle ticket and a chance to win one of hundreds of valuable prizes.


You might win a dinner for two at one of the "hot" Vallarta restaurants that donate year after year. I'm sure you would be thrilled to win a copy of the IFC's cookbook or a Talavera vase or an exotic floral arrangement. These are only a smattering of the prizes that will be raffled during the evening. Our scholarship kids will come to your table with tickets during the entire evening so there will be no excuse for you to be left out!


You have your invitation, so make those room and plane reservations. The party is on for the first Saturday in March every year (regardless of devaluations or other catastrophes.) I know you won't want to miss the opportunity to have such an enchanting evening or the opportunity to help pay for the education of another young boy or girl with a dream! Call me and I'll hold a pair of tickets for you!

(You are once again invited to attend the Becas Ball, on Thursday, March 5, 2009 at the elegant Westin Hotel and Spa, which is being planned by the same dynamic gals who brought us the spectacular Ball last year that had people saying, "If I had known the Becas Ball was this much fun I would have been coming every year!"


There are many changes and many things that remain the same as when I wrote about the ball in 1994. You know that our founder Bernice Starr is no longer with us, but luckily the indefatigable Lupe Covarrubias is still very much a part of Becas Vallarta.


Joan Blake has left us to live in California near her son and grandchildren, but still has Becas in her heart. Ingé Lokos, the widow of the renowned Stefan continues to be a big supporter of our cause. The kids, of course, have changed, but they still represent the best and brightest of Vallarta's young people.


We no longer have the raffle, but do have fabulous prizes for the silent and live auction that last year included a splendid stay in a 5 star Boston hotel with airfare included, dinner for 10 at the unique Villa Verano right here in Vallarta, golf at the famous Four Seasons course and much more. Look for the members to outdo themselves this year in garnering prizes for you to bid on.


You won't want to miss the 2009 social event of the season, The Becas Crystal Ball, for the same low ticket price as last year, $850 pesos per person! The evening begins with a complimentary cocktail hour followed by a 5-star dinner, entertainment and dancing to the same incredible band, Oidesa, from Ciudad Guzman, Jalisco and most of all a chance to fund the education of hundreds of bright, ambitious girls and boys with limited economic resources!


It is not too early to buy tickets for yourself or as Christmas or birthday gifts for your friends and loved ones. Just call me at 223-1371 or email me at phvicars(at)gmail.com, and I will get tickets to you!)
---

Polly G. Vicars and her husband of 57 years, Hubert (a.k.a. "Husband") retired to Puerto Vallarta in 1988 and soon became active members of several charitable organizations. Polly is the author of "Tales of Retirement in Paradise: Life in Puerto Vallarta, Mexico" [a sell-out!] and "More Tales of Retirement in Puerto Vallarta and Around the World." Proceeds from the sale of her books go to the America-Mexico Foundation, a scholarship foundation that is their passion.

Click HERE for more articles by Polly Vicars.
Tell a Friend
•
Site Map
•
Print this Page
•
Email Us
•
Top