Travel & Outdoors | Favorite Places
Villas in Vallarta

Luxury Beachfront Villas in Puerto Vallarta

Villas in Vallarta provides luxurious getaway destinations for individuals, couples, families, or groups of any size from 1 to 40. Quinta Maria Cortez Bed & Breakfast and Casa Tres Vidas, Villas in Vallarta's adjoining properties, are both located on one of Puerto Vallarta's most beautiful beaches, just steps away from your private retreat.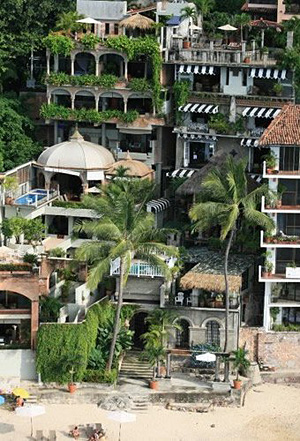 Each property is unique and offers you a variety of luxurious accommodations, but both Casa Tres Vidas and Quinta Maria Cortez offer unforgettable getaway opportunities.


We invite you to explore Quinta Maria Cortez Bed and Breakfast, a 7 bedroom Bed and Breakfast that masterfully combines beautiful antique furniture and dramatic design with all the modern amenities to ensure that you'll be comfortable to create a unique ambiance, a bit of whimsical tropical antiquity by the sea - or our other adjoining property Casa Tres Vidas, an enclave of 3 beachfront villas located in the heart of Mexico's Pacific Rivera.


Casa Tres Vidas (The House of 3 Lives) are 3-or 4-bedroom villas that can be rented alone or combined to create a 6, 7 or 10 bedroom compound located mere minutes south of downtown Puerto Vallarta, Mexico.


We invite you to explore our properties, each warmed by the tropical Mexican sun. For more information, visit us at VillasInVallarta.com, call us Toll Free at 1 (888) 640-8100 or email us at info(at)villasinvallarta.com

• B E L O W T H E F O L D •
Hot Deals on Villas in Vallarta Vacations

Patrick Harrison

Recently, Vida Mar, Casa Tres Vida's fabulous beachfront 4-bedroom villa on one of Puerto Vallarta's most beautiful beaches, had a little work done... and the result is nothing short of breathtaking! In celebration, we are offering discounts on select weeks - up to 50% savings!

---
Wine and Chocolate Tastefully Presented

Gary R. Beck

On October 8th, a group of 35 Vallartenses gathered at Villas in Vallarta's adjoining properties, Quinta Maria Cortez and Casa Tres Vidas for a wine and chocolate tasting presented by Xocodiva artisan chocolates, La Bodega de Nina fine wines and Patrick Harrison of P. Gringo Marketing & PR.

---
Not Your Typical Wine & Chocolate Tasting

Patrick Harrison

On Friday, October 8th at 7 pm, local artisan chocolatera Xocodiva, are pairing their delectable chocolates with the fine wines of La Bodega de Nina, all matched with and to be served in various suites and public spaces of Quinta Maria Cortez and Casa Tres Vidas.

---
LOrpheus to Perform Classical Music Concert in Vallarta

Paco Ojeda

Limited reservations are now being accepted for a private performance of live classical music by the celebrated duo LOrpheus at Hacienda San Angel on August 7th at 7 pm. Featuring violinist Gerardo Ponce and tenor Jorge Jiménez, this will be an exceptional evening for a few select guests.

---
Looking to Book a Wedding in Vallarta?

Patrick Harrison

Thinking about getting married in Mexico? According to Bride Magazine, Puerto Vallarta is listed as a top 10 world-wide favorite among brides. And, according to a recent issue of Destination Weddings & Honeymoon Magazine, the secluded beach at Quinta Maria Cortez is the perfect place to say 'I do'.

---
The Easiest Contest to Win 3 Nights in Vallarta Unveiled!

Patrick Harrison

This maybe the easiest contest ever! Simply become a fan of Quinta Maria Cortez and Casa Tres Vidas on Facebook, post your best vacation photos of your time spent with them or in Vallarta, and you and a guest could win three free nights at Quinta Maria Cortez in sunny Puerto Vallarta, Mexico!


Tell a Friend
•
Site Map
•
Print this Page
•
Email Us
•
Top