Vallarta Living | Art Talk | May 2005
Hunting For Danza Masks

Linda Lowery - The Herald Mexico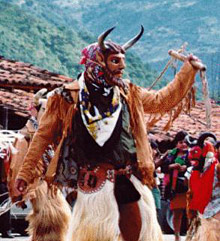 LeVasseur never negotiates. "I don't believe in paying less than what a dancer or maskmaker thinks a mask is worth," he says.

Three or four times a year, Bill LeVasseur gets the itch. He packs up a knapsack with a change of clothes, bottled water, a few rolls of toilet paper, and leaves his comfortable San Miguel home and Bed and Breakfast he runs with his wife, Heidi, Casa de la Cuesta, for an adventure that takes him to the most remote villages of Mexico.


For nearly 15 years, LeVasseur has been collecting ceremonial dance masks. It's not unusual for him to drive to a distant town, continue four or six hours up mountainous switchbacks, and then hike another kilometer to get to a dance site. Once or twice, he has arrived only to discover the villagers did not have enough money to dance on that particular traditional date.


Most of the time, however, his treks pay off and he is rewarded by the vibrant colors and throbbing drum rhythms that come with experiencing an indigenous ceremonial dance in the far-flung regions of the countryside.


Dances celebrate everything from seasonal events to local feast days, and can sometimes go on for days, illuminated by moonlight, fires and torches into the night, and always punctuated by fireworks.


"It's not as if I collect masks per se," explains LeVasseur. It is rather that he collects living history, spirit, the multi-faceted culture of Mexico. "This country is incredibly diverse and ethnic," he says. "Understanding the roots of the dance or ceremony has been a fascinating way to better understand the indigenous history and culture of Mexico." And he is still learning, he adds.


Born and raised in Presque Isle, Maine (just a snowball's throw to the Canadian border), he never imagined living in Mexico, and ended up here in 1974 on a business junket. Transferred with his advertising agency out of New York for a temporary six-month stint in Mexico City, when it was time to return to the United States, he was offered a longterm position. He and Heidi decided they had barely scratched the surface of Mexican culture, and chose to stay and raise their three sons in the capital.


LeVasseur considers himself extremely fortunate to have been introduced to Mexican ceremonial masks by Mexico City residents Jaled Muyaes and his wife, Estela Ogazón, two of the foremost authorities on the subject. It was they who invited LeVasseur to see his very first dance years ago, during Holy Week.


"We traveled to San Bartolo de los Baños in the state of Queretaro, where I was mesmerized by Otomí dancers performing the dance of the Pharisees vs. the Christians," he remembers. In typical Mexican fashion, the Otomí dances mix ancient magical beliefs with religious concepts introduced by the Spanish in the 16th century. He was captivated, came home with a mask, and has been hooked ever since. "Sometimes it feels like I'm two hours and two centuries away from civilization," he says of his journeys.


When he visits a village, LeVasseur often sleeps in his car. Sometimes he is invited to stay in a private home, which can be awkward because in the rural "ustedestá-en-su-casa " generosity, he is given the bed, even if it means the host takes the couch or the floor. Although he conducts his business in Spanish, most people he meets primarily speak their indigenous native languages. If he sees a mask he'd like to add to his collection, LeVasseur asks the dancer whether he's willing to sell. More often than not, the dancer will name a price. LeVasseur never negotiates. "I don't believe in paying less than what a dancer or maskmaker thinks a mask is worth," he says.


Each mask is a touchstone to a different indigenous culture, a special story, a particular dance. When LeVasseur looks at a Christmas Pastorela mask from Michoacan, for instance, he doesn't so much see simply the face, but what's behind it. It might be a devil or the fallen angel Lucifer with a grotesque expression and imposing horns, representing the anti-Christ. Or it could be a rich landowner with trimmed beard and rosy cheeks that looks like a dandy, called a catrín . "Both the celebration and the Carnival mask enable dancers to mock and parody their ancestral oppressors," says LeVasseur. "They use masks to render them ridiculous."


Other dances tell dramatic stories of the Spanish conquest, including Malinche, the mistress of Hernán Cortés, or a reenactment of Tastoan savages attacking the representative of Carlos V, the King of Spain. There are dances, such as the Tiger or Jaguar (Tecuani ) dance, which are a petition for rain. There is the dance of the pescado , a plea by the Nahuas for a good fish harvest.


Zitlala and Acatlan, Guerrero are well-known for their tiger masks of red, green or yellow. With mirrors for eyes, representing the Aztec god Quetzalcóatl's smoking mirror, the mask is actually a leather helmet pulled over the head to protect the wearer from physical blows that are part of the ceremony a throwback to the indigenous belief that self-sacrifice was required to successfully petition the gods for rain to guarantee a rich harvest.


Masks are made of wood, gourds, leather, clay, cloth, wax, papiermâché, wire mesh, even rubber tires, cardboard, and tin cans, and are often decorated with real hair, or fur from animals such as goats, sheep, deer or wild boar. Part of the ceremonial tradition of certain dances (including those of the Mayo and Yaqui from Sonora and Sinaloa, and the Cora from Nayarit) demands that participants destroy the masks by fire or in water to complete the spiritual cleansing ritual. These masks are obviously far more challenging to obtain for a collection.


LeVasseur usually feels he has hit pay dirt with a discovery of only one or two masks. On a recent trip, however, he struck gold when he returned with five masks and their complete danced-in costumes, which he will display in his new museum, under construction adjacent to Casa de la Cuesta.


Although he hesitates to call his collection a "museum," it seems to be the only appropriate word. It will have numerous display rooms, with indigenous ceremonial music piped in. There will be video monitors showing authentic dances from various regions and a gallery for those who are drawn to collecting. In the meantime, LeVasseur's many festive and mysterious masks welcome him home from his journeys, and welcome his guests into Casa de la Cuesta as well. The entryway takes guests up a darkened stairwell whose both sides are dramatically spotlighted to illuminate tangled masses of hair, staring eyes and serpent noses.


To the untrained eye, the faces might jolt the heart as if they're alive and assembled for a tribal meeting. But to LeVasseur, it is all the cultures of Mexico in one place, inviting guests to appreciate one of the most diverse, historically-connected and vibrant countries on earth.

Linda Lowery is an award-winning author/illustrator of over 40 children's books, including "Day of the Dead" and "Cinco de Mayo." She lives in San Miguel de Allende.
Tell a Friend
•
Site Map
•
Print this Page
•
Email Us
•
Top