Vallarta Living
Community Services
Many of us have discovered a strong sense of community here on Banderas Bay, some for the very first time. If you're from a metropolis where technology reigns supreme and the words "next-door neighbor" and "stranger" are synonymous, you'll find this a refreshing environment where people matter.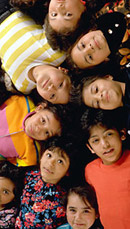 Working side by side with our new neighbors to achieve common goals is an ideal way to learn about the culture and make friends while giving back to the community which embraces us.


On these pages you'll learn about the various local charities and how you can get involved. With a multitude of opportunities here to flex philanthropic muscles, you can find out for yourself that it truly does feel as good to give as it does to receive!

• B E L O W T H E F O L D •
Broadway Cares / Equity Fights AIDS Supports SETAC

Paco Arjona

On Monday, January 16, the SETAC Community Center was honored by a visit from Mr. Tom Viola, the Director of Broadway Cares / Equity Fights AIDS, a nonprofit, grant-making organization that year after year has supported SETAC's commitment to fighting HIV/AIDS in Vallarta.

---
Friends of PV Animals Host 4th 'Paws for the Cause'

Marie Callan

Friends of Puerto Vallarta Animals, a group of dedicated volunteers who are committed to the well-being of the homeless pets staying at the municipally run pound (Centro de Acopio), is hosting the 4th Annual 'Paws for the Cause' Fundraiser on January 19 from 6-10 pm at Food Park PV.

---
An Afternoon of Fashion, Food & Fun for Pasitos de Luz

Barb Bremner

From the moment the doors opened at the Pasitos de Luz fashion show, we knew it would be a day to remember. The energy and warmth were amazing. The results came in over the top, with $138,570 pesos collected from attendees and $49,241 pesos from the Pasitos account at Deja New.

---
Toys For Tots Vallarta Delivers Thousands of Smiles

Bill Semeyn

On January 9, 2017, for the 18th consecutive year, Toys for Tots Puerto Vallarta spread miles of smiles by delivering close to 6,000 toys to underprivileged children all around Banderas Bay - from Punta Mita to Cabo Corrientes and even inland to San Sebastian - for Three Kings Day.

---
IFC Puerto Vallarta Home Tours Help Local Charities

John Warren

The IFC Home Tours, run by the International Friendship Club, are a great way for visitors and residents of Puerto Vallarta to see new places, explore spectacular homes and know that all of the profits made from the tours are used to make the lives of Mexicans living here a little better.

---
Puerto Vallarta Charity Pub Quiz Challenge 2017

BanderasNews.com

If you love trivia then don't miss the Vallarta Charity Pub Quiz Challenge 2017. Every Wednesday from Jan. 4 to Feb. 1, contestants can team up to show off their intellectual prowess for thousands of pesos in prizes, and help fund a new playground for the children of Colonia Vista Hermosa.

---
Puerto Vallarta Jewish Community Chanukah Party

Donna Feldman

On Monday, December 26, 2016, the Puerto Vallarta Jewish Community is sponsoring a Chanukah Party at The River Café at 6:30 pm. This is the Holiday of Lights, a joyous time. The evening will consist of a fantastic dinner served family-style with lots of latkes. Reservations required.

---
DIF Vallarta Toy Drive: 'Donate a Toy, a Gift of Love'

María Francesca

'Tis the season of giving, and with Christmas just around the corner, the System for Integral Family Development Puerto Vallarta, could use your help in bringing a little joy to disadvantaged children. DIF president Candelaria Tovar Davalos invites everyone to 'Donate a toy, a gift of love.'

---
VYC's Taste of Nuevo / Chili Cook-Off Helps Local Kids

Richard Williams

Despite the weather, the Vallarta Yacht Club's 4th Annual Taste of Nuevo / 16th Great Chili Cook Off, held December 3 on the Nuevo Vallarta Malecon, netted $61,909 pesos to be equally shared by the Navy League's Toy for Tots program and the IFC's Cleft Palate program.

---
2016 Christmas Concerts Kick-Off PVCO's New Season

vallartaorchestra.gif

In addition to the Dec. 11 & 12 Christmas Concerts, the Puerto Vallarta Chamber Orchestra (PVCO) recently announced plans for February's concert, 'An American in Puerto Vallarta,' and the Spring concert in March, featuring music from the Balkans and Gypsy Jazz Trio, Moruno.

---
Adult BINGO at The Palm Cabaret Benefits PuRR Project

Marilyn Khan

On Monday, December 12 we'll be playing Adult Bingo at The Palm Cabaret and Bar Puerto Vallarta for great prizes like gift certificates to some great restaurants, tickets to shows at The Palm, bottles of adult beverages, edible underwear, adult water pistols and more, to benefit PuRR Project.

---
Toys for Tots Vallarta Fundraisers This Weekend

Jerry Lafferty

The Toys for Tots December fundraisers are always among the most popular seasonal events in Puerto Vallarta. This year, the Golf Scramble will be played on December 10th at Vista Vallarta course, and the Gala Dinner Dance will be held on the 11th at CasaMagna Marriott Resort.

---
TREG Night of Latin Stars Charity Event Breaks Record!

BanderasNews.com

Timothy Real Estate Group's 3rd 'House Hunters International' charity event, held November 21 at Casa Karma, shattered the record of $275,000 pesos raised at 2014's 'Gilligan's Island' event. This year, over $540,000 Pesos were raised for three Puerto Vallarta charitable organizations.

---
June Rosen Lopez Holiday Jewelry Party, Dec. 17 & 18

BanderasNews.com

Whether you are looking for a unique Christmas gift, or an exceptional piece of jewelry for yourself, don't miss the annual Holiday Jewelry Party at Galería June Rosen Lopez on December 17 & 18. June will be donating 10% of her sales to Corazón de Niña, a local shelter for abused children.

---
Wednesday Night BINGO Games Support Purr Project

Marilyn Khan

PuRR Project now has over 175 adorable cats and kittens in residence. Donations and fund raising events are the only source of financing to provide food, shelter and veterinary care for these rescued animals, so come play BINGO with us on Wednesday, December 7 at Margarita Grill.

---
Site Map
•
Print this Page
•
Email Us
•
Top