Vallarta Living
Community Services
Many of us have discovered a strong sense of community here on Banderas Bay, some for the very first time. If you're from a metropolis where technology reigns supreme and the words "next-door neighbor" and "stranger" are synonymous, you'll find this a refreshing environment where people matter.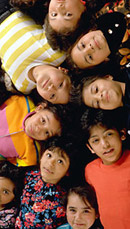 Working side by side with our new neighbors to achieve common goals is an ideal way to learn about the culture and make friends while giving back to the community which embraces us.


On these pages you'll learn about the various local charities and how you can get involved. With a multitude of opportunities here to flex philanthropic muscles, you can find out for yourself that it truly does feel as good to give as it does to receive!

• B E L O W T H E F O L D •
2020 Puerto Vallarta Hook the Cure Event Goes Virtual
Gary Green

In 2020, fundraising events look a little bit different from the way they used to. Hook the Cure powered by IOTEC is no exception. This year's 15th annual outing, usually held at Villa Premiere Boutique Hotel in Puerto Vallarta, will be held virtually this November.

---
Vallarta Food Bank Expands Community Services
BanderasNews.com

The Vallarta Food Bank continues to expand as volunteers work to try to make a positive change in the community that goes beyond feeding Puerto Vallarta families struggling to survive the economic impact of the COVID-19 pandemic. Jimmy Plouff gives us the latest news.

---
It's Virtual Adoption Month at Vallarta's PuRR Project
Shannon Campbell

September is Virtual Adoption Month at Purr Project, a non-profit, no-kill, feline shelter located just north of Puerto Vallarta that provides homeless cats and kittens a recuperative stay with the ultimate goal of adopting them out to loving homes sterilized, vaccinated and disease free.

---
Your Donation Will Help Keep the Spirit of RISE Alive
Lisa Manoogian

Over the years, we have seen many changes at the Refugio Infantil Santa Esperanza. But now it is with a heavy heart that we announce the August 15 passing of our beloved director, Madre Mari. Though saddened by her departure, we will continue to work at keeping the Spirit of RISE Alive.

---
Spend a Day at the SPCA Sanctuary in Puerto Vallarta
BanderasNews.com

Spend a rewarding afternoon at the Puerto Vallarta SPCA Sanctuary. The dogs and cats sheltered there are awaiting 'forever homes' and need your help to jump start their socialization. The goal is to get these animals adjusted and ready to interact in the real world.

---
Dávalos Awards Winners of SEAPAL Drawing Contest
María Francesca

On August 13, the mayor of Puerto Vallarta, Arturo Dávalos Peña, awarded the winners of the SEAPAL Vallarta 'Summer at Home, Caring for Water' Children's Drawing Contest in a simple, but joyful, ceremony. The top three winners each won a brand-new bicycle.

---
Chacala Mourns the Passing of Susana Connors Escobido
BanderasNews.com

Susana Connors Escobido, one of the co-founders of Cambiando Vidas, a non-profit organization that provides educational opportunities to students in the small fishing village of Chacala, Nayarit, passed away on August 20, 2020. She died at home, surrounded by family and friends.

---
Summer News from the Entreamigos Community Center
Nicole Swedlow

Summer news from Entreamigos, an active community center whose primary focus is to increase educational opportunities for the children of San Pancho, Nayarit. To achieve these goals, Entreamigos runs a collection of educational and community based initiatives.

---
Vallarta Food Bank Continues to Support Those in Need
BanderasNews.com

Vallarta Food Bank continues to grow as volunteers work to support Puerto Vallarta families struggling to survive the economic impact of COVID-19. In addition to delivering 1,500 despensas each week, earlier this month, they opened a soup kitchen that serves hot meals 3 times a week.

---
Streets in Downtown Vallarta are Getting a 'Face Lift'
Lorena Sonrisas

Eleven street corners in the heart of the city are getting a 'face lift,' thanks to a joint effort by the Puerto Vallarta Historic Center Citizens' Council and the municipal government, who are working to improve the downtown area's appearance and visitor appeal.

---
Site Map
•
Print this Page
•
Email Us
•
Top