Vallarta Living
Community Services
Many of us have discovered a strong sense of community here on Banderas Bay, some for the very first time. If you're from a metropolis where technology reigns supreme and the words "next-door neighbor" and "stranger" are synonymous, you'll find this a refreshing environment where people matter.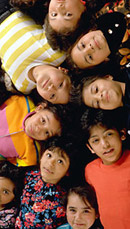 Working side by side with our new neighbors to achieve common goals is an ideal way to learn about the culture and make friends while giving back to the community which embraces us.


On these pages you'll learn about the various local charities and how you can get involved. With a multitude of opportunities here to flex philanthropic muscles, you can find out for yourself that it truly does feel as good to give as it does to receive!

• B E L O W T H E F O L D •
Pasitos de Luz Needs Your Support on Giving Tuesday
BanderasNews.com

Pasitos de Luz ('Little Steps of Light'), the local charity in Puerto Vallarta and Riviera Nayarit that helps kids with disabilities to walk, talk and achieve amazing things, is looking for 130 people to join its #ImWithPasitos Google map for Giving Tuesday.

---
Broadway Cares Pledges $20k Matching Grant to SETAC
BanderasNews.com

SETAC founder Ed Thomas recently announced that Tom Viola, the Director of Broadway Cares/Equity Fights AIDS, has pledged a $20,000 USD matching grant to help Puerto Vallarta's LGBT Community and Wellness Center keep their doors open and their services uninterrupted.

---
Online Auction Supports Nutrients for Natives in Mexico
Dr. Leslie Korn

The CWIS Center for Traditional Medicine, which has provided free health care to Indigenous peoples in Cabo Corrientes, Mexico, for over 40 years, has organized an online auction to help carry out their mission. Up for bid are unique items that make great holiday gifts.

---
In Memory of PEACEAnimals Founder, Gretchen DeWitt
PEACEAnimals.org

It is with sadness that we announce that the founder of PEACEAnimals, Gretchen DeWitt, passed away unexpectedly on Wednesday, November 11, 2020. With her passing, Puerto Vallarta has lost 'one of the kindest, most caring and overall wonderful people on the planet.'

---
Two O'Connor Cats Still Looking for Forever Homes
Laura Gelezunas

Marie O'Connor left us too soon. Her passing not only left her friends and family bereft, but also left her nine fur babies homeless. Through the outpouring of love and compassion from the community, seven have found forever homes, but two are still up for adoption.

---
Vallarta's Free Spay & Neuter Clinic Needs Your Support
BanderasNews.com

The Cuale Clinic, a Puerto Vallarta community effort run by a group of volunteers who have been organizing FREE monthly spay and neuter clinics for both cats and dogs on the first Sunday of each month since the beginning of 2016, needs your support.

---
Help AFCC Support Families of Children with Cancer
Glenda Bland

Aid to Families of Children With Cancer is an organization that supports families who have a child diagnosed with cancer in the Puerto Vallarta region. Many of our families are young and already had a minimal income before the pandemic. Learn how you can help.

---
PEACE Punta de Mita Launches 'Connect Kids' Project
Emma Pérez

To help kids study virtually, the PEACE Punta de Mita 'Connect for Kids' Project will deliver 533 tablets to elementary and middle school students and 130 laptops to high school students from public schools in the communities of Emiliano Zapata, Corral del Risco and Higuera Blanca.

---
Banderas Bay Women's Shelter November 2020 News
David Zude

This year has been challenging for everyone including non-profit organizations in Mexico. For most, government support has disappeared. Fortunately, shelters for women and children, such as Banderas Bay Women's Shelter, have only experienced a significant decrease in funding.

---
PuRR Project Puerto Vallarta November 2020 News
Linda Brasseal

Here's the latest news from PuRR Project, a non-profit, no-kill feline shelter in Puerto Vallarta that provides homeless cats and kittens a recuperative stay with the ultimate goal of adopting them out to loving homes sterilized, vaccinated, and disease free.

---
Site Map
•
Print this Page
•
Email Us
•
Top