Vallarta Living
Community Services
Many of us have discovered a strong sense of community here on Banderas Bay, some for the very first time. If you're from a metropolis where technology reigns supreme and the words "next-door neighbor" and "stranger" are synonymous, you'll find this a refreshing environment where people matter.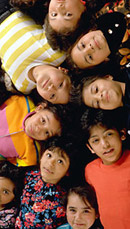 Working side by side with our new neighbors to achieve common goals is an ideal way to learn about the culture and make friends while giving back to the community which embraces us.


On these pages you'll learn about the various local charities and how you can get involved. With a multitude of opportunities here to flex philanthropic muscles, you can find out for yourself that it truly does feel as good to give as it does to receive!

• B E L O W T H E F O L D •
Parque Palmar de Aramara Beautification, December 7
Warren Brander

On December 7, the RE/Max Destiny and Marina teams will head over to Puerto Vallarta's Parque de Palmar de Aramara to spruce things up. Whether you like to paint, fix stuff, or do a bit of gardening, there'll be something for everyone to do, and you are welcome to join in!

---
DIF Vallarta Toy Drive: 'Donate a Toy, a Gift of Love'
María Francesca

'Tis the season of giving, and with Christmas just around the corner, the Puerto Vallarta System for Integral Family Development, could use your help in bringing a little joy to disadvantaged children. DIF president Candelaria Tovar Davalos invites everyone to 'Donate a toy, a gift of love.'

---
December News from Vallarta's PuRR Project Shelter
Linda Brasseal

The holiday season brings many Purr-fectly wonderful events to Puerto Vallarta in support of the 180+ cats and kittens at the PuRR Project feline shelter. December events include bi-weekly PuRR Shelter Tours and Kitty BINGO games, plus the ever-popular Beach Luau at Sea Monkey!

---
Mixtli Christmas FUNdraiser for Vallarta Orphanages
Gabrielle Tenney Ibarra

Mark your calendar for December 6, so you won't miss Mixtli's 2nd annual Christmas Party for Charity. You'll enjoy live music, food, drink and a silent auction with lots of great products and prizes. All proceeds will be used to spread Christmas cheer in Puerto Vallarta orphanages.

---
Puerto Vallarta Garden Club News & Upcoming Events
David Muck

The PV Garden Club supports not only a more beautiful, clean and verdant city, but is also making it more attractive to tourism, thus creating a vibrant economy to support all the other great causes in Puerto Vallarta. Here's the latest news from the PVGC.

---
IFC Vallarta Home Tours Resume December 3, 2019
Banderas News Team

The International Friendship Club provides one of the most popular tourist activities in all of Puerto Vallarta, their always special Home Tours. So put on your walking shoes, grab your camera, and get ready to enjoy a fun-filled day of discovery, while helping the less fortunate.

---
'Movember' is All About Men's Health in Puerto Vallarta
Pamela Thompson

Healthcare Resources Puerto Vallarta is celebrating Men's Health Month by turning the DiagnostiK parking lot into a 'Movember' carnival - complete with free games, beer, tacos & live music! Join us on November 30, from 3-8 pm, as we promote prostate and testicular cancer awareness.

---
A Festival of Comedy, Circus & Street Arts, with a Cause
Diego Sancho

Vida Fest, an International Comedy, Circus and Street Arts Festival, will be held Nov 15-16, 2019 at Los Arcos del Malecon in downtown Puerto Vallarta. The festival is a non-profit event designed to raise social awareness about the problem of suicide through free cultural activities.

---
14th Hook the Cure Tournament Reels in $540,000 USD
Gary Green

The 14th Annual Hook the Cure, held in Puerto Vallarta Nov 7-10, was highlighted by festivities, celebrity appearances, auctions and an awards gala. A bevy of people from all over the world supported the event, which netted $540,000 USD for the Cystic Fibrosis Foundation.

---
Mariachis, Margaritas & More - a Real Mexican Fiesta
Amapas Neighborhood Association

On Saturday, November 30, the fourth edition of 'Mariachis, Margaritas, and More' will once again bring the amazing sights, exhilarating sounds, and authentic flavors of Mexico to the Puerto Vallarta Municipal Presidency courtyard - for a good cause!

---
Site Map
•
Print this Page
•
Email Us
•
Top