Vallarta Living
Community Services
Many of us have discovered a strong sense of community here on Banderas Bay, some for the very first time. If you're from a metropolis where technology reigns supreme and the words "next-door neighbor" and "stranger" are synonymous, you'll find this a refreshing environment where people matter.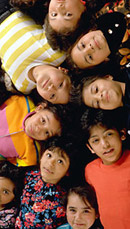 Working side by side with our new neighbors to achieve common goals is an ideal way to learn about the culture and make friends while giving back to the community which embraces us.


On these pages you'll learn about the various local charities and how you can get involved. With a multitude of opportunities here to flex philanthropic muscles, you can find out for yourself that it truly does feel as good to give as it does to receive!

• B E L O W T H E F O L D •
9th MexPup Fundraiser for Puerto Vallarta Street Dogs
BanderasNews.com

The Spanish Experience Center will host the 2020 MexPup fundraiser on Jan. 29 from 6:30-10 pm. The $350 Peso event will feature tasty tacos, live entertainment, raffles and a silent auction for great prizes. Proceeds will help MexPup continue rescuing Puerto Vallarta street dogs.

---
February FUNdraisers for R.I.S.E. Children's Shelter
Lisa Manoogian

Last weekend's bazaar was a huge success. Thank you, Puerto Vallarta, for supporting the children at Refugio Infantil Santa Esperanza! February will be fantastic, with two fun events planned: the Int'l Food Festival at Fidencio's and the RISE for Fashion luncheon at Di Vino Dante.

---
Online Auction Benefits PV's Mobile Spay/Neuter Clinic
Gretchen DeWitt

PEACEAnimals is raising money for the continuation of free mobile spay/neuter clinics in Puerto Vallarta via an online auction. Approximately 50 items are being auctioned off, from art and collectibles to gift certificates for hotels, restaurants, tours and salon services.

---
Street Bazaar to Benefit R.I.S.E. This Weekend
Lisa Manoogian

RISE is on the RISE - come out to our first Bazaar and support the children at Refugio Infantil Santa Esperanza. The Bazaar will be held on Lazaro Cardenas street, across from 'Tony's Please' restaurant on the south side of Puerto Vallarta, Jan 18 & 19 from 10 am-2 pm.

---
San Pancho Music Festival is Celebrating its 20th Year
Chris Parsons

What began in 2001 as a backyard jam session has since grown into one of the most popular music events in the region - the San Pancho Music Festival. Now in its 20th year, the festival, which will be held Feb 28-March 1, will feature 27 bands covering the gamut of musical genres.

---
Straight Men 'Come Out' Against Domestic Violence
Marie Callan

On March 8, some of PV's finest men will get 'all dolled up' to compete in the 6th edition of 'What A Drag,' Puerto Vallarta's annual drag competition for straight men. Teatro Vallarta will host this hilarious event that raises money for the Banderas Bay Women's Shelter.

---
Charity Fashion Show for Vallarta Kids with Cancer
BanderasNews.com

Alexander Daoud, owner of Alexander A Salon in Plaza Marina, will host his third annual luncheon and fashion show charity event, this time to support Families of Children with Cancer in Puerto Vallarta, on Saturday, February 8 at CasaMagna Marriott Resort & Spa.

---
A PuRR-fect Sunset Cocktail Party at Daiquiri Dick's
Lorena Sonrisas

On February 4, Daiquiri Dick's Restaurant will be hosting a Sunset Cocktail Party to benefit PuRR Project. Come enjoy cocktails, hors d'oeuvres, an exciting belly-dance performance and a front-row seat for one of Puerto Vallarta's fabulous sunsets - for a good cause!

---
PV Poker Tour Fundraiser Sponsored by Local Bars
Dennis Rike & Donna Wong

The 2020 PV Poker Tour, sponsored by Murphy's Irish Pub, Nacho Daddy, Escondida Sports Bar, Gringo Loco Cantina, All-Access Sports Bar & Bar La Playa, Kelly's Pour Favor and Steve's Sports Bar, will be held Jan. 18 at 1:00 pm to benefit Jay Sadler Project community relations projects.

---
PuRR Project Puerto Vallarta January News and Events
Linda Brasseal

The new year brings good news and some Purr-fectly wonderful events to Puerto Vallarta in support of the 180+ cats and kittens at PuRR Project. Bi-weekly Shelter Tours and BINGO games continue in January, and the ever-popular Sunset Cocktail Party is set for Feb 4 at Daiquiri Dick's.

---
Site Map
•
Print this Page
•
Email Us
•
Top