Vallarta Living
Community Services
Many of us have discovered a strong sense of community here on Banderas Bay, some for the very first time. If you're from a metropolis where technology reigns supreme and the words "next-door neighbor" and "stranger" are synonymous, you'll find this a refreshing environment where people matter.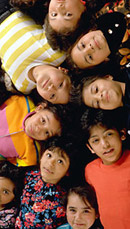 Working side by side with our new neighbors to achieve common goals is an ideal way to learn about the culture and make friends while giving back to the community which embraces us.


On these pages you'll learn about the various local charities and how you can get involved. With a multitude of opportunities here to flex philanthropic muscles, you can find out for yourself that it truly does feel as good to give as it does to receive!

• B E L O W T H E F O L D •
Tropicasa Supports Vallarta Food Bank, Our Community
Wayne Franklin

As Puerto Vallarta faces the challenges of this pandemic, Tropicasa Realty has pledged to contribute to the good work of the Vallarta Food Bank, which will ensure that about 200 families a week will have the food that they need to sustain them over the next month.

---
April 2020 News from PuRR Project Puerto Vallarta
Linda Brasseal

Here's the latest news from PuRR Project, a non-profit, no-kill feline shelter in Puerto Vallarta, that provides homeless cats and kittens a recuperative stay with the ultimate goal of adopting them out to loving homes sterilized, vaccinated and disease free.

---
Puerto Vallarta Food Distribution Program Begins Today
María Francesca

True to his word, Puerto Vallarta Mayor Arturo Dávalos Peña has implemented a food distribution program to help 7,500 families in the municipality's most vulnerable sectors survive the impact of the COVID-19 health contingency. The first delivery is scheduled for today.

---
Puerto Vallarta, Jalisco, and Mexico News Brief
Banderas News Team

With the COVID-19 pandemic dominating the world's news and social media channels, it can be difficult to keep up with what's really happening in Puerto Vallarta, the State of Jalisco, and around the Republic. Here we share some of the latest news from reliable sources in Mexico.

---
PV Therapist Offers Medical Staff Free Online Therapy
Sam Murray

Psychotherapist and Puerto Vallarta resident, Vanessa Schön, is offering free online therapy sessions to the healthcare workers and medical personnel battling coronavirus in Mexico. 'It's crucial for these individuals to be at their best to care for people with COVID-19,' she says.

---
Vallarta Dog Rescue Center Looking for 'Flight Angels'
Sam Murray

The Sula Society, a non-profit animal rescue center struggling with the fallout of COVID-19, needs 'flight angels' to help dogs stranded in Puerto Vallarta get to their new homes in Canada and the US. Monetary and in-kind donations are also needed to continue operations.

---
Puerto Vallarta, Mexico, News and Announcements
Banderas News Team

With COVID-19 dominating news and social media channels, it can be difficult to keep up with what's happening in Puerto Vallarta and around the Republic. The Banderas News Brief offers an overview of some of this week's Mexico news, plus useful information for PV residents.

---
Tunnel Road BBQ Throws a Lifeline to Vallarta Families
Sam Murray

Puerto Vallarta families struggling to deal with the economic impact of COVID-19 now have a vital lifeline thanks to Tunnel Road BBQ owners, Jimmy Plouff and Frankie Victoria, who have converted their restaurant into a food bank that's serving up to 70 families per day.

---
PV Mayor Takes 50% Pay Cut to Support Local Families
María Francesca

Mayor Arturo Dávalos Peña on Sunday announced that he would reduce his own salary by 50%, and that of all of the City Council's directors by 20%, in order to implement a food distribution program that will support 7,500 of the city's most vulnerable families.

---
Puerto Vallarta Medical Mask Project Needs Your Help
Warren Brander

In preparation for the arrival of COVID-19 cases in the Banderas Bay area, a group of volunteers is working around the clock to ensure there are sufficient face masks, disposable gowns and bed sheets for the local health care industry and public hospitals in Puerto Vallarta.

---
Site Map
•
Print this Page
•
Email Us
•
Top