Vallarta Living
Community Services
Many of us have discovered a strong sense of community here on Banderas Bay, some for the very first time. If you're from a metropolis where technology reigns supreme and the words "next-door neighbor" and "stranger" are synonymous, you'll find this a refreshing environment where people matter.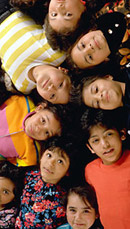 Working side by side with our new neighbors to achieve common goals is an ideal way to learn about the culture and make friends while giving back to the community which embraces us.


On these pages you'll learn about the various local charities and how you can get involved. With a multitude of opportunities here to flex philanthropic muscles, you can find out for yourself that it truly does feel as good to give as it does to receive!

• B E L O W T H E F O L D •
IFC Home Tours 'A Wonderfully Different Thing To Do'

International Friendship Club

One of the most popular tourist activities in all of Puerto Vallarta is the IFC Home Tour. So put on your walking shoes, grab your camera, and get ready to enjoy a fun-filled day of discovery, while giving a helping hand to the less fortunate in the Banderas Bay area.

---
RISE Revolution Through Education Fundraiser, Dec. 15

María Francesca

On December 15, Demetro Gallery will host a benefit to help cover the costs of educating the children at Refugio Infantil Santa Esperanza in Puerto Vallarta. Attendees will enjoy the perfect combination of food, fun and friendship, with all proceeds going to the RISE education fund.

---
The Second Best Time to Save Our Planet is NOW!

John Warren

Thanks to a donation by the International Friendship Club, American School of Puerto Vallarta students are collecting plastics, shredding them, and molding them into usable products. This is one part of the school's program that teaches our children the importance of sustainability.

---
Red Ribbon Gala for SETAC Wellness Center a Success

Marie Callan

The 2018 Red Ribbon Gala to benefit SETAC, Puerto Vallarta's LGBT Wellness Center, which was held at Mantamar Beach Club Dec. 5, was a huge success! The monies raised will be used to support SETAC's efforts to reduce HIV and other STDs in the Banderas Bay area.

---
Toys for Tots Vallarta Getting into the Christmas Spirit

VallartaNavyLeague.org

The Toys for Tots December fundraisers are always among the most popular seasonal events in Puerto Vallarta. This year, the Golf Tournament will be played on Saturday, December 8 at the Vista Vallarta course, and the Gala Dinner on the 9th at CasaMagna Marriott Resort.

---
Puerto Vallarta Garden Club Sunset Reception, Dec. 11

David Muck

Puerto Vallarta Garden Club members are invited to grab some friends and join us on December 11 for a sunset reception in the Molino de Agua garden. Uncork Mexico will offer a variety of Mexican wines and Jim Eckardt Catering will prepare appetizers to pair with the wine.

---
Disco Ball Raises $664,369 Pesos for Vallarta Charities

Marie Callan

Timothy Real Estate Group's Fourth 'House Hunters International' charity event, held November 20 at Oscar's, shattered the record of $540,000 pesos raised at their 2016 event. This year, $664,369 Pesos were raised for two Puerto Vallarta non-profit organizations.

---
December News from Vallarta's PuRR Project Shelter

Shannon Campbell

December news from PuRR Project, a non-profit, no-kill feline shelter located just north of Puerto Vallarta, Mexico that provides homeless cats and kittens a recuperative stay with the ultimate goal of adopting them out to loving homes sterilized, vaccinated and disease free.

---
Vallarta Chefs & Broadway Stars Unite for SETAC

Robert M. Schley

The Second Annual Red Ribbon Gala to benefit SETAC, Puerto Vallarta's LGBT Wellness Center, will be held on Wednesday, December 5, at Mantamar Beach Club on Los Muertos Beach. Last year's event sold out, and we expect this year's Gala to sell out again, so get your tickets TODAY!

---
'Mi Amigo Sin Pelo' Fundraiser for PV Kids With Cancer

BanderasNews.com

We can all make a difference in the lives of Puerto Vallarta children with cancer and provide support to their families by participating in the 2018 CANICA 'Mi Amigo Sin Pelo' campaign, set to be held on December 16th from 5:00 to 10:00 pm, at Los Arcos del Malecón.

---
Gourmet Dinner Benefits Puerto Vallarta Senior Center

María Francesca

On Tuesday, December 4, 2018, La Leche Restaurant will host a gourmet dinner to benefit Asilo San Juan Diego, a non-profit senior citizen's home and activity center in Puerto Vallarta that has been serving the elderly members of our community since 2011.

---
Site Map
•
Print this Page
•
Email Us
•
Top