Vallarta Living
Community Services
Many of us have discovered a strong sense of community here on Banderas Bay, some for the very first time. If you're from a metropolis where technology reigns supreme and the words "next-door neighbor" and "stranger" are synonymous, you'll find this a refreshing environment where people matter.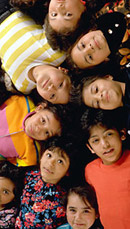 Working side by side with our new neighbors to achieve common goals is an ideal way to learn about the culture and make friends while giving back to the community which embraces us.


On these pages you'll learn about the various local charities and how you can get involved. With a multitude of opportunities here to flex philanthropic muscles, you can find out for yourself that it truly does feel as good to give as it does to receive!

• B E L O W T H E F O L D •
Circo de los Niños de San Pancho 2017 Performances

BanderasNews.com

The Circo de los Niños de San Pancho, (San Pancho Children's Circus) a social and artistic program founded by the co-creator of Cirque du Soleil, Mr. Gilles St. Croix, will present their new show from March 22nd through 25th at 7:30 pm in the Circo Bodega in San Francisco, Nayarit.

---
Grammy Award-Winner to Perform PVCO Fundraiser

Daniel Oliveros

The Puerto Vallarta Chamber Orchestra and IAMPV (Instituto de Artes Musicales Puerto Vallarta) are delighted to announce a fundraiser featuring a performance by Grammy Award winning cellist, Don Moline of the Chicago Symphony Orchestra, on March 6 at Incanto.

---
Mexico Joins International Peace Garden Network

The Daily News Online

Inclusion and unification was the message of the day Feb. 16, as the International Peace Garden was dedicated at Vallarta Botanical Garden. IPGF's Paula Savage said PV was chosen as the 2017 site because the city respects diversity of cultures and human rights.

---
Enjoy a PURRfect Sunset Cocktail at Daiquiri Dick's

Marilyn Khan

Join fellow feline supporters at Daiquiri Dick's Restaurant on Tuesday, March 21 at 6:00 pm for the PuRR Project Happy Hour fund raiser. You'll enjoy cocktails, an array of hors d'oeuvres, and a front-row seat for one of Puerto Vallarta's fabulous sunsets - all for a good cause!

---
Entreamigos' Ninth Annual Children's Art Festival

Nicole Swedlow

On Friday, March 3, Entreamigos will celebrate 11 years of providing educational opportunities for kids and families in San Pancho through creativity, consciousness in environmental actions, love and commitment to the community, through the 9th Festival de Arte Infantil and fair.

---
Vallarta's Homeless Animals are Everyone's Business

Amapas Neighborhood Association

The Amapas area has become a popular place for people who can no longer keep pets to just dump them on the beach, on the highway near Pemex, or in the Conchas Chinas area. Most of these dogs and some cats are not street animals and have no chance of survival on their own.

---
'Voces Unidas por Los Niños' to Benefit Casa Hogar

Rodrigo López

On February 18 at 6:30 pm, Platform 322 in Colonia Versalles will present sopranist Gabriel Delgadillo and singer-songwriter Kharla Barragan in 'Voces Unidas por Los Ninos,' a benefit concert for the 42 children who live at the Casa Hogar Máximo Cornejo orphanage in Puerto Vallarta.

---
How to Have a Good Laugh While Helping Others

Marie Callan

Avenue Q, the delightful laugh-out-loud American musical that has broken all box office records and raised 120,000 pesos for Puerto Vallarta charities, returns to Act II for 5 more shows! This week, monies will be raised for Cheryl's Shoebox after school soccer teams. Let's help make this goal!

---
'Que Viva El Canto' to Benefit Biblioteca Los Mangos

Cecile Scriban

Do you love opera? If so, don't miss 'Que Viva El Canto,' an opera recital featuring vocal solos and duets from classical operas, beloved Latin ballads, and a sprinkling of piano solos at the Sheraton Buganvilias Resort on March 9 to benefit the Puerto Vallarta Public Library, Biblioteca Los Mangos.

---
A PuRRfectly Fun Wednesday Afternoon at Margarita Grill

Marilyn Khan

Join us on Wednesday, February 15, for another fun afternoon of Purr Project BINGO at Margarita Grill. As always, we'll have purr-fectly primo BINGO prizes, a 50/50 raffle, and food and drink specials just for us BINGO players! Tickets go on sale at 4:30; the fun starts at 5 pm.

---
Cooks, Musicians Tune Up for 5th Charity Chili Cook-Off

Stan Francis

Puerto Vallarta's chili cooks and musical groups are tuning up for the 5th Charity Chili Cook-Off, set for February 25 from 1-5 pm at El Rio BBQ Bar and Grill. Enjoy an all-you-can-eat chili fest and dancing to live music provided by Mikki Prost, The Bones, Dave Whitty & Texas Embassy Blues Band.

---
Valentine's Day at the Marriott for Corazón de Niña

Banderas News Team

What better way to celebrate Valentine's Day than to enjoy an intimate evening overlooking the Banderas Bay at the Marriott CasaMagna Puerto Vallarta Resort? This year while wining, dining, and romancing you can also help out the abused and abandoned children at Corazón de Niña.

---
Eighth Annual 'Patotón' Fundraiser for SETAC Center

Marie Callan

Come out to the Boana Torre Malibu poolside terrace on February 22 from 7-11 pm for an unforgettable evening of fun and friendship at the 8th 'Duckaton' Fundraiser for the SETAC Community Center. You'll enjoy live entertainment, free food, an open bar and more - for a good cause!

---
Puerto Vallarta Chamber Orchestra Concert, February 19

BanderasNews.com

The Puerto Vallarta Chamber Orchestra will present 'An American in Puerto Vallarta,' a concert of music by North American composers who combined elements of jazz and the popular music of their eras to create their unique symphonic sound, on Sunday, February 19 at Teatro Vallarta.

---
Vallarta Medical Matters Conference Speakers - Part 1

Pamela Thompson

The 2017 Vallarta Medical Matters Conference sponsors - HealthCare Resources, the U.S. Consular Agency, and the CasaMagna Marriott Puerto Vallarta Resort & Spa - are proud to welcome some very distinguished medical practitioners as featured speakers at the February 13th event.

---
Democrats Abroad Mexico Host Financial Forum, Feb 20

DA Mexico-Costa Banderas

On February 20, the Costa Banderas Chapter of Democrats Abroad Mexico will host a Financial Forum at Act II Stages in Old Town. Speakers include a financial advisor from a U.S. investment firm and an economist from a Mexican firm, who'll discuss investing in this new world.

---
VBG International Peace Garden Dedication Feb. 16

Marie Callan

A community celebration will be held at the Vallarta Botanical Garden on February 16th as Mexico's official International Peace Garden is dedicated. Performances by two popular local musical groups, Moruno Gypsy Jazz Trio and Stolie, will add to the dedication ceremony's festivities.

---
The Social Event of the Season in Lo De Marcos

Anahi Alvarez

The 4th Annual Taste of Lo De Marcos, to be held at the Centro de Fiestas Los Delfines on Sunday, February 19th from 3-8 pm, will feature food from area restaurants and live music by Caravane and The Blonde Gypsies, Latcho & Andrea, with proceeds benefiting two local non-profit organizations.

---
Events and Happenings at the UdeG's CUCosta Campus

BanderasNews.com

Michael Nolen, the host of 'The Good Morning Wake Up Show,' which is broadcast every Saturday via the University of Guadalajara Centro Universitario de la Costa radio station, tells us all of the latest news, and this month's events and happenings at the Puerto Vallarta campus.

---
Entreamigos Discovery! Gala Dinner & 2017 Fundraiser

Nicole Swedlow

Please join Entreamigos on February 6 to celebrate 11 years committed to children, education, the environment and the community of San Pancho. Celebrate the history and future of Entreamigos while discovering the tastes and tequilas of Mexico in the Polo Lounge at La Patrona Polo Club.

---
Site Map
•
Print this Page
•
Email Us
•
Top