Vallarta Living
Community Services
Many of us have discovered a strong sense of community here on Banderas Bay, some for the very first time. If you're from a metropolis where technology reigns supreme and the words "next-door neighbor" and "stranger" are synonymous, you'll find this a refreshing environment where people matter.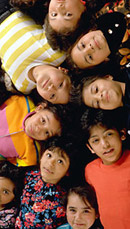 Working side by side with our new neighbors to achieve common goals is an ideal way to learn about the culture and make friends while giving back to the community which embraces us.


On these pages you'll learn about the various local charities and how you can get involved. With a multitude of opportunities here to flex philanthropic muscles, you can find out for yourself that it truly does feel as good to give as it does to receive!

• B E L O W T H E F O L D •
Democrats Abroad to Host Fourth of July Beach Party

Marilyn Khan

If you find yourself in Puerto Vallarta on the USA's Independence Day, head over to Daiquiri Dick's on Los Muertos Beach for an All-American 4th of July celebration hosted by the Costa Banderas Chapter of Democrats Abroad. This event always sells out, so get your tickets TODAY!

---
Biblioteca Los Mangos Offers Summer Courses for Kids

Margarita Bonita

The Puerto Vallarta Public Library, Biblioteca Los Mangos, is offering children ages 3-13 four fun-filled weeks of activities during this year's Summer Camp. Scheduled to take place from July 9th to August 3rd, all Summer courses are inclusive, educational and entertaining.

---
Cochran Real Estate Launches 'Helping Hands' Initiative

Marie Callan

A GoFundMe campaign has been launched for the 'Cochran Real Estate Helping Hands Initiative,' a financial assistance program created by Vallarta realtor Harriet Cochran Murray, to provide meals to family members that are taking care of their loved ones at the Regional Hospital.

---
Bishop to Visit Vallarta's Christ Church By The Sea

George Fulton

The Right Reverend Ricardo Joel Gomez Osnaya, Bishop of the Western Diocese, Anglican Church of Mexico, will be visiting the Anglican Parish of Christ Church by the Sea in Puerto Vallarta on June 17, 2018. Bishop Gomez will officially dedicate and consecrate the new church sanctuary.

---
June News & Inspirational Stories from Pasitos de Luz

BanderasNews.com

June news and inspirational stories from Pasitos de Luz, a Puerto Vallarta non-profit organization provides children with various handicaps with a caring and loving environment, along with treatment for individual rehabilitation, nutritional meals, physical stimulation and therapy.

---
Summer News from Vallarta's Parque de los Azulejos

Nancy Page

Local artist Natasha Moraga and Mosayko Vallarta volunteers are still diligently working on reshaping and transforming Lazaro Cardenas Park into another internationally recognized icon in Puerto Vallarta: 'El Parque de los Azulejos.' Here's the latest news from Tile Park PV.

---
Tragedy Strikes Amapas Neighborhood Association Again

Don Pickens

Tragedy has stricken Puerto Vallarta's Amapas Neighborhood Association again. After suffering the recent loss of ANA President Tom Swale, ANA Administrator Viviana Testón learned that her husband Fernando Hernandez had a brain tumor. Here's how you can help.

---
Iberostar Playa Mita Joins 'Se Buscan Héroes' Campaign

Norma Hernández

The Iberostar Playa Mita hotel, a five-start property located in the Riviera Nayarit, has joined the 'Se Buscan Héroes' (Heroes Wanted) campaign, which was launched in December 2015 by Paralelo 28 to work on the preservation and protection of the Islas Marietas National Park.

---
ANA Mourns Tom Swale: The President & Heart of Amapas

Amapas Neighborhood Association

It is with great sadness and a profound sense of loss that we share with you that Tom Swale, Puerto Vallarta resident and President of the Amapas Neighborhood Association, passed away on May 30, 2018. Tom will be missed, but his work and his vision will not be forgotten nor laid aside.

---
Democrats Abroad Costa Banderas June 2018 Events

Dean McIntyre

The Costa Banderas Chapter of Democrats Abroad Mexico invites you to join them for a series of events scheduled to take place this month. They are also offering free voter registration assistance on Tuesdays, Wednesdays and Thursdays from June 5 to July 4 at several Banderas Bay venues.

---
Join the Community Clean-Up in Col. Emiliano Zapata

Julie Guerrero

If you love Puerto Vallarta, please join us on Saturday, June 2 at 9:30 am for a Col. Emiliano Zapata Clean-Up. The JG Group will supply the tools needed to pick up debris and spruce up our streets. We'll finish by 11:30 am, but stick around for hot dogs and refreshments afterwards.

---
Lucha Libre Comes to Vallarta this Sunday, June 3

Ricardo Acerco

Everyone is invited to come out to Arena Coliseo Demonio Blanco in Coapinole on Sunday, June 3 at 4:00 pm for 'Lucha Libre con Causa,' an exciting family-friendly event created as a means of raising funds for retired luchadores (Mexican wrestlers) and the Puerto Vallarta Animal Shelter.

---
Help Vallarta Garden Club Prepare Plaza for Centennial

David Muck

The Puerto Vallarta Garden Club is looking for volunteers to help weed and clean the flower beds in the Plaza de Armas (the main plaza in downtown) so they'll look their best for next week's Centennial celebrations. So grab your gloves and join us on Thursday, May 24 at 8:30 am.

---
Memorial Day Event for Veterans at Steve's Sports Bar

Stan Francis

For most North Americans, Memorial Day is an annual holiday to honor all who died while defending their nation and its values. Here in Puerto Vallarta, the American Legion Post 14 will host a free Memorial Day event for veterans on May 28 from 11:00 am to 3:00 pm at Steve's Sports Bar.

---
Five-Course Gourmet Dinner to Benefit Pasitos de Luz

Yolanda Sánchez Santiago

On Saturday, May 26, Asociación Culinaria Vallartense, a group of talented Mexican chefs, will be cooking up a fabulous five-course gourmet dinner at Barrio Bistro to raise funds for Pasitos de Luz, a Puerto Vallarta non-profit organization founded by mothers of disabled children.

---
Puerto Vallarta Hosts Sea Turtle Art Contest for Kids

Lorena Sonrisas

May 23 is World Turtle Day, an annual observance to help people celebrate and protect turtles and their disappearing habitats around the world. Here in Puerto Vallarta, the city is hosting a 'Create Your Sea Turtle,' and all local school children ages 9-16 are invited to participate.

---
May News from Vallarta's PuRR Project Feline Shelter

Linda Brasseal

Here's the latest news from PuRR Project, a non-profit, no-kill feline shelter located just north of Puerto Vallarta, Mexico, that provides homeless cats and kittens a recuperative stay with the ultimate goal of adopting them out to loving homes sterilized, vaccinated and disease free.

---
Site Map
•
Print this Page
•
Email Us
•
Top