Vallarta Living
Community Services
Many of us have discovered a strong sense of community here on Banderas Bay, some for the very first time. If you're from a metropolis where technology reigns supreme and the words "next-door neighbor" and "stranger" are synonymous, you'll find this a refreshing environment where people matter.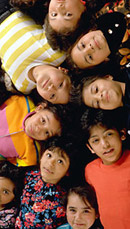 Working side by side with our new neighbors to achieve common goals is an ideal way to learn about the culture and make friends while giving back to the community which embraces us.


On these pages you'll learn about the various local charities and how you can get involved. With a multitude of opportunities here to flex philanthropic muscles, you can find out for yourself that it truly does feel as good to give as it does to receive!

• B E L O W T H E F O L D •
DIF Recognizes the Praiseworthy Work of Becas Vallarta

María Francesca

As part of the city's anniversary celebrations, every year on May 31st, 'Premio Vallarta' awards are given to citizens who have acted for the benefit of the community. This year, an award will be presented to a NGO for the first time, and the winner is... Becas Vallarta!

---
Vallarta Institute of Musical Arts Summer Concerts

Andrea Jupina

IAM PV recently announced the first two performances of its summer concert series. First, the Salty Paw Jazz Orchestra will be returning to The Jazz Foundation on Sunday, June 4; followed by an evening with the Puerto Vallarta Chamber Orchestra at Los Mangos Library on Friday, June 9.

---
A New Service at Los Mangos (and a humble tribute...)

Paco Ojeda

Inspired by a recent trip to Entre Amigos, the Puerto Vallarta Public Library, Biblioteca Los Mangos, now has a bulletin board at the entrance that provides visitors with information about all the weekly courses and workshops available for children, teens & adults, as well as special events.

---
Memorial Day Event for Veterans at Steve's Sports Bar

Stan Francis

For most North Americans, Memorial Day is an annual holiday to honor all who died while defending their nation and its values. Here in Puerto Vallarta, the American Legion Post 14 will host a free Memorial Day event for U.S. and Canadian veterans on May 29 at Steve's Sports Bar.

---
Entreamigos Announces 4th Edition of Literary Week

Marie Callan

Entreamigos, a non-profit organization that has been working to provide San Pancho children and their families with better educational opportunities for 11 years, recently announced that the fourth edition of Literary Week will be held from May 29-June 2 in San Francisco, Nayarit.

---
This Week's Events & Activities at Los Mangos Library

Adriana García

Puerto Vallarta's Public Library, Biblioteca Los Mangos, is not 'just a library,' it is a true cultural and community center that also serves as a venue for entertaining and educational workshops, art exhibits, concerts, and cultural events. Here's what's happening this week at Los Mangos.

---
Democrats Abroad May Social Hour at Nacho Daddy

David Kamp

The Costa Banderas Chapter of Democrats Abroad Mexico invites you to join them for a May 'Social Hour' in the air conditioned comfort of the upstairs lounge at Nacho Daddy Restaurant, located at Basilio Badillo #287 on the south side of Vallarta, on Tuesday, May 16 from 5:00 to 7:00 pm.

---
Los Mangos Library 'Casino Night' to Benefit Apapacho

Biblioteca Los Mangos

On Friday, May 19, the Puerto Vallarta Public Library, Biblioteca Los Mangos, will host 'Casino Night,' a special fundraising event to benefit 'Apapacho,' an Early Education program. Come out and enjoy craps, poker, black jack and roulette; DJ, raffles and more - all for a good cause.

---
The Rebound of the Vallarta Region's Military Macaw

Neil Gerlowski

As part of an extended Earth Day Celebration at the Vallarta Botanical Garden, on April 23 volunteers took a field trip to Rancho El Santuario to participate in the installation of a new nest box for the native Military Macaw, one of the largest and most colorful parrots in the Americas.

---
DIF & World Access Project Team Up for the Disabled

María Francesca

Last week, World Access Project, an association that donates used and rebuilt wheelchairs, and the Puerto Vallarta DIF, through the Municipal Council for Disability, delivered free wheelchairs and orthopedic devices to nearly 50 beneficiaries who are part of this program.

---
'Semana Santa Protegida' Underway in Puerto Vallarta

Ricardo Acerco

SETAC's 2017 Semana Santa Protegida campaign kicked off Thursday at Lázaro Cárdenas Park, where information on the HIV virus and other STDs, condoms and lubricants, and rapid tests for HIV and syphilis are free for the asking from 11:00 am to 6:00 pm through Saturday.

---
Vallarta Yacht Club Junior Sailing Program Fundraiser

vallartayachtclub.org

The Vallarta Yacht Club will hold it's Semi-Annual Fundraiser for Banderas Bay's only Junior sailing program on Saturday, April 29th at the Vallarta Yacht Club in Nuevo Vallarta's Paradise Village. You'll enjoy a 3 course dinner, raffles, live and silent auctions - all for a good cause!

---
'Mariachis, Margaritas & More' Raises $88,000 Pesos

Lorena Sonrisas

At a press conference at Fusion Gourmet on April 10, the Amapas and Viejo Vallarta Neighborhood Associations announced that 'Mariachis, Margaritas & More,' held at the Lion's Club Feb. 23, raised $88,000 pesos - enough to buy a new pressure-washer for each neighborhood.

---
Vallarta Yacht Club's 2017 Jim Ketler Award Winner

Richard Williams

The Vallarta Yacht Club's 2017 Jim Ketler Service Award has been given to Ricki Williams of Nuevo Vallarta. This award is given annually to the person that has displayed active, positive support for the mission and goals endorsed by the VYC to benefit the greater Banderas Bay Community.

---
VEA Report #2: Reporting Crime & Police Procedures

AmapasPV.com

Puerto Vallarta's new neighborhood-based crime prevention program, VEA (Vecinos En Alerta), is already working. The Amapas Neighborhood Association explains what you can expect to happen after reporting a crime via Whatsapp, dialing 911, or 089 for anonymous reporting.

---
Easter Bonnet Brunch Features Creative Mexican Cuisine

Kennedy Furtado

Taste Restaurant at Casa Cupula is pleased to announce the 4th Annual Easter Bonnet Brunch on Easter Sunday, April 16. This year's Brunch, which offers all you can eat for $399 pesos, will benefit SETAC, Puerto Vallarta's LGBT community center dedicated to fighting HIV/AIDS.

---
Vallarta Joins Fight Against Mosquito Borne Diseases

María Francesca

Earlier this week, the Mexico Health Secretariat launched the '1° Jornada Nacional de Lucha contra Zika, Dengue y Chikungunya,' a nationwide effort to reduce the population densities of the aedes aegypti mosquito, the transmitter of these diseases, and DIF Vallarta has joined the fight.

---
Illinois Educator Delivers Pencils to Vallarta Students

Mick Zawislak

For the past five years, Oak Grove Elementary School Superintendent Lonny Lemon has been collecting dropped and discarded pencils at his school in Green Oaks, Illinois. Instead of throwing them away, he delivers them to the students at Ignacio L. Vallarta Elementary School in Puerto Vallarta.

---
Help Needed to Fully Implement 911 Services in Vallarta

Banderas News Team

On January 9, 2017, 911 was put into service in Puerto Vallarta but additional funds are needed to buy all the equipment required to fully implement the new system. All 'friends of Vallarta' are encouraged to make a one-time donation that will greatly reduce response times in emergencies.

---
13th Annual Vallarta Altruism Festival Set for May 14th

Banderas News Team

Scheduled to be held in the beachfront garden at the Marriott CasaMagna Resort on May 14, the 13th Annual International Altruism Festival promises to deliver a wonderful mix of charity, culture, entertainment, delicious food, and good energy to Puerto Vallarta residents and visitors.

---
Puerto Vallarta Jewish Community Passover Seder

Donna Feldman

The Puerto Vallarta Jewish Community is having a Passover Seder Dinner at The River Cafe on April 10th at 6:00 pm - and you and your family and friends are invited. A full course dinner of typical Seder food and wine will be served for $800 pesos per person.

---
Casa Karma Resort Hosts Corazón de Niña FUNdraiser

Banderas News Team

Casa Karma Boutique Resort will host their Fourth Annual Corazón de Niña Fundraiser on Friday, March 31. This year's event will be a unique gourmet 'Picnic Under the Stars,' with entertainment provided by some of Vallarta's very talented youth groups singing, dancing and playing music.

---
Site Map
•
Print this Page
•
Email Us
•
Top