Vallarta Living
Community Services
Many of us have discovered a strong sense of community here on Banderas Bay, some for the very first time. If you're from a metropolis where technology reigns supreme and the words "next-door neighbor" and "stranger" are synonymous, you'll find this a refreshing environment where people matter.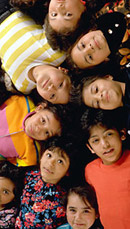 Working side by side with our new neighbors to achieve common goals is an ideal way to learn about the culture and make friends while giving back to the community which embraces us.


On these pages you'll learn about the various local charities and how you can get involved. With a multitude of opportunities here to flex philanthropic muscles, you can find out for yourself that it truly does feel as good to give as it does to receive!

• B E L O W T H E F O L D •
Seaver Foundation Reveals Results of VCEP Interviews

John Warren

This week, the IFC's John Warren follows up on last week's article regarding the Seaver Foundation's 2018 interviews of Puerto Vallarta kids that participate in the Volcanes Community Education Project after-school program. Here, he reveals some of the evaluators' findings.

---
7th Annual Puerto Vallarta Charity Chili Cook-Off

Jay Sadler Project

The seventh annual Puerto Vallarta Charity Chili Cook-Off, featuring chili recipes from some 18 popular PV area bars, restaurants and sponsors, along with live music by local bands, will be held on Saturday, February 23 from 1:00-5:00 pm at El Rio Bar and Grill in Paso Ancho.

---
SETAC to Open New Office in Old Town Puerto Vallarta

Marie Callan

SETAC, a local community and wellness center whose mission is to reduce HIV and other STDs in the Banderas Bay area, will soon open a new office on the south side of Puerto Vallarta, thanks to Timothy Real Estate Group and their Fourth 'House Hunters International' charity event.

---
What Do Vallarta Kids Think About the VCEP Program?

John Warren

In 2018, professionals from the Seaver Foundation, an English charity that does evaluations of children's programs around the world, spent two weeks in Puerto Vallarta interviewing students at the Volcanes Community Education Project to find out what they think of the program.

---
Vallarta Medical Matters Conference Speakers - Part 2

Pamela Thompson

Puerto Vallarta Medical Matters sponsors are proud to be hosting some very distinguished physicians as featured speakers at this year's health and well-being conference, covering everything from Atrial Fibrillation and Osteoarthritis to Aesthetic and Reconstructive Surgery.

---
Support the Prepa Vallarta Marlins' Second Swim Meet

Matthias Vogt

Marlin Natacion and Preparatoria Regional de Puerto Vallarta are planning the '2nd Serial Marlins Prepa Vallarta' swimming competition on February 23 & 24. You can help make this happen by making a donation towards the purchase of a medal and T-shirt for each participant.

---
Riverfest 8 Vallarta Music Festival March 2-3, 2019

Barb Bremner

The 8th Annual Riverfest to benefit the special needs children of Puerto Vallarta will be held at El Rio BBQ on March 2 & 3, 2019. Make plans now to come enjoy live music from some of Banderas Bay's best musicians, along with fabulous food and fun - all for a good cause!

---
Destruction of Río Los Horcones Canyon Paused, For Now

Neil Gerlowski & Dr. Rafael Guzmán Mejía

For the past several months, staff of the Vallarta Botanical Garden and our neighbors in nearby ejidos have observed an unprecedented deforestation of the wild and scenic Río Los Horcones Canyon. Collective action is needed to ensure the survival of this ecosystem.

---
4 Fabulous Shows Opening in February at Act II Stages

Daniel R. Mininni

Act II is celebrating their best season of entertainment yet and, with four star-studded shows opening this month and Nunsense, A-Men! performances lending a helping hand to the Banderas Bay Womens Shelter, Puerto Vallarta can look forward to a Fabulous February at STAGES!

---
February News from the PuRR Project Feline Shelter

Shannon Campbell

The latest news from PuRR Project, a non-profit feline shelter located just north of Puerto Vallarta, Mexico, that provides homeless cats and kittens a recuperative stay with the ultimate goal of adopting them out to loving homes sterilized, vaccinated and disease free.

---
Grammy Award-Winner to Perform IAMPV Benefit Concerts

BanderasNews.com

Grammy Award-winning cellist, Don Moline, accompanied by talented pianist, Jean-Guy Comeau, will perform fundraising concerts for IAMPV (Instituto de Artes Musicales Puerto Vallarta) on Jan. 31 and Feb. 2. Both evenings will begin with 6 pm cocktails followed by a 7 pm concert.

---
PV's Straight Men 'Come Out' Against Domestic Violence

Banderas News Team

On Sunday, March 10, some of Puerto Vallarta's finest men will take the stage at Teatro Vallarta to compete in 'What a Drag!' Tickets are on sale now for this hilarious drag competition for straight men that raises money for victims of domestic violence in the Banderas Bay area.

---
Site Map
•
Print this Page
•
Email Us
•
Top