Vallarta Living
Community Services
Many of us have discovered a strong sense of community here on Banderas Bay, some for the very first time. If you're from a metropolis where technology reigns supreme and the words "next-door neighbor" and "stranger" are synonymous, you'll find this a refreshing environment where people matter.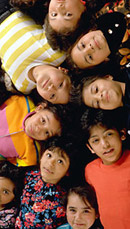 Working side by side with our new neighbors to achieve common goals is an ideal way to learn about the culture and make friends while giving back to the community which embraces us.


On these pages you'll learn about the various local charities and how you can get involved. With a multitude of opportunities here to flex philanthropic muscles, you can find out for yourself that it truly does feel as good to give as it does to receive!

• B E L O W T H E F O L D •
PuRR Project October News and Upcoming Events

Shannon Campbell

Here's the latest news from PuRR Project, a non-profit, no-kill feline shelter located just north of Puerto Vallarta, and information about some upcoming events, including Shelter Tours, a Giant Garage Sale, Kitty BINGO, the Beach Luau and the Winter Fashion Show.

---
Vallarta Volunteers Still Working to Get Out The Vote

Costa Banderas Democrats Abroad

Attention U.S. citizens! Time is running out to cast your vote in the November 6 midterm elections. If you are in Puerto Vallarta, Vote from Abroad volunteers will be at Daiquiri Dick's on Wednesday, October 17 from 10:30 am to 2:30 pm, to help you get your ballot back in time to be counted.

---
Puerto Vallarta Charity Bingo, Wednesdays at Nacho Daddy

BanderasNews.com

A new season of Charity Bingo returns to Nacho Daddy Restaurant & Bar on October 31, 2018. Games will be played every other Wednesday at 4:00 pm to raise money for two very special Puerto Vallarta non-profit organizations: Pasitos de Luz and the Colina Spay & Neuter Clinic.

---
Last Chance to Get Your Vote to Count in U.S. Mid-Terms

Costa Banderas Democrats Abroad

Though the General Election is still a month away, it's time for U.S. overseas voters to return their absentee ballots so they arrive by state deadlines. Here in Vallarta, VoteFromAbroad volunteers will be at Daiquiri Dick's on Oct. 10 to provide information on getting your ballots back in time.

---
Breast Cancer Awareness Events in Puerto Vallarta

Pamela Thompson

October is Breast Cancer Awareness month, so Healthcare Resouces Puerto Vallarta is organizing a variety of pink activities and events to promote awareness, honor breast cancer survivors and remember those who lost the fight. Everyone is invited to participate.

---
Vallarta to Bury Centennial Time Capsule September 27

María Francesca

Since tourism is one of the main activities in Puerto Vallarta, and the municipality is celebrating its centennial this year, a time capsule will be filled with nostalgic and contemporary items and buried on September 27 as part of the city's 2018 World Tourism Day celebrations.

---
TREG's 4th House Hunters International Charity Event

Taniel Chemsian

On November 20, Vallarta's #1 Real Estate brokerage firm, Timothy Real Estate Group, will host The Disco Ball, their fourth 'House Hunters International' charity event benefiting two local charitable organizations - Asilo San Juan Diego Senior Center and SETAC Community Center.

---
U.S. Citizens: Voting in the Midterms from Abroad

Heather Wilson

With the midterm elections rapidly approaching in November, many Americans are beginning to worry about their votes. If you are in Mexico and need help, watch for VoteFromAbroad assistance provided by Democrats Abroad at various locations in Puerto Vallarta and Banderas Bay.

---
American School of Puerto Vallarta 2018 College Fair

Amanda González Moreno

The American School of Puerto Vallarta invites high school students and their parents to participate in their 2018 College Fair. Set to be held Oct. 8 from 1-4 pm at the International Convention Center, 70+ universities from the US, Canada, Mexico & Europe will be present.

---
2018 SPCA de Puerto Vallarta 'Evening Under the Stars'

Janice Gonzalez

Tickets are now on sale for the 2018 'Evening Under the Stars,' the annual fund raiser for the SPCA de Puerto Vallarta. This extraordinary event will be held in The Iguana, the gorgeous restaurant located within the stunning Casa Kimberly boutique hotel, on Saturday, November 24.

---
PrEP Program Officially Launched in Puerto Vallarta

BanderasNews.com

Thursday, September 13, 2018 was a historic day in Puerto Vallarta. It was on this day that the UN's PrEP (Pre-exposure prophylaxis) pilot program was officially launched in the Banderas Bay area and inaugurated at the S.E.T.A.C. LGBTQ Wellness Center in Colonia Versalles.

---
Bahía de Banderas Trash Challenge, September 23-29

Riviera Nayarit CVB

The 'Bahía de Banderas Towns, Rivers, and Beaches Cleanup Marathon' will be held September 23-29 to contribute to the conservation of the Banderas Bay region's Natural Protected Areas by fighting solid waste contamination in both the Nayarit and Jalisco portions of the bay.

---
Democrats Abroad Mexico Voter Registration Assistance

Paula Dulak

With the U.S. mid-terms elections approaching, the Costa Banderas Chapter of Democrats Abroad Mexico is offering voter registration assistance in Vallarta, as well as information to help US citizens register and vote either electronically or by mail from anywhere in Mexico.

---
A Look Behind the Walls of the PuRR Project Shelter

Banderas News Team

2019 PuRR Project calendars are now on sale! For just $250 pesos you can get up close and PuRR-sonal with 12 PuRR-fectly gorgeous gatos and gatitos, while helping provide food, shelter and veterinary care for the 200+ adorable cats and kittens at Puerto Vallarta's no-kill feline sanctuary.

---
Site Map
•
Print this Page
•
Email Us
•
Top