Vallarta Living | Art Talk | June 2005
Lynching Exhibit Revives Ugly History

Reuters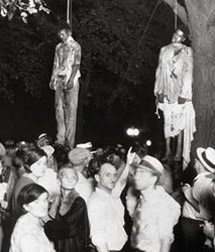 This photo of a lynching shows normal-looking white Americans enjoying the spectacle. Now on display at the Chicago Historical Society, photos like this document racial lynching as far north as Minnesota. (Photo: www.outofrange.net)

Chicago - The face of racial hatred in America is on display in a new exhibit on lynching, even as the government investigates a 50-year-old murder in the Old South and the US Senate readies a formal apology for the decades when it failed to act against the crimes.


That the wounds of a country divided by color are far from healed was evident when the exhibit opened last week. Out of sensitivity, organizers temporarily removed a photograph of the mangled face of Emmett Till - a black teenager tortured and killed in Mississippi in 1955 - when they brought Tills' family to a private showing before the exhibit's opening.


The photographs on display at the Chicago Historical Society record grisly killings that occurred mostly in the Southern Cotton Belt, but stretched as far east as Maryland and as far north as Duluth, Minnesota.


There is the picture of "Bootjack" McDaniels, tied shirtless to a tree, whipped with chains and tortured with a blowtorch before being shot dead.


And one of Rubin Stacy, his body hanging from a tree branch before a smiling crowd that included children.


There also is a picture of Till's open casket, showing his mutilated face, an image that stirred millions and helped spark the modern civil rights movement.


Lynching refers broadly to any killings by a mob acting outside the law, although many Americans associate the term with racially motivated slayings, particularly hangings.


Pictures of many of the slayings - part of a wave of violence that claimed an estimated 4,742 lives through the 1940s - were reproduced on penny postcards, circulated as popular souvenirs at the time.


The exhibition is organized around the 50th anniversary of Till's slaying. It also coincides with the recent exhumation of his body as part of an FBI-led investigation of the crime that could lead to charges against others - including blacks - who may have been involved.


Till's remains were reburied last Saturday.


'Outrageous Memories'


"I was not able to go the funeral 50 years ago... last week we got a chance to go to the funeral and close a chapter," by seeing the exhibit, said Simeon Wright, 62, a cousin of Till who was in bed next to him the night he was abducted.


"It brings back sad and outrageous memories," he added.


During a summertime visit to relatives in Mississippi, Till, a 14-year-old Chicagoan, was tortured and killed for allegedly whistling at a white woman. His mutilated body was recovered from the Tallahatchie River and his mother, Mamie Till-Mobley, insisted he be displayed in an open casket to demonstrate the brutality of the killing.


The two men charged with the crime were acquitted by an all-white jury in Mississippi, but later admitted to the killing in a paid interview with Look magazine.


Till's exhumation has unearthed memories of a dark past and gathered national attention that has reached even the US Congress. The Senate next Monday is expected to officially apologize for its historic reluctance to approve anti-lynching legislation.


Doria Dee Johnson, the great-great granddaughter of a wealthy black cotton farmer who was killed by a mob of whites in South Carolina, said she has for years pleaded for an apology from the government.


"I never realized I could really get an apology," said Johnson, 44, who will fly to Washington on Friday to witness the Senate's apology next week. "We are very excited ... this is a victory."


Retelling History


A photo of Johnson's great-great grandfather also appeared in the exhibition, which museum organizers said has already attracted hundreds of visitors.


Most of the lynching postcards shown come from the private collection of antique collectors James Allen and John Littlefield, who started acquiring the images more than 20 years ago.


"I just felt that if I could find out how many there were, I would be turning the clock back and retelling history in an undeniable way," Allen said from his home in Atlanta. Since 2000, part of his collection has been shown in five cities, including New York and Atlanta, where it stirred controversy in the South.


"There is a lot to be done about race relations in this country," Joy Bivins, a museum curator. "But we have come a long way."


The Southern Poverty Law Center in a recent report said it had observed a rise in white supremacist activity, which in turn raised fears of an increase in racially motivated violence.
Tell a Friend
•
Site Map
•
Print this Page
•
Email Us
•
Top