Vallarta Living | Art Talk | September 2005
In Court, Life Imitates Surrealist Art

Wire services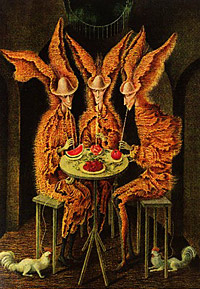 Vegetarian Vampires by Remedios Varo - born in 1908, Anglés Cataluña Spain, died 1963, Mexico City.

Spanish-born artist Remedios Varo was an important 20th-century surrealist painter and a cultural icon in her adopted Mexico. She painted vegetarian vampires and other strange inhabitants of a world where logic was turned inside out.


Now, four decades after Varo's death, 39 of her best works are on a journey through the surreal corridors of Mexican justice.


Although the Mexican government has declared the collection a "national treasure" in order to keep the paintings in Mexico, a court here recently ruled that a Mexican museum must hand over the works to the artist's Spanish niece, whom Varo barely knew.


Why? The longtime owner of the collection, Walter Gruen, a 91-year-old Austrian emigre who was Varo's lover, is missing some sales receipts.


The fight over the paintings highlights an uncomfortable fact for Mexicans and foreigners who live and invest here: Anyone who steps inside a Mexican courtroom enters a world of unpredictable consequences. In the country's Napoleonic code, technicalities often override overwhelming evidence.


Mexican courts ruled that Gruen was not close enough to Varo to be considered her common-law husband, even though the two lived together for 11 years prior to her death. The courts have also dismissed some 2,500 pages of evidence that back up Gruen's ownership claim, including affidavits from prominent collectors who sold Varo works to him.


"I wish I'd never set foot in a Mexican court," says Gruen, a Buchenwald concentration-camp survivor whose hands shake with age and who walks with a cane.


Varo, who fled Spain's civil war to France in 1937, only to be forced out of the country by German occupation, took refuge in Mexico in 1941. She became a prominent member of Mexico's postwar art scene, along with painters Diego Rivera and Frida Kahlo and Spanish filmmaker Luis Buñuel. Her paintings regularly sell for more than US500,000 at Sotheby's and Christie's, and the disputed collection is valued at more than US15 million, according to Mexico's National Beaux Arts Institute.


She might have appreciated the oddities of the Mexican legal system: As a young artist in bohemian Barcelona during the early 1930s, she joined a group called the "logic-phobes." Many surrealists were attracted to Mexico because of its mix of ancient culture, volcanic landscapes and absurdist humor. French surrealist writer Andre Breton declared Mexico the "surrealist country par excellence."


Varo's career didn't take off until she moved in with Gruen in 1952. He saw in the red-haired beauty an unusual talent and gave her the financial and emotional stability she needed to paint full time. They lived together until Gruen was called one day at work in early 1963 and told that Varo had collapsed. He raced home, and she died in his arms at age 54.


Over the following 25 years, Gruen slowly amassed his collection of her work and promoted her tirelessly. A 1994 retrospective that he organized at Mexico City's Museum of Modern Art still holds the museum's attendance record.


Gruen himself set the wheels of Mexican justice moving when he went to court in 1987 for what he thought would be routine copyright protection for his Varo collection. The easiest way to get the copyright was to be declared the legal heir of Varo, who died without a will. This approach made sense for Gruen: Mexican law deems those who live together for more than five years to be common-law spouses, or in Mexican legal parlance, "concubines." The concubine status was originally designed to protect women who had lived for years with Mexican men who then died intestate, but it applies to men, too.


A Mexican judge, however, denied Gruen his concubine rights on a technicality: Varo had not formally divorced her second husband, Benjamin Peret, a French surrealist poet. Gruen dropped his claims and the case was forgotten.


In 1999, however, a government lawyer stumbled onto the file and tried to seize the paintings on behalf of Mexico, arguing that Gruen was not Varo's legal heir, so his Varo paintings were up for grabs. Another judge agreed, ignoring Gruen's pleas that he had built up the collection after Varo's death and that none of it was part of her estate.


But proving he bought the paintings in the eyes of Mexican law has been tough. In the late 1960s, few in Mexico bothered to write receipts, especially in art circles. Gruen, who made his money from a classical music store he owned in Mexico City, put together other evidence. He inherited seven of the paintings from a Swiss expatriate, photographer Eva Sulzer, and Sulzer's will named Gruen as her heir. The judge recently rejected the will as evidence, saying that it was a "private" and not "public" document.


Ana María Chávez, the former owner of a Varo painting titled "Creation of the Birds," testified that she had sold her painting to Gruen in 1986, and presented a copy of Gruen's US70,000 check. The judge, Margarita Gallegos, again turned down the evidence, writing in a March ruling that "none of this can be conceived as proof of ownership."


That decision set off a firestorm. The entire law faculty at the National Autonomous University of Mexico (UNAM), blasted the judge in a full-page newspaper ad that ran all over Mexico. "The judge is either corrupt or incredibly ignorant," says Norka Lopez, a professor of law at the university.


By law, Judge Gallegos can't speak publicly about the case. But Wulfredo Álvarez, a lawyer for Varo's niece, says that many of the judge's initial findings in the case have been supported on appeal. "We can't have bought off that many judges," Alvarez says.


In another twist of fate, the government's attempt to seize the paintings backfired. In 1999, a court ruled that the government had to seek out the late painter's next of kin before taking the paintings. So the government took out newspaper ads in Mexico and Spain. Varo's niece, Beatriz Varo, was contacted by a relative who spotted the ad.


The niece, an interior designer, quickly filed suit to claim the works as part of her aunt's estate. She says Gruen has lied about purchasing the paintings and took possession of them when her aunt died. Fearing that the collection would leave the country, the Mexican government did a flip-flop. Now it is arguing in court that Gruen is indeed the sole owner and that the niece has no right to the paintings.


Gruen, visibly tired and perplexed by the Mexican legal system, has long since stopped trying to keep the paintings for himself. His only daughter and possible heir from a second marriage, Isabelle, died in a 1998 car crash. Gruen has agreed to give the entire collection to the Museum of Modern Art on the condition that the collection be named after his daughter.


Both Gruen and the Mexican government are appealing the recent decisions in favor of the niece. Judge Gallegos has also ruled that the museum and Gruen must give Varo's niece any money made from Varo exhibits there over the past two decades.


Since the Mexican government wants to block the paintings from leaving the country, Varo's niece says she is willing to sell. "I have great respect for the Mexican legal system," she says.
Tell a Friend
•
Site Map
•
Print this Page
•
Email Us
•
Top