Vallarta Living | September 2005
Vallarta Summers Are For Kids

Marla Hoover - PVNN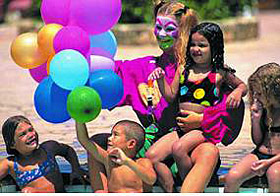 Children love Puerto Vallarta because it's summer all year round.

Children love Puerto Vallarta because it's summer all year round. They can throw on their cut-offs, a t-shirt, some sandals and they're good to go - go do any of the really cool activities this fun town has to offer them. From tots to teens there's tons to do.


Kids enjoy adventure and Costa Vallarta has lots to discover. Tours of every kind are available to kids at half price. Excursions that will teach scuba diving and snorkeling in the same area that Jacques Cousteau studied marine life, or discovering the under water caves of Los Arcos, swimming with dolphins in captivity or with a marine biologist in the wild. There are trips to the outer beaches where kids can hike to waterfalls, take a walk along a path to explore the jungle or just hang out on the beach and play. There are many specialty tours available such as, three wheeling down a riverbed, fishing, cruising the bay in a Spanish galleon, or exploring the depths in a Yellow Submarine.


One of the most popular places for kids to visit is the set of the Arnold Schwarzenegger film, Predator at El Edén. They can see the helicopter that crashed in the movie and is still hanging in the trees. Because the set is in the jungle along the Mismaloya river there is plenty to do and see like, swinging out over the water on vines and dropping into one of the natural pools cut out of the rocky canyons in the river, watching divers jump from the higher perches, and having lunch at the outdoor restaurant.


Bicycling is a way of life for kids and there are several tours by two local companies, B-B-Bobby's Bikes and Bike Mex, where they can go with their families to take in the city sights, go on an package tour to the outer areas or just rent a bike for their stay.


Water parks are always a big hit with kids of all ages. On the grounds of the Mayan Palace in Marina Vallarta is a giant one with two towers and four separate water slides - kids have to be over 12 to go on the bigger ones. The park also has two rivers, one that guests can take a boat ride in that goes under the street to the hotels' other campus and a smaller "lazy river" to inner tube in. There is also a kiddy area with smaller slides and sprinklers and a giant mushroom that has a waterfall. Besides the water fun, there is also a patio area with a snack bar. Safety is considered with five lifeguards and an on duty doctor and nurse. A new state of the art water park, Splash, is set to open later this year in Nuevo Vallarta, just off the highway.


Collage, a recreational center, has a video arcade, pool tables, and an18-lane bowling alley. There are also several kids' programs. On Saturdays, they hold a Movie Matinee for kids age 3 to 10 at 11:00am, where Disney style movies are presented. Collage also has various teen activities such as talent shows that are broadcast live on the local radio station, dancing contests where local high schools compete for prizes and the center is going to sponsor a mini marathon of swimming, bicycling and running later this spring. Birthday parties can also be arranged at the snack bar.


The Puerto Vallarta public Library holds a children's activity program every Saturday from 11 am to 1 pm where kids can play games, read or listen to a storyteller. Art classes are held monthly at the cultural center on Isla Cuale, where many young artists have developed their talents with the help of professional artists from the area.


The Walking Tour of Puerto Vallarta is another favorite pastime for kids. Not only can they cruise the Malecón but they can also visit the Municipal Market and buy T-shirts, big sombreros, and other Mexican handicrafts, or watch Huichol Indians make the beautiful yard and bead artwork that has made them famous. Puerto Vallarta also kids specialty-clothing shops including, Kids Only at Neptune's Plaza, and Baby World on Basilio Badillo or Lans Department store downtown.


For kids that just have to have a Big Mac, there are two McDonalds in town along with a Burger King, Pizza Hut and a Subway. They can even go to Planet Hollywood or the Hard Rock Café for lunch and souvenirs.


All of the larger resorts offer special kids programs. Many have a schedule of activities with an activity director that makes sure kids have fun and stay safe. Some resorts offer a kid's area for smaller children to play in with slides, kiddy pool, sand boxes, swings and other playground equipment. There are even adventure packages at some resorts that offer horseback riding, mountain biking, surfing, turtle reserves, and other nature activities all designed with kids in mind.


Puerto Vallarta is a great place for kids with so much for them to discover. They can see and learn new things about the world around them and maybe even themselves.
Tell a Friend
•
Site Map
•
Print this Page
•
Email Us
•
Top