Vallarta Living | Art Talk | January 2006
Mexican Artist Claims He was Unfairly Deported from US

AP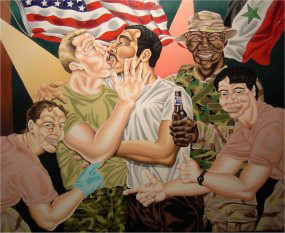 America-War by Agustin Portillo

Mexico City – A Mexican expressionist painter who specializes in biting depictions of U.S. society complained was unfairly deported by officials at Chicago's O'Hare airport, one of whom allegedly treated the painter with disrespect.


Agustin Portillo said he and a Mexican collector who sometimes helps arrange sales of his work were deported and banned from returning to the United States for five years after they arrived in Chicago aboard a flight from Mexico on Sept. 5.


Whether Portillo was unfairly deported seems to depend on whether he had an expired tourist visa – he claims it had been extended – and whether he needed a work visa to exhibit and sell paintings in the United States.


When inspectors asked the reason for his visit to Chicago, "I replied that I was coming to do my part to contribute to the culture of the United States," Portillo told a news conference.


One official – whose name Portillo said he did not know – "responded to me, with a racist attitude, that he had no interest in me, my art, or Mexican culture."


"Being in the United States is very important for me," Portillo said. The U.S. "impacts me, seduces me, and has been the inspiration for my latest series." He said he has had to miss the opening of two exhibitions of his work in the United States since being deported.


Portillo produced a letter from Rep. Janice D. Schakowsky, an Illinois Democrat, who said her office had looked into the issue and been told that his visa had been expired for three months. Portillo claims his visa was extended and therefore was still valid.


The U.S. Border Protection and Customs office in Chicago had no immediate comment.


Portillo said he was told by an official at the U.S. Embassy in Mexico City that he should apply for a type "O" artist's visa, but said he didn't want to because he has no intention of actually working in the United States.


The definition of "work" also appears to lie at the heart of the matter. Portillo entered the United States as a tourist, but has sold 18 paintings to museums or galleries, mainly in the Chicago area, during regular visits since 2003.


"Mexican artists, or those from any other land, must know that they cannot draw a sketch, write a poem or song, or take a photograph, without committing a crime," Portillo said.


Portillo's paintings often show exaggerated, almost grotesque scenes of wrinkle-faced Americans, with a critical style similar to Mexican muralists of the 1930s and 40s.
Tell a Friend
•
Site Map
•
Print this Page
•
Email Us
•
Top