Vallarta Living | Art Talk | March 2006
Art Talk

Denise Derameé - PVNN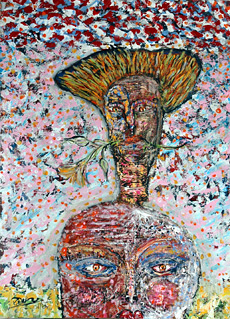 Bad Hair Day by Rogelio Diaz
On March 10th from 6-10 pm Galeria Dante, Basilio Badillo 269, will be hosting a cocktail reception for artist Rogelio Diaz and sculptor Boback Emad. For more information, call 222-2477 or
click HERE to visit the Website.

There's something about Puerto Vallarta that's always seemed to attract artists and art lovers. Even before Mexicana Airlines first started using native son Manuel Lepe's naif paintings of Vallarta to promote the destination, there were already a number of art galleries and local artists established here in Vallarta.


Today, after 55 years of top quality art being created and shown in the art galleries of our special city, Puerto Vallarta has become one of Mexico's premier art meccas.


This month, The Old Town Art Walk continues at 17 art galleries in downtown Puerto Vallarta. These popular art galleries are brimming with new exhibitions featuring art in all mediums - paintings, sculptures, pottery and folk art - so be sure to stop by for free cocktail expositions every Wednesday night from 6 to 10 pm.


Javier Zaragoza opened his exposition "Traditional Mexico" on March 1 at Galeria Vallarta for the weekly Art Walk. Javier was present to greet the many guests who appreciated his realistic oil portraits of local Ajijic natives from the town where he lives and owns his own gallery. The show will continue until March 14th.


Steven King and Barbara Dunn will share the spotlight on March 15 at Galeria Vallarta with Steven's impressionist oils and Barbara's watercolors of typical Vallarta beach scenes in small format. On March 29th, Dimitar and Helen Krustev will return to Galeria Vallarta for their annual show entitled "Mexican Natives."


Galeria AL will feature art by Meme during March, as well as new works by Marta Gilbert. La Nana Gallery will present Sergio Lugo, Galeria Pacifico is featuring Juan Ezcurdia, and Leonardo Galleries has a showing of Cuban artist Exposito.


A new gallery has opened in the new section of Plaza Caracol, near the Cinemark movie theaters. This interesting gallery combines paintings, masks, sculpture and jewelry from a variety of local artists. Be sure to visit them soon.


And while you are at Plaza Caracol, be sure to check out the first Festival Indigena Wixaritari from March 4th-26th. This special exhibition offers everyone the opportunity to sample the richness of this ancient tribe and to learn more about the age-old customs of the Huichol people through traditional cultural demonstrations and art exhibits.


On March 8th from 6-11 pm, eclectic jewelry designer, Lou Zeldis, will make a very rare appearance at Viva Jewelry and Boutique at 274 Basilio Badillo in Old Town Vallarta. Mary Sue Morris will be playing host to this jewelry artist. His pieces are works of art, combining ancient parts of nature with modern materials, both common and uncommon, all joined together in neo-mystic charms of intelligent beauty, worldly interest, and unique honesty.


On March 10th from 6-10 pm, Galeria Dante will be hosting their fifth cocktail reception this year, featuring the energetic and spontaneous mastery of modern abstract paintings by artist Rogelio Diaz and sculptures that reflect on the excitement of motion in figures, acrobats, dancers and bodies by Boback Emad. For more information, call 222-2477 or visit www.galleriadante.com/expos.htm.


Several days a week throughout the high season, Christy Ann Beguesse conducts mosaic tile classes at her workshop, A Broken Art Studio, at Lazaro Cardenas #62 in Bucerias. Everyone from small kids to senior citizens, artists to accountants can participate. "No past experience is needed," says Christy, "Just come to the workshop prepared to have fun." For more information, contact Christy at abrokenart@gmail.com, call (044) 322 137-8093, or visit her website at Abrokenart.com.


Galería Nana will be hosting "Arte Esencial" a painting class for adults who want to discover the essence of art with la Maestra en Artes Jimena Odetti of Argentina. The price for this special painting course is $1200 pesos per person and will consist of four 3-hour classes, beginning on Tuesday, March 14th at 11 am. For more information call 113-0475, or stop by La Nana Galería de Arte at Josefa Ortiz de Dominguez 155 in downtown Vallarta, between Juarez and Morelos.
Tell a Friend
•
Site Map
•
Print this Page
•
Email Us
•
Top