Vallarta Living | Art Talk | March 2006
Sculpture of Mexican Dancers to Grace the Malecón

Jim Callan - PVNN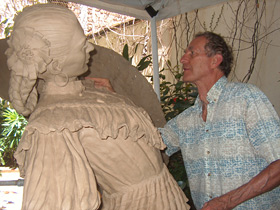 For more information, contact Jim Demetro at (322) 222-3411, extension 601, or by email: demetro@e-z.net. Or visit his website, featuring pictures of many of his works, at: www.jimdemetro.com.

Jim Demetro, known throughout the United States for his sculptures featured in both public locations and private collections, brings his artistic work to Puerto Vallarta with two life-sized statues which will become a part of the new Malecón extension.


Scheduled for installation later this year, the bronze sculpture will depict a Mexican couple in the traditional Tapatio dance.


"Ever since I first saw the Xiutla dance at Los Arcos, I wanted to create a work to honor this important part of Mexican culture," Demetro said. "The challenge was to capture the energy and excitement of the dancers."


Demetro has succeeded by sculpting the woman with her left hand swirling her skirt as high as her head, her right hand flaring the dress somewhat lower, all the while maintaining a graceful scarf across her shoulders and arms.


"Mexico is known for its vibrant colors. So, we will apply patina to the costumes, to permanently capture some of that beauty," said Demetro. The man's costume is also true to life. Demetro and his assistant, daughter Christina, borrowed an actual costume to insure that the statue's intricate designs were authentic.


Demetro, noted for his attention to detail, does not disappoint. Every facet of the woman, from eyelashes to the carefully braided hair, is true to life. The male dancer is equally well done, with details like a finely trimmed mustache and even individual threads to form the fringe at the end of his tie.


"The casting of this complicated work will be the most difficult process I have undertaken," Demetro said. "But we have found an excellent foundry here in Jalisco that will handle the work with care."


Puerto Vallarta has an outstanding display of artistic work along the Malecón, adding beauty, culture and interest to an important part of the city. Those living here and those visiting can enjoy a wide variety of impressive art up close.


The Demetro piece will continue that excellent strategy, adding, as each piece does, its own special charm. It will be the first sculpture on the Malecón to highlight a traditional Mexican dance. And it will be the first to feature the exciting colors of Mexico.


While the City approves and provides locations for the Malecón sculptures, it does not provide any money to produce them. In order to raise funds for casting these complicated pieces, Demetro has created a limited-edition of the smaller version.


These individually signed and numbered pieces are being sold to cover the cost of the foundry work. Thirty-two have already been snapped up by aficionados as they find out about the dancers. He is also accepting donations, and is raffling off one sculpture. Tickets are $100 each, and only 50 will be sold.


Both the smaller version and the life-sized pieces are on display in the lobby courtyard of Plaza Mar Condominiums at Lazaro Cardenas #155 in Zona Romantica. Those interested in seeing the work in progress are welcome to stop by Plaza Mar.


Trained as an engineer, Demetro had a successful career in the field of industrial process control, before pursuing his passion - sculpting. Self-taught, he has produced a remarkable gallery of work in just fourteen years.


Demetro's work includes a series of four life-sized statues and six bas relief panels commissioned to commemorate the bicentennial anniversary of the Lewis and Clark expedition; a larger-than-life-size statue of Captain Vancouver, for the City of Vancouver; life-sized statues of Elvis and Marilyn Monroe; a 10-foot sturgeon and an 8-foot salmon; plus dozens of other pieces. Many of his works include more than one life-sized person.


For more information, contact Jim Demetro at (322) 222-3411, extension 601, or by email: demetro@e-z.net. Or visit his website, featuring pictures of many of his works, at: www.jimdemetro.com.
Tell a Friend
•
Site Map
•
Print this Page
•
Email Us
•
Top