Vallarta Living | Veteran Affairs | August 2006
Blue Water Vets Covered for Agent Orange Exposure

David Lord - PVNN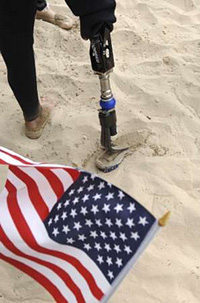 A United States flag blows in the breeze next to the prosthetic leg of United States Army veteran Dan Regan in Pismo Beach, California August 18, 2006. Fourteen servicemen and women who lost limbs fighting in Iraq and Afghanistan traveled on Friday from Brook Army Medical Center in Texas to Pismo Beach in California to attend a surf clinic sponsored by a non-profit group called 'Operation Comfort'. (Reuters/Phil Klein)

After years of waiting, the US Court of Appeals for Veterans Claims (CAVC) handed down a benchmark decision that extends the presumption of service connection for diseases related to Agent Orange (AO) exposure to Vietnam veterans who served on vessels that sailed in the waters off of the Republic of Vietnam, even though they did not set foot on shore.


For years, the VA has denied presumptive AO-related service connection to these "blue water" veterans (so called because they served on ships at sea, rather than in Vietnam's inland water ways, or "brown water") arguing that the law extends the presumption only if the veteran actually set foot in Vietnam.


In Haas v. Nicholson, Vet.App. No. 04-0491, slip op. (Aug. 16, 2006), the Court determined that the VA's interpretation of the law was in error, and that a veteran who served in the blue water navy is entitled to the presumptions of exposure to AO and service connection - if he or she suffers from one of the recognized presumptively service-connected diseases.


In this case, Mr. Haas, a blue water navy veteran who suffers from diabetes and several secondary disorders, appealed a denied claim for service connection to the Board of Veterans' Appeals.


The Board denied his appeal for presumptive service connection on the grounds that he did not actually serve "in" the Republic of Vietnam. In its decision, the CAVC held that 38 U.S.C. § 1116(f) is not clear on its face concerning the meaning of the phrase "service in the Republic of Vietnam."


Accordingly, while the VA is allowed to promulgate regulations to resolve that ambiguity, the regulations must reasonably interpret both the language of the statute and the intent of Congress in enacting the legislation.


In this respect, the CAVC concluded that because the statute does not specifically limit the application of the presumption of service connection for herbicide exposure to those who set foot on Vietnamese soil, the VA's regulatory interpretation, while a permissible exercise of its rulemaking authority, does not clearly preclude the application of the presumption to sailors who served aboard a ship in close proximity to Vietnam.


Such sailors were generally awarded the Vietnam Service Medal (VSM), which the provisions of the VA Adjudication Procedures Manual M21-1 recognized as awarded for service in Vietnam.


But what does this all mean? Hass remains good law. Bottom line: potential blue water navy clients, or any blue water navy veteran whose claim for an AO-related disease has been denied by the VA in the past, get a claim in FAST! Claims received in the interim should be granted under this decision. However, I also believe the controlling factor is the Viet Nam Service Medal.


VA CLAIM REPRESENTATION UPDATE


Here's an update on the Veterans Choice of Representation Act of 2006, which was addressed in a column I wrote a few weeks ago. (Click HERE to view)


Senate Veterans' Affairs Committee Chairman Larry Craig (R-ID) won the day on a controversial bill he sponsored that would let veterans hire attorneys to assist them in developing their VA disability claims.


This legislation was opposed by many veteran groups who already provide veterans free representation through the administrative process by accredited veterans hearing officers.


The Veterans' Choice of Representation and Benefits Enhancement Act of 2006 (S. 2694) passed by the Senate includes provisions from more than a dozen other bills. The net effect will do several things, but for the purposes of this article I include only relevant issues for those living in Latin America.


• Increase the supplemental life insurance available to totally disabled veterans, from $20,000 to $30,000 (S.1252).


• Require the VA to pay full costs, including medications, for certain service-connected veterans residing in veterans' homes run by state governments (S.2762). Under current law, the federal government only pays a portion of those costs.


David's note: The items below make sense and should be allowed in Mexico someday - if we petition hard enough!


1. Expand and improve services for homeless and low-income veterans (S.3545).
2. Authorize a pilot program to provide caregiver assistance and non-institutional care services to veterans ( S.2753).
3. Allow VA to designate beds in privately-run care centers as "state homes."


The bill now passes to the House for their approval.


[Source: MOAA Aug 06]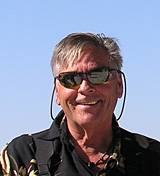 David Lord served in Vietnam as combat Marine for 1st Battalion 26th Marines, during which time he was severely wounded. He received the Purple Heart and the Presidential Unit Citation for his actions during the war in Vietnam. In Mexico, David now represents all veterans south of the U.S. border all the way to Panama, before the V.A. and the Board of Veterans Appeals. David Lord provides service to veterans at no fee. Veterans are welcome to drop in and discuss claims/benefits to which they are entitled by law at his office located at Bayside Properties, 160 Francisca Rodriguez, tel.: 223-4424, call him at home 299-5367, on his cell: 044 (322) 205-1323, or email him at mophmx@@yahoo.com or david.lord@yahoo.com.
Click HERE for more Veteran Affairs with David Lord »»»
Tell a Friend
•
Site Map
•
Print this Page
•
Email Us
•
Top