Puerto Vallarta Real Estate | September 2006
Mexican Farmers Seek Details on Port Project

Diane Lindquist - Union-Tribune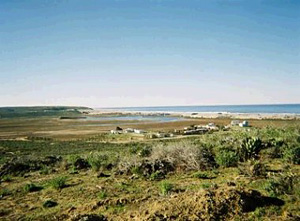 A competition for developers and operators of the project has been delayed indefinitely by a dispute involving a claim to mineral rights at the Punta Colonet site and by the presidential election dispute.

Ensenada – Leaders of collective farming groups whose land will be needed for a huge new container port at Punta Colonet say they're in the dark about plans for the Mexican government development.


In an interview last week, the heads of three communal groups, called ejidos, complained that their input is not being sought, even though the project will totally transform the Colonet farming region, which is 50 miles south of this port city and 150 miles from San Diego.


"We've been looking for information from the three government levels, and the authorities are denying that they know anything about this issue," said Arturo Pineda, who is the head of Ejido Héroes de Chapultepec.


"We want the government to represent us and not be against us."


Even though Mexican federal officials have announced plans to oversee development of the port and have met with numerous foreign and domestic business executives, they have never talked to the Colonet ejido groups that own the coastal land upon which the port will be built.


Only after the ejido leaders joined with Jesus Lara, the owner of a 900-acre parcel above Punta Colonet who has waged an effort to learn about the project, did they gain meetings with government officials.


Sergio Tagliapietra, Baja California's economic development secretary, visited the farming groups in Colonet a few weeks ago. The state is preparing a master plan for the region but has not released details.


"He told us he had no information, and as soon as he had it, he would inform us," Pineda said.


Several members of the five ejidos that will be affected by the port's development also met last week for the first time with Ensenada Mayor César Mancillas Amador. Pineda said they talked about establishing a relationship in which they would have a say in the city's role in the project.


The group also met that day with Ernesto Ruffo Appel, a former state governor and commissioner of the northern border under President Vicente Fox. Ruffo and a partner, who have bought a parcel of Punta Colonet tidelands and a nearby mountaintop to provide rock for construction of the port, hope to play a major role in the port development.


Angel González Ruel, the federal port director in charge of Colonet's development, was not available to discuss the project with The San Diego Union-Tribune yesterday.


Likewise, state development secretary Tagliapietra could not be reached for comment.


Ensenada Mayor Mancillas' spokesman, Daniel Vargas, confirmed the meeting last week, saying all parties had discussed their common interests and agreed that the project could benefit the city as well as the Colonet region.


Undeveloped and wind-swept, Punta Colonet is expected to become a major port that will be larger than the ports of Los Angeles and Long Beach combined. Its development is being driven by the inability of those facilities to handle the volume of container ship traffic coming from the Far East.


The project includes construction of a rail line from Colonet to the U.S.-Mexico border to move containers into America's heartland.


Operations are expected to begin by 2011, the year that Los Angeles and Long Beach are expected to reach their saturation point.


The port is to be developed about five miles west of Colonet, a town of about 2,500 people on the Trans-Peninsular Highway. Most members of the communal farm groups, which number between 30 and 80 individuals, live in the town. Many of the residents are former migrant farm workers from southern Mexico.


"It's going to be something very good," Martín Pérez Mendoza, Ejido 27 de Enero's leader, said of the port development. "It's going to completely change our lifestyle – for the better we hope.


"It will create more work and more schools. There's work now, but there will be other work with better wages."


A competition for developers and operators of the project has been delayed indefinitely by a dispute involving a claim to mineral rights at the Punta Colonet site and by the presidential election dispute.


Federal officials have not provided details on how the bidding competition will be structured.


"We hope that now that the election has been solved that things will start moving," said Enrique Lara, head of Ejido Emilio López Zamora and Jesús Lara's brother.


News of the development set off a frenzy for ejido land that will be needed for the port. Two of the groups have sold a portion of their property – one parcel to Ruffo and another to a representative of Hutchison Port Holdings.


No property has changed hands since those sales, the ejido leaders said, even though they've received numerous offers and indications of interest.


"We want to be part of the development," Pineda said. "We don't want them to eat us up like pieces of cheese.


"Our fear is that they'll leave us out of the project and try to expropriate the land. It's not fair that we've been living on that land a lot of years and trying to make a living for our families, and that one day they'd try to take it."


Still, they said, they feel they've gained some control by banding together to pursue their interests.


"We're going to make sure they get a fair price for their land," said Jesús Lara.

Diane Lindquist: (619) 293-1812; diane.lindquist@uniontrib.com
Tell a Friend
•
Site Map
•
Print this Page
•
Email Us
•
Top