Puerto Vallarta Real Estate
Financing Options
Every year, an average of seven million North Americans travel to Mexico. Of that number, statistics indicate that as many as 1.5 million Americans and Canadians have bought second homes or vacation properties in Mexico, with the majority investing in beach resort destinations such as Puerto Vallarta, Cabo San Lucas and Cancun or popular expat enclaves like Lake Chapala and San Miguel de Allende.


Up until a few years ago, foreign nationals wishing to buy vacation or retirement property in Mexico had to have sufficient resources to buy Mexican real estate without need for financing.


Unfortunately, not everyone can afford to pay cash for property in Mexico. So now that you've found your dream home - how are you going to pay for it? Fortunately, the days of the all cash purchase are finally over.


Today, with a myriad of financing options available through leading residential mortgage lenders and their authorized agents, buying your dream home in paradise is not only possible... it's easier than you might think!
---
MEXlend Mortgages for Mexico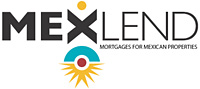 Mexico's leading residential mortgage broker

MEXLend, Inc. is a Mexican mortgage brokerage based in Puerto Vallarta that represents 8 different lenders offering 75 different loan options for buyers looking to purchase vacation or investment property throughout Mexico.


• B E L O W T H E F O L D •
What Services do Mortgage Brokers in Mexico Offer?

Terence L. Reilly

You many have heard that MEXLend is the premier mortgage broker in Mexico, but do you know exactly what it is that a mortgage broker does? If you have questions, you're not alone, so here's an explanation about what we do to help you secure a home loan in Mexico.

---
MEXLend Mortgages for Mexico Now Offers Escrow Services

Terence L. Reilly

Closing a transaction in a foreign country can be daunting. Whether it's a business transaction or a real estate purchase, utilizing a trusted Escrow source can alleviate your fears. When it comes to escrow services in Mexico, 14 years of experience make MEXLend a name you can trust.

---
Buying Undeveloped Land to Build Your Home in Mexico

MEXLend Mortgages for Mexico

Buying undeveloped land is an increasingly popular route to take for those wishing to buy property in Mexico. MEXLend, Mexico's most trusted and experienced mortgage and loan broker, provides loans for land owners who wish to construct a home anywhere in the country.

---
Mortgages ARE Available for Foreign Buyers in Mexico

MEXLend

Are you looking to purchase vacation or investment property in Mexico? If you don't have 100% of the cash to make this happen right now, there are financing options for foreigners looking to buy a home of their own in any city, town or resort area in Mexico.

---
Puerto Vallarta Home Financing Options Explained

Tropicasa Realty

With the real estate market in Puerto Vallarta continuing to boom with no signs of slowing down, many foreign buyers are recognizing that now is the time to get into the market. If you are considering financing a home in Mexico, there are several funding options which may be available.

---
Tips for Starting Your Own Small Business in Mexico

MEXLend Mortgages for Mexico

When starting one's own business, you will be presented with a series of challenges you'll need to overcome in order to be successful. The experts at MEXLend Mortgages for Mexico outline what some of the most common challenges may be so you'll be prepared to take them on.

---
The Perks of Investing in a Pre-Construction Property

MEXLend Mortages for Mexico

Contrary to popular belief, new developments in Mexico's top beach destinations such as Puerto Vallarta are actually quite affordable. Pre-construction condominiums come with a lot of perks, and end up being a great investment for those looking to purchase retirement property.

---
The Top 3 Places for Expats Who Want to Move to Mexico

MEXLend Mortgages for Mexico

It becomes almost everyone's dream at some point or another, packing everything up and moving to Mexico to spoil yourself on a beach and live a kicked-back lifestyle with your feet in the sand. MEXLend has put together a short list of places they think are the best cities in Mexico for expats.

---
The Profitability of Owning Property in Mexico

MEXLend Mortgages for Mexico

The decision to buy property in Mexico doesn't necessary mean you're taking the plunge and deciding to move to Mexico, but it can turn out to be a very profitable decision to make. Investing in Mexican real estate gives you the opportunity to have your property essentially pay for itself.

---
Put Mexican Real Estate on Your Christmas Wish List

MEXLend Mortgages for Mexico

For many, a brand new home in Mexico is very near the top of their Christmas Wish List almost every year. The good news is that, between the dollar being so strong against the peso right now, and easy home financing, there has never been a better time to invest in Mexican real estate.

Site Map
•
Print this Page
•
Email Us
•
Top