Puerto Vallarta Real Estate
Financing Options
Every year, an average of seven million North Americans travel to Mexico. Of that number, statistics indicate that as many as 1.5 million Americans and Canadians have bought second homes or vacation properties in Mexico, with the majority investing in beach resort destinations such as Puerto Vallarta, Cabo San Lucas and Cancun or popular expat enclaves like Lake Chapala and San Miguel de Allende.


Up until a few years ago, foreign nationals wishing to buy vacation or retirement property in Mexico had to have sufficient resources to buy Mexican real estate without need for financing.


Unfortunately, not everyone can afford to pay cash for property in Mexico. So now that you've found your dream home - how are you going to pay for it? Fortunately, the days of the all cash purchase are finally over.


Today, with a myriad of financing options available through leading residential mortgage lenders and their authorized agents, buying your dream home in paradise is not only possible... it's easier than you might think!
---
MEXlend Mortgages for Mexico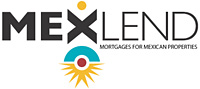 Mexico's leading residential mortgage broker

MEXLend, Inc. is a Mexican mortgage brokerage based in Puerto Vallarta that represents 8 different lenders offering 75 different loan options for buyers looking to purchase vacation or investment property throughout Mexico.


• B E L O W T H E F O L D •
The Perks of Investing in a Pre-Construction Property

MEXLend Mortages for Mexico

Contrary to popular belief, new developments in Mexico's top beach destinations such as Puerto Vallarta are actually quite affordable. Pre-construction condominiums come with a lot of perks, and end up being a great investment for those looking to purchase retirement property.

---
The Top 3 Places for Expats Who Want to Move to Mexico

MEXLend Mortgages for Mexico

It becomes almost everyone's dream at some point or another, packing everything up and moving to Mexico to spoil yourself on a beach and live a kicked-back lifestyle with your feet in the sand. MEXLend has put together a short list of places they think are the best cities in Mexico for expats.

---
The Profitability of Owning Property in Mexico

MEXLend Mortgages for Mexico

The decision to buy property in Mexico doesn't necessary mean you're taking the plunge and deciding to move to Mexico, but it can turn out to be a very profitable decision to make. Investing in Mexican real estate gives you the opportunity to have your property essentially pay for itself.

---
Put Mexican Real Estate on Your Christmas Wish List

MEXLend Mortgages for Mexico

For many, a brand new home in Mexico is very near the top of their Christmas Wish List almost every year. The good news is that, between the dollar being so strong against the peso right now, and easy home financing, there has never been a better time to invest in Mexican real estate.

---
MEXLend: Financial Planning Key to Early Retirement

MEXLend Mortgages for Mexico

A smart financial strategy is the key to retiring early and securely. One step that can get you closer to your dreams of retirement is to choose a place where living costs are lower. This is one of the reasons why purchasing a second home in Mexico is such a popular option.

---
Secure Your Retirement - Buy a Second Home in Mexico

MEXLend Mortgages for Mexico

What if there was a way to generate income now, secure capital for the future, enjoy incredible vacations and set up an incredible and affordable retirement lifestyle plan? There is. All of this can be achieved with purchasing a second home in Mexico. The experts at MEXLend explain.

---
Rental Income Can Pay for Your Second Home in Mexico

MEXLend Mortgages for Mexico

Between easily accessible home financing and the hot vacation rental market, owning a second home in Mexico is now well within your reach. In fact, many buyers can purchase a vacation rental property in Mexico and have it paid off entirely from rental income in time for their retirement.

---
Baja Sur: Cabo San Lucas vs San José del Cabo

MEXlend Mortgages for Mexico

Though geographically close, Cabo San Lucas and San Jose del Cabo are very distinct and both are appealing in different ways. The Baja Sur MEXlend office, offering mortgages in Los Cabos and beyond, offers a brief guide to the differences between Cabo San Lucas and San Jose del Cabo.

---
MEXLend Can Help You Finance a Small Business in Mexico

David Schwendeman

As people continue to live longer and healthier lives, many retirees are looking at retirement as a time to transition into owning their own business. MEXLend Mortgages can help you with financing a small business in Mexico with commercial loans designed to meet your business needs.

---
Fourth Quarter 2015 Mexican Real Estate Projections

MEXLend Mortgages

The real estate market in Mexico has been steadily gaining strength over the last several years, and 2015 has shown record growth in both the condominium and home market, particularly in areas popular with foreign buyers like Cabos, Puerto Vallarta, Cancun & San Miguel de Allende.

---
Let MexLend Help You Sell Your Home in Vallarta Fast!

Terence L. Reilly

Do you want to sell your home in Puerto Vallarta fast? Instead of reducing the purchase price little by little, why not offer seller financing? Don't want to hold the mortgage? No problem. MexLend's team of investors will buy that mortgage note from you.

---
MEXLend Mortgages Launches New Website and Services

Jorge Chavez

MEXLend, Mexico's leading residential mortgage broker, recently launched new services and a new website to remain at the forefront in the highly competitive real estate market. The new website has a responsive design that promotes the new services available throughout Mexico.

---
MEXLend Provides 2015 Mexico Real Estate Trends Summary

Terence L. Reilly

There have been a lot of changes on the real estate landscape in Mexico over the last decade, but what are the major trends we'll be seeing in Mexican real estate for 2015? Puerto Vallarta based MEXLend offers an overview of some of the most influential trends in the marketplace.

---
MEXLend Mortgages: Closing Loans and Seeing Mexico

BanderasNews.com

For MEXLend co-founders David Schwendeman & Terence Reilly, one of the best things about owning Mexico's leading residential mortgage brokerage is the opportunity to travel throughout the country & explore new places while helping foreigners secure financing for their dream homes.

---
MEXLend Mortgages in Mexico Celebrates 10 Years

David Schwendeman

Over the past 10 years, Mexico's leading residential mortgage broker, MEXLend, has closed more loans in more territories than any competitor, past or present. Today, they continue to represent EVERY lending product available in Mexico - for foreigners and nationals.

---
HSBC: 'Mexico Real Estate the Investment of Choice'

Lorena Sonrisas

HSBC, one of the world's largest banking and financial organizations, recently conducted a study designed to pinpoint the top emerging markets for 2013 and beyond. The study examined Latin America's 3 largest economies, ultimately naming Mexico as the 'investment of choice.'

---
Condos, Casas & Cocktails: FREE Real Estate Seminars

BanderasNews.com

Everyone in Puerto Vallarta is invited to join Tropicasa Realty and MEXLend Mortgages at Garbo's on the 1st & 3rd Monday of each month for 'Condos, Casas & Cocktails,' an informal, yet informative, conversation about purchasing and financing real estate in Mexico.

---
MEXLend Mortgages Introduces New Lender to Mexico

BanderasNews.com

Puerto Vallarta-based MEXLend Mortgages for Mexico has been representing more lenders than any other broker for more than 8 years. And now, in keeping with it's history, Mexlend has once again introduced a new lending source to Mexico - Alaska Financial LLC.

---
Ask the Mexico Mortgage Experts at MEXLend

David Schwendeman and Terence Reilly

With mortgages becoming more of the norm in Mexico and with ever-increasing loan options, David Schwendeman and Terence Reilly, founders of MEXLend, an industry-leading Mortgage Broker based in Vallarta, help you sort through the confusion by answering your questions.

---
MEXlend Explains Proposed Changes to Article 27 Laws

Banderas News Team

On May 14th at 2:15 pm, No Way José! will host a real estate conference led by MEXlend CEO Terence Reilly, who will explain the proposed changes to Article 27 of Mexico's constitution, which currently limits foreign ownership of land along Mexico's coastal and border regions.

---
MEXLend Offers USD Loans for Mexico Property Mortgages

Patrick Harrison

MEXLend, the leading mortgage broker in Mexico, is once again introducing a new lender into Mexico and this time, the lender is not only offering US Dollar loans for purchasing Mexican real estate, but also for refinancing properties owned by US and Canadian citizens.

---
Vallarta Real Estate Fair Spotlight: MEXLend Mortgages

Laura Gelezunas

Puerto Vallarta's first Real Estate Fair brought together many real estate service providers including Mexico's leading residential mortgage broker, MEXLend Mortgages. Sponsored by Timothy Real Estate Group, the event was held at Rivera Molino Plaza on March 2, 2013.

---
MEXLend Unveils New Loan Options for Mexican Properties

Patrick Harrison

MEXLend, an industry-leading Mexican mortgage brokerage, have expanded their loan options, now offering 3 different loan tracks. These programs offer mortgages for US, Canadian, other foreign citizens or Mexican Nationals who are buying property in Mexico.

Site Map
•
Print this Page
•
Email Us
•
Top