Vallarta Living | October 2006
Give Some Love, an Acopio Volunteer's View

Cathy Gordon - PVNN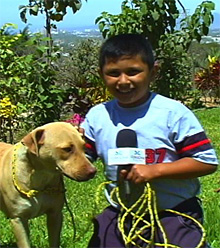 Fernando (and friend) welcomes you to the Puerto Vallarta Animal Shelter.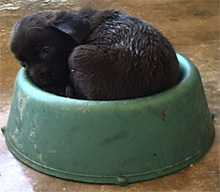 With the Puerto Vallarta Animal Shelter/Centro de Acopio heading into its second year of operation, directors are desperately trying to get the word out about all of the great animals they have up for adoption.


Workers are responsible for picking up dogs from the streets. It is very important that dog owners either keep their dogs on a leash, in an enclosed area, or inside, otherwise they run the risk of their dogs being picked up. People also bring in their unwanted animals, as well as the regular Police and the Policia Ecologica.


Some are in pretty bad shape, others are not, and are very adoptable. The Shelter and volunteers try to find homes for these dogs, unless they are claimed by their owners within a specified timeframe.


Fortunately, many are claimed and happily reunited with their owners.


Cats are also picked up when requested or are brought in by people so they are also available for adoption. Due to the limited kennel space allotted for this Shelter and the minimal funding, the animals cannot be kept for long periods, so time is of the essence in finding them homes.


Laura Gelezunas, a volunteer, goes there every Thursday morning to do a video on some of the dogs brought in that week, which can be seen on the "Pet Parade" at BanderasNews.com. The website also contains valuable information about the Acopio and a list of items that are badly needed to make life more humane/comfortable for our four legged friends.


Other volunteers go to the shelter every week to bathe some of the dogs and make them more presentable for adoption day [every Thursday]. Still others, who have room, have taken dogs or cats home for foster care/adoption.


One such person is Rita Kunz at Casa Del Pescador, Basillo Badillo 206, across from Fajita Republic Restaurant. She currently has five loving dogs waiting for good homes. Please stop by for a look or maybe you could volunteer to help her walk one or two of them.


Soon she will be having her own weekly Adoption Day, in hopes that by providing potential pet owners with a more convenient location to see some of the dogs that are available at the shelter, she'll help them find new homes. Arrangements are in progress so the exact day is not certain yet, but will be announced soon.


We are also in the process of getting some good maps and signage out for people to visit the Shelter, which is located at Calle Costa de Oro 703, Colonia Linda Vista Oceano. Again, we would appreciate help in making signs to show the way, as it is off the beaten track. One starts out by turning right at the Farmacia Guadalajara on Francisco Villa on the way to El Pitillal. Complete directions can be found HERE.


Liliana, Director Dr. Guevara's administrative assistant, speaks English and is always ready to help you with any questions, so give her a call at [322] 293-3690.


The Acopio staff is doing a remarkable job with the limited budget they are given. Besides adoptions, the Puerto Vallarta Animal Shelter also offers distemper, rabies and other shots, flea/tick control, spaying/neutering and other pet services.


I am writing this as a volunteer - just wanting to get some basic information out about our Shelter, since I often get questioned about it. We are slowly making progress and I feel with time and help we will be able to save more of our four legged friends, or at least make their stay a little more pleasant.


I go to the Shelter on Thursday mornings and would be happy to take anybody with a genuine interest in helping. Just give me a call at 223-3189 to see first hand where your help is needed.


Thanks for caring, Cathy Gordon
Tell a Friend
•
Site Map
•
Print this Page
•
Email Us
•
Top