Vallarta Living | January 2007
From Mexican Jungle Cat to Big City Kitty

PVNN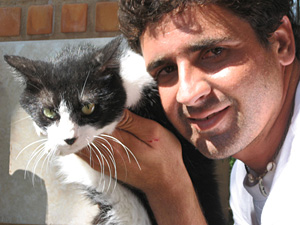 When James Marlay found a kitten in the jungles of Yelapa, it was love at first sight. But when James had to return to Australia, he couldn't take Max with him, so he found two tourists who'll be taking Max to San Francisco to live with them.

James Marlay, an Australian transplant, has owned Max for three years. He found this kitten on a wilderness trail in Yelapa. The trail leads to the Verana Hotel, where James works.


The super handsome tuxedo male took to James and they became fast friends. Max made himself very much at home in the jungles of Yelapa. He would roam for hours in the long grass, down to the creeks and come back exhausted from his day of wandering. Often James and Max would go exploring together and Max was especially thrilled after James spent the day fishing and they would feast together on the catch.


Max also enjoyed an evening stroll to the hotel's restaurant and introduce himself to the guests over a cocktail at the bar - and he was particularly fond of visits on Sashimi nights. "He is a very social cat and loves people," says James. "Max likes to cuddle and really be part of the family."


Unfortunately, James is returning to Australia and he is not able to take Max with him. But two guests at the hotel fell in love with Max. James told them of his situation and Max will soon be moving to San Francisco to live with a pair of adoring fans.


But Max needed a place to stay for about two months. This was the amount of time James needed to train his replacement at the hotel. And new management did not wish to keep the cat around.


James found out about the Centro de Acopio de Animales from a friend and after a journey by boat and car, he found the shelter. "I was nervous about leaving Max but I was really out of solutions," says James. But he had no other choice.


Within a week James was contacted and told that Max had been adopted for the two months until he was able to take him to his new home. "It was a huge relief for me and a big step toward putting Max in a loving home."


Banderas News videojournalist, Laura Gelezunas, who visits the animal shelter every Thursday to tape the Pet Parade, thought Max was the bomb. "You could just tell he was a special cat," says Laura. "I am a big softie when it comes to kitties and since the Animal Shelter does not have facilities to accommodate felines, I just couldn't leave Max in a small cage for two months." Laura had space so Max moved on to his new temporary home, where he was king of the castle.


After James finished up his business, he retrieved a fatter Max, took him to the vet for an examination and traveling papers and will soon be a big city kitty in San Francisco.


Hopefully, we will receive an update and photos once Max is settled into his new home.


If you are interested in fostering a dog or cat, please give Laura a call and she can assist you, 222-0504.
Tell a Friend
•
Site Map
•
Print this Page
•
Email Us
•
Top