Vallarta Living | January 2007
Our New Year's Eve, Then and Now

Polly G. Vicars - PVNN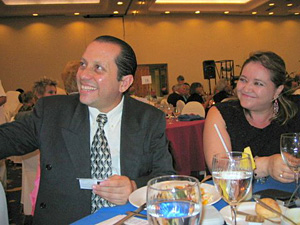 Dr. Jaime Castaneda and his lovely wife Martha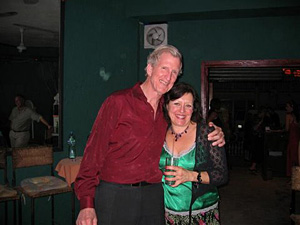 Gary Dix and Alex after the show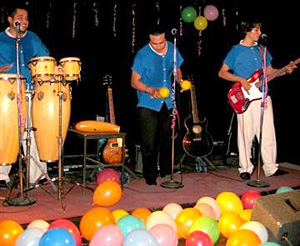 Luis, Immer, Carlos

As many of you know, gravely ill Husband and I spent New Year's Eve 2005 in St. Luke's Hospital in Houston, Texas. Even though Dr. Jaime Castañeda and the incredible nurses and staff at our local CMQ hospital gave him phenomenal lifesaving care, Dr. C. thought we needed to air evacuate him to Houston to take advantage of any advancements they might have.


However, it was very comforting to receive assurance from the doctors in that renowned hospital that the doctor and hospital in Puerto Vallarta had done everything right as confirmed by every test that they administered. He simply had needed more time to heal.


New Year's Eve, following Husband's move from Intensive Care, we welcomed year 2006 together in a regular hospital room. No dancing or fireworks, but we did see the ball drop in Times Square.


He was getting stronger and better every day, so I began to badger his doctor to release him so that we could be back in Vallarta for Los Bambinos' first Santa Barbara concert scheduled for January 2, 2006.


I reserved airline seats for that day and crossed my fingers. Several doctors had to sign off on him before he could be released and each said they saw no reason why he could not go home. New Year's Day dragged on and on with no visit from his primary doctor. I asked the nurses to page him periodically to no avail.


But I didn't give up. I had Husband dressed, packed and ready to go when at 11:30 pm our great Dr. Varon (yes, he was Mexican and the personal care he gave bore witness to his nationality) came in the room with a huge smile. With that he gave Husband the once over and signed his release papers.


We got to our nearby hotel for the remainder of the night and next morning were off to the airport to board our Vallarta plane. We made it home early afternoon and after a short nap got to the Santa Barbara in time for me to introduce my Bambinos for their first ever concert and to acknowledge our wonderful Dr. Castañeda and his lovely wife, Martha, who came to the concert to be with us.


It was a heady night for all! Los Bambinos, who had come to CMQ hospital (intensive care unit, no less) to sing for Husband in his darkest days, put on a fantastic show calling Husband up to sing his famous two words in Elvira - - - Mau Mau!


Fast forward to New Year's Eve 2006. Husband was in excellent health and Los Bambinos were going strong. Santa Barbara owner Ed Hutmacher was about to stage his first New Year's Eve event with the double bill of actress and singer Alex Ryer, who recently appeared off-Broadway, and Los Bambinos, voted Puerto Vallarta's best musical group in 2006.


Santiago, the talented chef and manager of the Fonda Santa Barbara, was ready with a sumptuous buffet with open bar, and his attentive waiters were set to attend the excited patrons who filled the venue for this unique event.


Dinner over, we settled in downstairs to warmly greet Alex Ryer, who proceeded to entrance us all with her Broadway show songs, a few Edith Piaf tunes, impeccably rendered, and a taste of her Peggy Lee show. It was as if she were singing to each of us personally as she related to the captivated audience one by one. It was hard to let her go as it seemed she had hardly begun when she bid us all a Happy New Year and joined the audience for the "second half."


Los Bambinos, 4 brothers and a cousin, joyously took the stage clad in their distinctive blue shirts (designed and fabricated by cousin Luis) with a rousing rendition of Happy Together. The crowd, including this writer, loved them and the evening began to rock. We were offered a medley of Beatles songs, beautiful Mexican melodies, original Bambinos music, and Beach Boy hits from a grooving, smiling bevy of handsome young Mexican lads. Does it get any better?


Maybe! When the strains of Little Surfer Girl filled the room, lighters, flash lights and, the latest fad, cell phones, were held up as the audience swayed to the rhythm. It couldn't have been any better at a 1965 Neil Diamond concert or with the Doors in 1967 or the fabled 1969 Woodstock when during a pouring rainstorm the audience began holding up lighters and candles in respect for Melanie, who later documented this incident in her song Lay Down (Candles in the Rain.) No matter which of those incidents started this tradition, it was carried on by an appreciative audience enjoying a fabulous New Year's Eve at the Santa Barbara!


Los Bambinos ended their show with a rousing rendition of Auld Lang Sign and joined the audience in the street to watch the fabulous fireworks at the stroke of midnight! Who can say what happened then? All I know is that Husband and I found ourselves dancing down Calle Olas Altas together and with some really hip strangers who helped make this the very best New Year's Eve ever!


Ed, same place, same time next year?
---

Polly G. Vicars and her husband of 55 years, Hubert (a.k.a. "Husband") retired to Puerto Vallarta in 1988 and soon became active members of several charitable organizations. Polly is the author of "Tales of Retirement in Paradise: Life in Puerto Vallarta, Mexico" [a sell-out!] and "More Tales of Retirement in Puerto Vallarta and Around the World." Proceeds from the sale of her books go to the America-Mexico Foundation, a scholarship foundation that is their passion.

Click HERE for more Puerto Vallarta articles by Polly Vicars.
Tell a Friend
•
Site Map
•
Print this Page
•
Email Us
•
Top