Vallarta Living | Art Talk | February 2007
Exploring the Mata Ortiz Phenomenon

Patrick Harrison - PVNN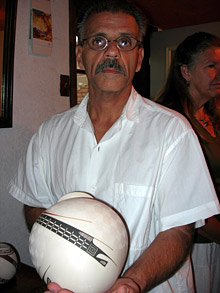 New York lecturer Edward Guarino will be exploring what collectors and novices should look for when purchasing a piece of Mata Ortiz Pottery.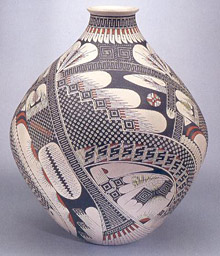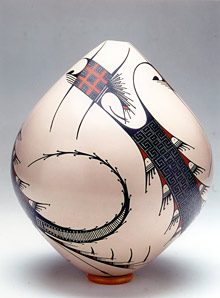 Puerto Vallarta - Collected and cherished by people in many countries, Mata Ortiz Pottery is one of the finest and most innovative ceramics in the world. So much so, that lectures and discussions about the art of Mata Ortiz have become very popular annual events in Puerto Vallarta.


This year, Claudia Lovera and Alex Martinez, owners of The Mata Ortiz Art Gallery, are bringing the renowned New York lecturer Edward Guarino who will be exploring what collectors and novices should look for when purchasing a piece of Mata Ortiz Pottery.


This free event will take place on Saturday, February 24th at 7:00 pm at the new Mata Ortiz Art Gallery, space B-48, on their 2nd floor loft in the new Peninsula Village Shopping Center.


Mr. Guarino is a respected educator, author, lecturer and renowned collector of Mata Ortiz Pottery. A recent exhibit from his collection was held at the Francis Lehman Loeb Art Center at Vassar College in Poughkeepsie, New York.


The popular exhibit featured 47 works from his collection of over 1,000 pieces of Native art. His entire collection encompasses artwork from Alaska to South America. His expertise and advice is sought the world over. Vallarta is lucky to have a man of his stature available for this free slide show, lecture and discussion.


Also on hand will be Master Potter Mauro Quezada, who will be demonstrating his unique painting techniques. Many original pieces will be available for purchase at incredible prices available only at this public event.


Mauro (Chico) Corona Quezada, is the nephew of the Mata Ortiz creative leader Juan Quezada. Mauro first learned the craft from his mother when he was only seven or eight years old.


Now in his latest thirties, he is setting the standard for design innovation with his minimal brush strokes and utilization of negative space. His large white egg-shaped vessels are painted with strong curvilinear geometrical forms ending in sickle shapes to create a style that is at once Spartan and dramatic.


He and Noé Quezada may be the best of second-generation of potters. Mauro forms, sands, polishes, paints and fires his own vessels. He specializes in large white pots painted with rich red and black polychrome designs whose detail and movement reflect the influence of his famous uncle.


Led by Juan Quezada, the entire Northern Mexico pueblo of Mata Ortiz creates outstanding handmade coiled pots, or ollas, following centuries-old methods. With an olla as their canvas, the potters of Mata Ortiz have imprinted not only re-creations of ancestral symbols, but they have searched within their very souls to create a unique artistic language, imaginative and original.


These artists have progressed through the imitation of pre-Hispanic ceramics and have moved on to a sophisticated creation of contemporary art. Don't miss this popular yearly event, scheduled to take place on Saturday, February 24th at 7:00 pm on the gallery's 2nd floor loft in the new Peninsula Village.


For additional information about this event or the new gallery, the public is invited to call (322) 222-7407, (322) 221-0467 or send an email to info@mataortiz-pottery.com. You can also experience other amazing Mata Ortiz pieces at their Downtown Gallery, located at Lazaro Cardenas 268-A in the Romantic Zone.
---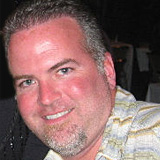 Born in Seattle, WA, Patrick Harrison has been living in PV for more than 3 years. Drawing on his experience in entertainment, radio, retail and sports marketing in major US cities, Patrick opened his own business here in Vallarta, P. Gringo Marketing & PR, a successful Public Relations Firm that targets the English-speaking tourist and local communities. You can contact Patrick at patrickinpv@gmail.com
Click HERE for more articles by Patrick Harrison.
Tell a Friend
•
Site Map
•
Print this Page
•
Email Us
•
Top