Vallarta Living | February 2007
Far Enough!

Polly G. Vicars - PVNN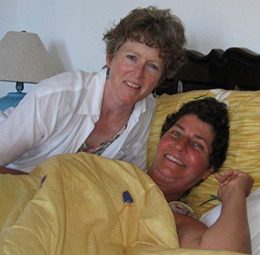 Saralou and Susie after Saralou's bout with the bug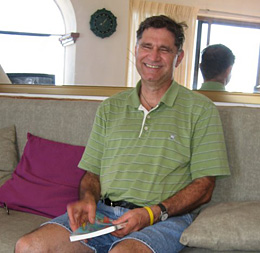 Walter, who danced in his seat during the entire performance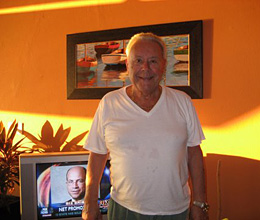 Ray Coffman, long time Vallartense and avid Bambino fan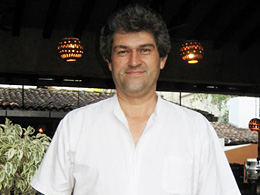 Santiago, restaurateur and great guy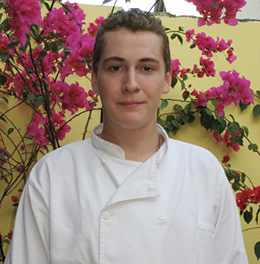 Chef Vincent van den Berg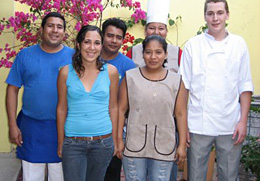 The entire kitchen and wait staff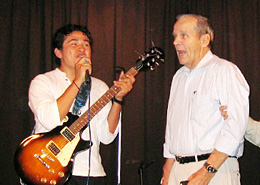 Husband singing with lead Bambino Carlos

A few weeks ago when I wrote about Los Bambinos' concert, I reported that they motioned for Husband to join them on stage for the singing of "Elvira," and gave him his very own microphone!


Husband acquitted himself professionally and never have the words "mow mow" been sung with such clarity and amplification. I wrote, "How the kids will get him off the stage in the future is their problem, as I understand the smell of the grease paint is very hard to lose!" and thought I was making a joke, but maybe not!


We will get back to that soon, but I have a few other things to share with you today. Friends from California were in Vallarta for the first time and I immediately suggested they join us at the Santa Barbara Theater for dinner at the Santa Barbara Cantina Grill and then Los Bambinos Monday concert.


Brother and sister Walter and Saralou and lovely Susie got there before we did. They were seated at our regular table on the balcony overlooking busy Calle Olas Altas before our friend and neighbor in Condominios LaPalapa, Ray Coffman, and our ex-neighbor (she and Terry opted out of condo living and built a home) Linda Wirth, Husband and I arrived.


They said when they entered and told restaurateur Santiago they were with Polly and Husband, he immediately ushered them to "our table." Sure pays to have friends in high places, at least on the second floor.


After a round of excellent margaritas and various other libations, dinner was served, starting with a green salad with dressing that Husband declared the best he had ever eaten.


We then had our choice of sea bass cooked in white wine, chicken breast on a bed of peppers and onions or real homemade meat loaf with barbeque sauce, all served with the best scalloped potatoes this side of Belgium, veggies, and of course that wonderful Mexican bread. Our orders included each entree, so we did some passing and tasting. The proof that everything was great was that only clean plates went back to the kitchen.


Then Santiago served a traditional Mexican desert, Ate con Queso, quince candy with cheese. This desert is served widely in the state of Michoacán, where it was introduced by the Spaniards when they came to the new world. Everyone agreed it was just the right touch after such a full meal and before a concert.


Hope you noticed and wondered why I said, "the best scalloped potatoes this side of Belgium." Here is the scoop. Blaine Selkirk has been directing and producing Los Bambinos shows and their soon to be new CD.


Vincent van den Berg from Belgium came to Vallarta to visit his mother who is Blaine's lovely bride to be, Mariele van der Hoeven. Mariele, from the Netherlands and Belgium and now living in Vallarta, brought only her beautiful daughter, Celine, when she moved here.


Naturally her second son, Vincent, had to come to see his Mom and Vallarta. Like so many of us, he fell in love with this marvelous town. In Belgium he was a chef, moving up the ladder, but the Vallarta Magic captured him and he joined us expats.


Here come the connections.


Santiago was trying to open his Santa Barbara Cantina Grill over the theater and was doing every job imaginable - from cleaning to cooking to waiting tables and washing dishes. Too much for one guy, even one as industrious as he.


Vincent needed a job, Santiago needed a chef, and Voila! scalloped potatoes Belgium style. Though a very young man, Vincent has the touch that makes for success be it as chef or businessman. I know he will continue learning and experimenting and those of us who love to dine at this newest eating joint in the Romantic Zone are going to be the winners. Santiago tells me that they are open from 8:30 a.m. until ??. Try it, I know you will like the good food, reasonable prices and great service.


Back to the problem with Husband, my budding virtuoso. Last night's Bambino concert was, as always, a sell-out and an incredible evening of music from rock to romantic to a little bit of country.


The four brothers and a cousin were in terrific voice, charged up and enthralled an appreciative audience, which gave them a standing ovation at the end of both parts of the show.


For encores they, of course, have an incredible repertoire and could have belted out "La Bamba," "Twist and Shout" or a myriad of other crowd pleasing songs. But no, they had to sing what one of the boys said was their favorite song followed by "Donde esta Humberto?" (Where is Hubert?)


Well, when Husband heard that, he rushed up to the stage, took poor cousin Luis's microphone and once again sang his "mow mow" part impeccably! Now, he is talking about his need for show clothes and asking me what is going to happen when he goes on tour with Los Bambinos.


So hear this Husband and Bambinos, This Has Gone Just About Far Enough! Five Bambinos are quite enough!
---

Polly G. Vicars and her husband of 55 years, Hubert (a.k.a. "Husband") retired to Puerto Vallarta in 1988 and soon became active members of several charitable organizations. Polly is the author of "Tales of Retirement in Paradise: Life in Puerto Vallarta, Mexico" [a sell-out!] and "More Tales of Retirement in Puerto Vallarta and Around the World." Proceeds from the sale of her books go to the America-Mexico Foundation, a scholarship foundation that is their passion.

Click HERE for more Puerto Vallarta articles by Polly Vicars..
Tell a Friend
•
Site Map
•
Print this Page
•
Email Us
•
Top