Vallarta Living | February 2007
Juans and Juanitas - Mexico's Best Hope

Polly G. Vicars - PVNN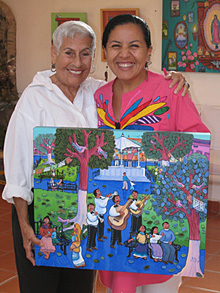 Polly and Ada Colorina with "Mariachis in the Plaza"

In my first book, "Tales of Retirement in Paradise," published in 1995, I wrote: "They came scrubbed and dressed in their best... They were bright eager, polite, handsome and full of hopes and dreams... They are the intelligent, ambitious, scholarship boys and girls of Puerto Vallarta's America-México Foundation, Inc., a U.S.A. tax deductible foundation." (Now Becas Vallarta, A.C.)


The occasion was the annual fiesta for the students and the foundation members.


"There were awards from the Mayor of Puerto Vallarta for the highest of the honor students. There were words of encouragement from former scholarship recipients who are now school principals, newspaper columnists, artists, teachers - all successful, respected, active citizens. There were words of hope and wisdom from current scholarship students who are now in various universities throughout the country."


"Strange, but touching conversations took place between the English speaking Foundation members and the Spanish speaking students. These conversations, filled with empathy and love, breached language and age barriers. And of course there was the traditional food and music present at any gathering of more than two in this hospitable country."


"America-México Foundation... is a group of dedicated Americans, Mexicans, and Canadians who put their money and their work where their mouths are. This is an organization that has no salaries or travel allowances... All work is contributed by Foundation members and their friends. Most supplies and services are begged or borrowed. Every dollar raised goes directly to pay for a book or a uniform or a bus ride for one of the becados (scholarship students.) Thousands of Puerto Vallarta youngsters have reached their educational goals throughout the more than thirty years of effort put forth by this Foundation."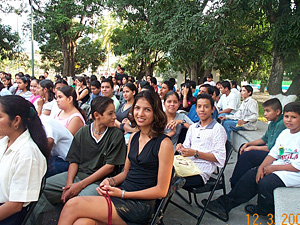 Juans and Juanitas at the fiesta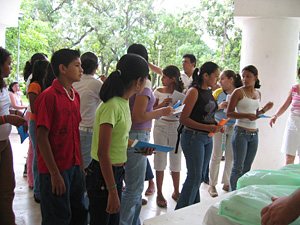 Juan and Juanitas getting their school supplies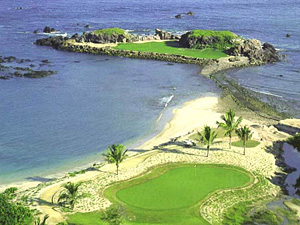 The unique hole on an island at the Four Seasons Golf Course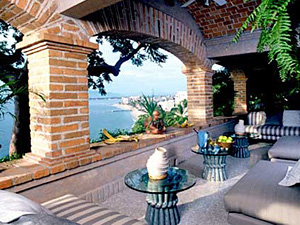 Cocktails will be served on this beautiful terrace at Villa Verano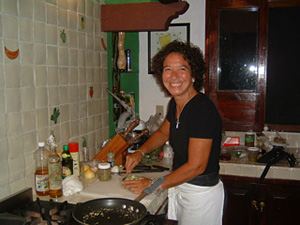 Marta doing what she does best - cooking!

N0W on March 9th, 2007 Becas Vallarta will be celebrating 45 years of providing scholarships for the Juans and Juanitas of Puerto Vallarta, Mexico - and you can be a part of this noble effort!


First, if you haven't bought your tickets for the Becas Ball, call me at 223-1371 or any member of the foundation for tickets. Then prepare for an evening like none you have experienced before. Bask in the sea-edged patio of the Westin Hotel and Spa that will be turned into a grand and glamorous spectacle of light.


From 7:30 to 8:30 the Westin is offering a free cocktail hour that will be graced by Los Bambinos, voted best Vallarta musical group of 2006, strolling, strumming and serenading. This will be followed by a dinner that the "Tasting Committee" assures me will be the best ever.


There will be dancing interspersed with a tango demonstration by Joe and Kirstie Johnston, who have just returned from Argentina where they polished their skills, and a live auction of the five most asked for items from past years.


You can be the high bidder for an Ada Colorina's painting, "Los Mariachis en La Plaza," two rounds of golf each for two at the unique Four Season's Golf Course at Punta de Mita, dinner for eight at the glamorous Villa Verano and dinner for four prepared in your own home or condo by Marta Huante Robles.


Ada Colorina's paintings for the International Sailfish Tournament and her colorful depictions of life in Puerto Vallarta have made her work much sought after. Ada is a Vallartense who was influenced by her artist father, Lepe and local artist and scholarship recipient many years ago, Javier Niño, but her style is her own. Whoever buys "Los Mariachis en La Plaza" will have a painting that embodies all the joy and color of this paradise by the sea.


Lynne Bairstow and the Dine Corporation, generous supporters of the foundation, have once again come through for us with two rounds for two golfers at the famous Nicklaus-designed course at the exclusive Four Seasons Resort at Punta de Mita.


The winning bidder will be playing a course that is "distinguished by breathtaking ocean views and 200 pristine acres of lush, rolling hills and flowering landscapes. The 7104-yard, par-72 course features eight ocean-side holes and an optional "19th" par-3 hole with a natural island green, making it the first of its kind in Mexico."


The last two auction items are for gourmets. Burt Hixson, long time supporter of the foundation, has once again donated dinner for eight at his glamorous Villa Verano. Known as the "Showplace of Puerto Vallarta," Villa Verano was featured in Robin Leach's Lifestyles of the Rich and Famous.


The estate has been televised in over 31 foreign countries, and has played host to many celebrities and dignitaries from all over the world. The expert staff will confer with the winning bidder on your preferred menu and on the night of your dinner you will be served cocktails and hors d'oeuvres in a setting overlooking the bay that is unmatched any where else in the world.


Then you will dine on an expertly prepared dinner served by efficient and friendly waiters who will make you feel as if this famous home were your own. I can attest to all of this as Husband and I were the high bidders last year, and entertained six of our good friends in a style to which we all would love to become accustomed.


Marta Huante Robles, whose card reads, "Your beautiful HOME, my delicious FOOD, one fabulous PARTY," has once again donated her services to prepare and serve a dinner for four in your home or condo.


Marta, a Mexican by birth, grew up in the states so is incredibly bi-lingual. She traveled the US, Europe and Mexico preparing parties from intimate dinners for two to movie openings for 5,000. After 9/11 she felt a compulsion to return to Mexico and chose Puerto Vallarta to be her home where she has become an integral part of our community, a staunch supporter of Becas Vallarta.


To attend this Becas Ball and auction and help the 300 Juans and Juanitas currently in school, 8th grade through university, call me to reserve your place at this prestigious event, then hit the ATM machine to be ready to bid on one of those fabulous prizes.


Guys don't need a coat or tie - just slacks and a sport shirt will be fine. However, you should know that Husband, a genuine Kentucky Hill Billy, is going formal, which in his book means he is wearing not only shoes, but also socks.


You gals can dress up or down as much as you like. All we want is for you to feel good, have fun, bid high and perhaps drop a few bucks in the donation box to keep this incredible foundation doing the work it has done for forty-five wonderful years. Ya'll come! Ya Hear!
---

Polly G. Vicars and her husband of 55 years, Hubert (a.k.a. "Husband") retired to Puerto Vallarta in 1988 and soon became active members of several charitable organizations. Polly is the author of "Tales of Retirement in Paradise: Life in Puerto Vallarta, Mexico" [a sell-out!] and "More Tales of Retirement in Puerto Vallarta and Around the World." Proceeds from the sale of her books go to the America-Mexico Foundation, a scholarship foundation that is their passion.

Click HERE for more Puerto Vallarta articles by Polly Vicars..
Tell a Friend
•
Site Map
•
Print this Page
•
Email Us
•
Top