Vallarta Living | February 2007
Can't Get Better Than This!

Polly G. Vicars - PVNN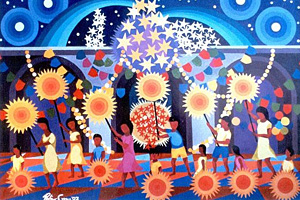 Pidiendo Pasado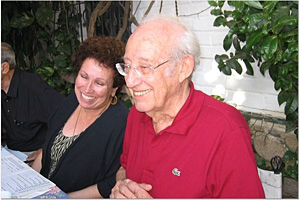 Peter & Buri Gray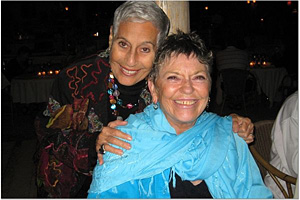 Linda Ellerbee and me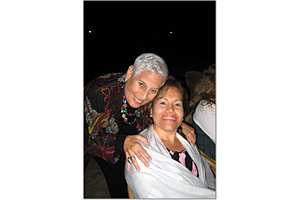 Birthday girls, Martha and me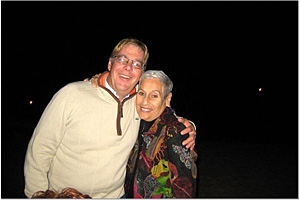 Blaine and me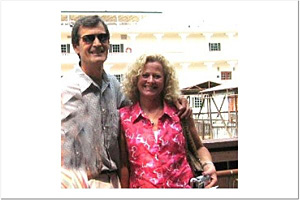 Irene and Carl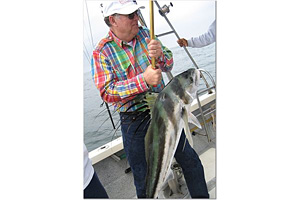 Tom Bruns with his Rooster Fish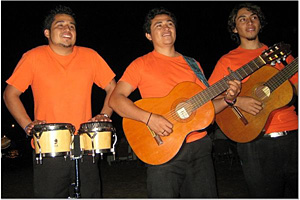 Bambinos Luis, Carlos, Immer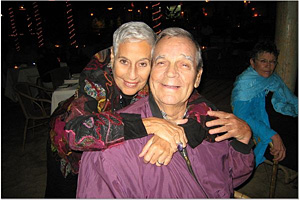 Husband and me at the party

This past week I celebrated my 75th wonderful year with amazing people who helped me commemorate this very special birthday. Early in the week Buri and Peter Gray treated me to a birthday breakfast at my favorite restaurant, La Palapa. We gals toasted with Mimosas, the guys with Bloody Marys as we discussed two milestones, my 3/4 of a century and Becas Vallarta 45 years.


The Grays have long been devoted supporters and contributors to the foundation that has funded thousands of scholarships for economically stressed Vallartense youth. Several years ago Peter donated 500 posters of his brilliantly colored painting, "Pidiendo Posada," to the foundation, which sold them all, adding thousands of dollars to fund scholarships.


Later he donated to Becas Vallarta the proceeds from sales of his wonderful book, "All is Safely Gathered In." The cover blurb of the book reads, ". . . a story which combines a memorable record of everyday life in a traditional English country village with a plot that keeps you guessing until the very end." Buy it at either location of The Book Store, also a staunch supporter of the Foundation.


Most years Husband and I have thrown a big party for my birthday, taking several boatloads of friends to Las Animas or Yelapa, but this year I told everyone that we would just have a small celebratory dinner with good friends Margi Tolton, Joan and Ed Cannon. But that was not to be. They overruled me and planned a dinner on the beach at my choice, La Palapa Restaurant.


Martha Cortes, wife of Maestro Melchor Cortes (our long-time Spanish teacher) has a birthday one day after mine and we have celebrated together for many years. So Martha and Melchor topped the guest list, which included the regulars of our group Mayo Warren, who herself celebrated a milestone on the 9th of February, Linda Wirth whose husband Terry couldn't be with us, and Barbarita Topete, the grand dame of our group, who has been dividing her time between Moclips, Washington and Puerto Vallarta for more than 40 years.


For the first time Blaine Selkirk, his lovely fianc้ Mariele and her daughter Celine and son Vincent were included. Blaine is the musical genius who is producing Los Bambinos in Concert and their new CD of original music. Vincent, who is new to Puerto Vallarta, is already making a name for himself as the chef at Santa Barbara Cantina and Grill. His mother, Mariele and teenage sister Celine from Holland and Belgium, have become Vallartenses very quickly, learning Spanish and everything. It was a joy for me to see them arrive as both Husband and I are loving getting to know this family and count them as valued new friends.


On a Semester at Sea voyage in 2002 we met Irene and Carl Johnson from the Chicago area. They have since been to Vallarta several times, met us twice in Poplar Bluff, Missouri to visit with Joan and Ed Cannon. They had planned this trip to Vallarta, where they have purchased a condo being built at the Molina de Aqua, especially to coincide with my birthday. What fun it was to have them here for that celebration.


Martha and Tom Bruns also lived in Poplar Bluff many years, he ministering to his Episcopalian flock, she helping him in all activities. They now divide their time between Texas and San Miquel de Allende, having the best of both worlds. As close friends of the Cannons, they have also become our friends and I was thrilled that they were here for the party even though Tom flaked out before it ended to get ready for his upcoming big day deep sea fishing.


Another first-time party guest was Linda Ellerbee. Several years ago I received a call from the Holly Eardley, secretary of this network news correspondent, anchor, writer, producer, president of Lucky Duck Productions and like me, a cancer survivor. She said that Linda's cousin Bill Head loved Puerto Vallarta and Linda wanted to buy my out-of-print book, "Tales of Retirement in Paradise" for him. I didn't even have a copy myself but said that my brother Harry who lives in New Orleans had a copy which he later readily agreed to mail to Linda.


Soon after that Linda was going to be the featured speaker at a conference in New Orleans and invited Harry to be her guest at the banquet where he was seated with her and promptly fell under her spell. Linda and I corresponded by email and I was thrilled last year when she told me she was coming to PV to try to write a fiction book. She has written many books, including a whole series for children, but never fiction.


Over more than a few margaritas Husband, Linda and I, became fast friends. I tried to introduce her to people who were here during the filming of "The Night of the Iguana" as the setting for her book is Liz Taylor's home here. It was the first of a couple of visits, each cementing our bond.


I was delighted that she was here for the momentous birthday party, arriving, not in her usual black or brown, but in a new turquoise blouse bought just for the occasion, with a whole bag full of gifts for me all centered around the theme of turquoise and the sea and me.


As she presented each gift the story grew and I was awed that she would take the time and trouble to do all of that for me! All the other guests brought wonderful presents too, jewelry, flowers, Baily's Irish Creme, shawls, chocolates and more.


The coolness of the air that evening was no match for the warmth of the love and friendship coming from Husband, my friends and the La Palapa waiters, most of whom are also friends. We received service and personal attention that only a special few are privileged to enjoy.


When I thought it couldn't get any better, Linda Ellerbee asked to say a few words which left me with a lump in my throat and a few tears trickling down my cheeks as she saluted me as her hero in living life to the fullest at every age. She, who achieved fame and fortune against the greatest of odds, was crediting me with being an inspiration to her - but in my mind, it is she who inspires.


Naturally, Los Bambinos appeared in their bright orange shirts to serenade us. Their terrific songs were greeted with loud applause from our table and other diners in the vicinity. But this time it wasn't the music that moved me, it was the wonderful hugs and words of congratulations that came from each of those five young guys that Husband and I both feel are partly ours.


And then last night Jenny Jenkins had a fantastic party for her husband, Joe Henry, on his 70th. She generously included my name on the birthday cake and me in the festivities giving yet another night of birthday celebration, friendship and love.


I genuinely know that I am the luckiest person to have Husband, who after fifty-five years, is still the light and love of my life and the magnificent people in Puerto Vallarta who continue to shower me with friendship, love and inspiration!
---

Polly G. Vicars and her husband of 55 years, Hubert (a.k.a. "Husband") retired to Puerto Vallarta in 1988 and soon became active members of several charitable organizations. Polly is the author of "Tales of Retirement in Paradise: Life in Puerto Vallarta, Mexico" [a sell-out!] and "More Tales of Retirement in Puerto Vallarta and Around the World." Proceeds from the sale of her books go to the America-Mexico Foundation, a scholarship foundation that is their passion.

Click HERE for more Puerto Vallarta articles by Polly Vicars..
Tell a Friend
•
Site Map
•
Print this Page
•
Email Us
•
Top