Vallarta Living | March 2007
Bay Area Resident Runs Animal Clinic in San Pancho

Banks Albach - paloaltodailynews.com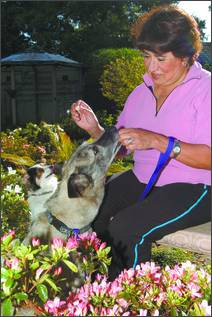 Betty McIntire of Menlo Park gives her dog, Rasca-Linda, treats on Saturday. (Konstandinos Goumenidis/Daily News)

For Betty McIntire it was love at first sight.


She wasn't looking at her college sweetheart or future husband. And it wasn't the cozy Mexican fishing village, San Pancho, where the Menlo Park resident owns a home and runs a spay and neuter clinic for stray animals twice per year.


It was Rasca-Linda, a 6-year-old mutt that looks more like a hyena than a dog.


Mangy, covered in sores and near death, the dog had somehow found her way into the laundry closet of McIntire's San Pancho home about six years ago.


McIntire took her back to Menlo Park and nursed her back to health.


Rasca-Linda's past is a snapshot of how stray animals sometimes fall through society's cracks, especially in developing countries where dogs and cats are viewed by some as pests rather than pets.


Seeing dozens of dirty, mangy dogs roaming the streets in San Pancho, a 20-minute drive north from Puerto Vallarta, prompted McIntire nine years ago to open the clinic. She is returning to the village for a four-day clinic on April 4.


"It's a very lovely village," said McIntire, a Mexican citizen and 40-year Menlo Park resident. "I decided if I'm going to come to this place, I'm going to do something."


Along with two women, one from San Pancho and the other from a neighboring village, McIntire brought on two veterinarians from Idaho to treat the area's animals. The team usually runs two clinics per year, four or five days each time. It costs about $1,000 per day and the clinic has treated nearly 300 animals, McIntire said.


At first, she said, the locals refused to bring their animals. Now they are learning about shampooing fur.


"The people were amazed to see how we cared for the animals," she said. "We laid on the floor with the dogs. It was a wonderful experience."


The clinic is funded through fundraisers and a foundation, McIntire said.


Along with her friend Sue Beugen, also of Menlo Park, McIntire also helped bring spay and neuter clinics to the Bay Area almost 30 years ago. Facing strong opposition from veterinarians who stood to lose business, Beugen and McIntire, and six of their friends, gathered 60,000 signatures to open up the first clinic in San Mateo County.


"Thirty-five or 40 years ago, if memory serves me correctly, we were putting down 500 dogs and cats per day in the Bay Area," Beugen said. "That's why spaying and neutering is so important."

balbach@dailynewsgroup.com.
Tell a Friend
•
Site Map
•
Print this Page
•
Email Us
•
Top