Vallarta Living | April 2007
Tips for Taking Your Dog Out in a Boat

Dr. Tracy Acosta - McClatchy Newspapers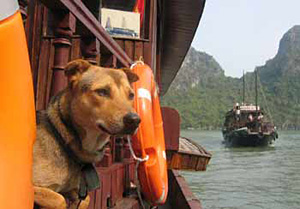 No matter what size your dog is, consider using a Personal (Pet) Flotation Device for him.

Thankfully, the warm days of spring have arrived. With the beautiful weather recently, so beckons the call to go out on the water. As witnessed recently at the Smokin' the Sound boat races off of Biloxi, Miss., many of you also had your canine friends along for the boat ride. I saw everything from a tiny Chihuahua to the ever-popular Labrador retriever. To make sure everyone has a fun as well as safe experience out on the water, be sure to follow a few common sense guidelines.


While on the boat, make sure your dog is under constant supervision, especially while the boat is moving. If your puppy or dog is a newcomer to the boat and water, you want to take things slowly initially to allow your pet to adjust to the movement of the boat and the noise of the engine. The goal is for your dog to thoroughly enjoy the boating experience. If your pet is too nervous or scared while on board, you may want to consider leaving the dog behind next time around. Unfortunately, not every dog will enjoy being on a boat.


No matter what size your dog is, consider using a Personal (Pet) Flotation Device for him. There are quite a few companies that make them in varying sizes and specifications. It is important to properly size your dog, so bring him along when you purchase this important safety item.


Now I know what some of you Labrador owners are thinking, "a PFD, for my dog?" My response is yes. No matter how good of a swimmer your dog may be, a PFD can come in extremely handy when a dog does not realize his true swimming limitations or accidentally falls overboard. Keep in mind that most if not all PFDs for pets are designed with a convenient handle on top that aids in lifting your dog out of the water.


Another important safety consideration on the boat with your dog is his footing. Remember, your dog is not wearing boat shoes, so a fiberglass boat can be challenging especially when wet. Also, a boat's surface can get quite hot on a dog's footpads, so check the deck's temperature often.


Always have a shaded area for your dog to retreat to when needed. This is especially important for those daylong trips when the sun and temperature can become overwhelming for any dog (or person). Remember to bring plenty of fresh water and a bowl as well. There is never anything good about your dog drinking too much salty water while playing in the surf.


For those of you who venture out to the islands, be alert for your dog's health out there as well. Again, your dog does not wear shoes (normally), and the beaches and shallow waters can contain sharp objects from normal marine debris to the man-made variety. Monitor your pet at all times while in the surf and on the beaches. Otherwise, your dog may bring back to you an unhappy hermit crab. Of course, be the responsible and courteous dog owner and always pick up your dog's feces.


While enjoying the water and the waves with your dog, make sure he does not exhaust himself with swimming and chasing the surf. Remember, your dog truly does not realize that he has limitations and any dog can stay too long in the water, so be ready to set a time limit. Also, try to limit swimming during those times when the jellyfish are in large numbers. They will sting your dog.


Another obvious danger of being on a boat is the hazard of fishing gear. Be sure to keep all hooks and bait far away from the mouth of your curious dog. Otherwise, you'll have one terrible trip home as the treble hook sways from your dog's lower lip. Unfortunately, I see this occur way too often. You can try to cut the hook out or at least lighten the weight. Just remember the barb on the hook usually doesn't come out but in one direction.


Since this article pertained mainly to boating in the Gulf of Mexico, you may want to get some more helpful information on all forms of boating with your dog. Go to BoatUS.com/pets for more tips. Happy boating with your dog.

Dr. Tracy Acosta is a veterinarian at Biloxi Animal Hospital. Questions for this column are encouraged. Write to South Mississippi Veterinary Medical Association, 20005 Pineville Road, Long Beach MS 39560 and include a self-addressed stamped envelope.
Tell a Friend
•
Site Map
•
Print this Page
•
Email Us
•
Top