Vallarta Living | Veteran Affairs | June 2007
VA Benefits - a Confusing Jumble of Legal Speak

David Lord - PVNN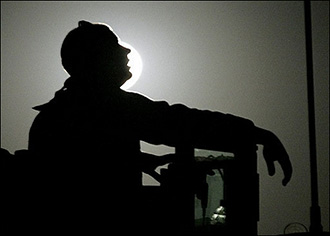 A US soldier looks at the sky as he sits atop of a Bradley Fighting Vehicle during a patrol on the outskirts of Baghdad. Military mental health services lack personnel and money to properly treat a growing number of soldiers returning from Iraq and Afghanistan, said a Pentagon report out Friday. (AFP/Liu Jin)

Last week I received a call from a client that had broken her shoulder, and as a wife/caregiver of a housebound Veteran, she was very concerned about additional expenses that will now occur due to her shoulder injury. Can she expect any help financially from V.A.?


For most Veterans and Dependents, the laws related to Veterans benefits is a confusing jumble of legal speak (designed to confuse them) making for a difficult understanding of the law. The common veterans family needs a translation.


It is demonstrated below that even the V.A.'s explanation of a benefit needs translation:


1. UME Deduction of Assisted Living Center (ALC) or In-Home Care Expenses: M21-1, Part IV, Chapter 16.31b states that ALC or in-home care expenses may be allowed as unreimbursed medical expenses (UMEs) as long as the "disabled person has been rated housebound or in need of A&A by VA."


However, the manual does not provide instructions for handling those cases in which preparation of a rating decision on behalf of the "disabled person" (i.e., the veteran's spouse) is not possible.


The following information is provided to remediate this deficiency:


• It is neither necessary nor appropriate to prepare a record-purpose rating to establish that a veteran's spouse is housebound (H/B) or requires aid and attendance (A/A) for the sole purpose of allowing UMEs. (Preparation of a rating decision to establish a spouse's need for A/A is appropriate if the veteran has service-connected disability(ies) that are at least 30 percent disabling.)


• Allow all ALC or in-home care expenses if paid on behalf of a dependent or other relative for whom UMEs may be allowed, as long as a licensed medical doctor certifies that the disabled person has a medical condition that makes such level of care necessary.


• A physician's statement specifically addressing the issue of whether the person needs to be in a protected environment must be of record, even if the person's diagnosis is known. (Example: Even if the evidence of record confirms that a veteran's spouse has Alzheimer's, do not allow all ALC or in-home care expenses unless a physician's statement is of record indicating that the spouse needs to live in a protected environment.)

Disabled Retirees May Get Pay Boost - House, Senate Panels OK Concurrent Receipt
by Rick Maze - rmaze@militarytimes.com

June 18, 2007 - The House and Senate Armed Services committees have agreed to extend concurrent receipt of full military retired and disability pay to people whose military service was cut short because of combat-related injuries. But the committees disagree about exactly whom to cover.


About 13,500 disabled retirees would get a pay boost under the Senate version of the 2008 defense authorization bill, which would make a disabled retiree with less than 20 years of service eligible for payments under the Combat Related Special Compensation program if he has a disability linked to combat or combat training.


CRSC payments equal the offset in military retired pay required under current law for those who also receive veterans disability compensation. About 8,000 disabled retirees would get CRSC under the House version of the defense policy bill, a smaller number because there are significant eligibility limits.


Under the House bill, payments would go to those with at least 15 years of service but less than 20, and who have combat-related disabilities rated at 60 percent or higher. Like the Senate bill, those who qualify would receive a CRSC payment equal to the amount of retired pay they must now forfeit when receiving disability compensation.


The House approved its version of the defense bill, HR 1585, on May 17. The Senate Armed Services Committee passed its version, S 1547, on June 5. Differences between the two bills will have to be reconciled before a final version is sent to President Bush. The Bush administration is not likely to be much help working out a compromise, as it opposes both provisions.


Estimates on the number of people affected by the pending legislation come from the Congressional Budget Office, a bipartisan arm of Congress. A major military association specializing in concurrent receipt of military and veterans benefits, the Uniformed Services Disabled Retirees, has different estimates.


LEGIONNAIRES


At the American Legions 88th Department Convention held in Lake Chapala, Jalisco, Mexico from June 13th to 16th, the following officers were elected to their respective positions:


Commander - Al King, Ajijic
1st Vice Commander - David Lord, Puerto Vallarta
2nd Vice Commander - Ed Bradley, Panama
Department Service Officer - David Lord, Puerto Vallarta (appointed by Commander)
Judge Advocate - Mark Walker, Antigua Guatemala
Finance Officer - Art Herbruger, Guatemala City
Historian - Andy Anderson, Panama
Sgt-at-arms - Mike Woods, Ajijic
Chaplain - Larry Clonts, Ajijic
Adjutant - William Shetz, Antigua Guatemala
---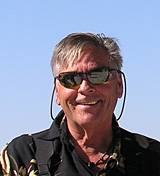 David Lord served in Vietnam as combat Marine for 1st Battalion 26th Marines, during which time he was severely wounded. He received the Purple Heart and the Presidential Unit Citation for his actions during the war in Vietnam. In Mexico, David now represents all veterans south of the U.S. border all the way to Panama, before the V.A. and the Board of Veterans Appeals. David Lord provides service to veterans at no fee. Veterans are welcome to drop in and discuss claims/benefits to which they are entitled by law at his office located at Bayside Properties, 160 Francisca Rodriguez, tel.: 223-4424, call him at home 299-5367, on his cell: 044 (322) 205-1323, or email him at david.lord@yahoo.com.
Click HERE for more Veteran Affairs with David Lord »»»
Tell a Friend
•
Site Map
•
Print this Page
•
Email Us
•
Top