Vallarta Living | Veteran Affairs | July 2007
Younger Vets Dissatisfied with Disability Pay

David Lord - PVNN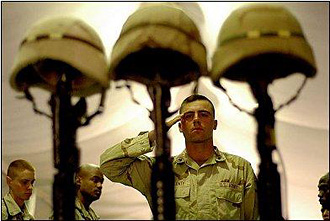 Twenty soldiers deployed to Iraq from Fort Lewis were killed in May, a monthly high. That same month, the base announced a change in how it would honor its dead: instead of units holding services after each death, they would be held collectively once a month. The anger and hurt were immediate. (more info...)

The Presidential Press Conference, with T.V. cameras recording, caught Bush's over the shoulder remark to a Veteran of Iraq, who was sitting in a wheelchair without his legs. "We are going to get you some new legs," the President remarked as he scurried past to some new appointment.


Before the Vet could say a word of any kind, whether it be "Gee Thanks" or "Screw You," the President was gone. So Bush's remark, which was meant as an encouragement, came out sounding disrespectful. George W's pace never slowed, making this young man's sacrifice for the United States seem petty.


So the next time you come across a disabled Veteran, take a moment to stop and look them in the eyes before you offer your kind words of support.


How do we compensate disabled Veterans for their sacrifice and is it fair? This imbalance in disability compensation paid by the Department of Veterans Affairs (VA) was a point of contention at a June 8 commission hearing.


The data may help to explain why younger disabled veterans, facing a lifetime of income challenges, are more dissatisfied with disability pay. The VA commission hired the think tank, CNA, to survey more than 20,000 veterans to determine the effectiveness of VA disability payments for replacing earning capacity lost as a result of service-connected disabilities compared to non-disabled peers. The law states restoration of veteran's average earnings capacity as the primary purpose for VA disability payments.


CNA also examined how well disability compensation meets the "implied intention" of Congress to ensure that disability payments would also compensate veterans in some way for the decline in quality of life resulting from their disabilities.


However, in this latest commission meeting, CNA officials reported that they found no evidence of basic VA disability payments compensating veteran's for diminished quality of life as well as earnings loss.


The typical veteran is awarded disability pay at about age 55. The present value of their diminished lifetime earnings is about $150,000 and over their remaining years they will draw about $145,000 in VA disability compensation, nearly matching average earning loss.


But the fairness of disability payments unravels when actual earning losses are broken out by the veteran's age when payments start, the severity of disability, and whether conditions are physical or mental.


Earnings capacity is impacted far more dramatically by mental disorders, CNA found. Veterans that are 100-percent disabled or unemployable at age 45 or younger are being under-compensated and by a "substantial margin," said Christensen.


McMahon advised commissioners that they might want to consider adjustments to compensation levels, particularly for these younger veterans, given the rising population of wounded returning home from wars in Iraq and Afghanistan. The analysts noted that when VA compensation fails to keep pace with lost earnings, declines in qualify of life deepen for veterans and their families.


CNA noted that a 25-year-old veteran who returned from war 100-percent disabled from physical wounds and was rated as unemployable by the VA, began receiving $28,352 a year in disability compensation, using 2005 rates. That amount was more than $11,000 short of the $39,447 needed annually to stay even with non-disabled peers, the study found.


VA paid the same $28,352 to a 65-year-old veteran rated as "IU" or individual unemployable. But if that older veteran became disabled for the first time at 65 based on latent service-connected conditions, after working a full career, VA actually is over-compensating him, the study found. That's because that older veteran, with his working life behind him, would need only $10,223 to close an earnings gap with peers who are non-disabled veterans.


"So, while on average [VA compensation is] about right, there are age groups for which it over or under compensates," said Christensen.


The imbalance occurs in part because the disability compensation system takes no notice of age or work experience when payments begin. And, according to CNA reports, the earnings gap is more pronounced for veterans who suffer mental disorders such as post-traumatic stress.


A 25-year-old veteran rated 20 to 40 percent disabled from post traumatic stress disorder received on average VA disability compensation $4629 in 2005. Yet to match the earnings of non-disabled veterans of the same age, that PTSD veteran would need almost $11,500 a year in VA compensation for the rest of his or her life, the study found. Thanks to Military News for the source of article.


ALL Veterans with P.T.S.D. that have rated a service connected P.T.S.D. compensation please visit my new website, www.davidlord.org for important news on preserving your current rating. Once there, send an email from the contact page for more important information on your individual case.
---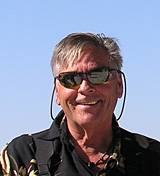 David Lord served in Vietnam as combat Marine for 1st Battalion 26th Marines, during which time he was severely wounded. He received the Purple Heart and the Presidential Unit Citation for his actions during the war in Vietnam. In Mexico, David now represents all veterans south of the U.S. border all the way to Panama, before the V.A. and the Board of Veterans Appeals. David Lord provides service to veterans at no fee. Veterans are welcome to drop in and discuss claims/benefits to which they are entitled by law at his office located at Bayside Properties, 160 Francisca Rodriguez, tel.: 223-4424, call him at home 299-5367, on his cell: 044 (322) 205-1323, or email him at david.lord@yahoo.com.
Click HERE for more Veteran Affairs with David Lord »»»
Tell a Friend
•
Site Map
•
Print this Page
•
Email Us
•
Top