Vallarta Living | Veteran Affairs | July 2007
The Wall - July 4th, 2007

David Lord - PVNN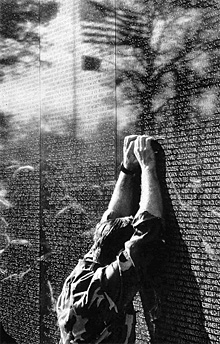 Listing the names of 58,022 Americans who sacrificed their lives in Vietnam, the 140 black granite panels are a tribute to all who served.

My first visit to the Memorial was in recognition of the sacrifices of my fellow Marines who gave their lives fighting the Viet Nam War. The names of men on this Wall mean as much to me as family since they are the reason I have my life, and the reason that I am here to write these articles for the surviving Veterans of America's military.


I am unsure as to why it has taken me until now to come here - a full thirty-nine years after I fell in battle, but survived due to their brave actions. I felt bad for not recalling the names of the dead and could not face being at the Wall and not respecting them by name, those who had fallen in combat, or who had been killed by explosions and that I had retrieved from burnt bunkers, rocket craters, or fields of fire.


The Viet Nam Veterans Memorial is approached by descending a long decline.. I was feeling as if I was going into the tomb of those I had served with. The names inscribed on this wall vividly reminded me of the war's intensity, and my duty as a survivor to not let their sacrifice go untold, or worse, being forgotten and dying for nothing at all.


With tears warming my face, I walk forward and sense a profound loneliness from deep within me. We pass without a word as we few surviving Khe Sanh Marines come to the center of the wall, which is the deepest point, and we see our reflections in the wall as we search for their names. In this sad, sad, reflection I try to forgive myself for being on this side of the wall. Feeling that they are there watching us, I truly know how blessed I am this day and for all my days to come.

Thanks to Tom Philpott for Military Times:

Bush 'Strongly Opposes' Troop Pay, Benefit Initiatives
With President Bush's popularity scraping bottom in opinion polls, with U.S. casualties rising in Iraq in a force surge that has stretched soldier tours to 15 months, the Bush administration July 10 said it "strongly opposes" key military pay and benefit gains tossed into their fiscal 2008 defense bill.


Initiatives the administration "strongly opposed" include:


• A military pay raise for next January of 3.5 percent versus 3 percent endorsed by the White House.


• Lowering the age-60 start of reserve retirement annuities for reserve component members by the length of their future mobilizations.


• Expanding eligibility for Combat-Related Special Compensation to service members forced by combat disabilities to retire short of 20 years.


• Directing pharmaceutical manufacturers to provide the Department of Defense with same price discounts for TRICARE retail pharmacy network that are provided already on medicines dispensed from base pharmacies.


• The administration also grumbled that the Senate intends to block for another year TRICARE fee increases for under-65 retirees and dependents.


The objections appear in a "Statement of Administration Policy" from the White House's Office of Management and Budget delivered to Senate leaders as they opened floor debate on the defense authorization bill. A day later, Senate Republicans, at White House's urging, blocked amendments to the bill that would have shortened Iraq tours for U.S. ground forces and slowed frequency of wartime deployments. Republicans said the amendments really were aimed at changing administration policy in Iraq.


TRICARE INCREASES - Dr. S. Ward Casscells, the new assistant secretary of defense for health affairs, has said he intends to work with Congress and service associations on more modest TRICARE fee increases for under-65 retirees and their dependents than has been pushed so far by the Bush administration. The OMB letter doesn't reflect that air of compromise. By not allowing the TRICARE fees and deductibles to rise as the administration planned, OMB chided, the Senate is adding $1.86 billion, again "funds that would otherwise be available to support our troops."


David's comment: The administration is two-faced, claiming we, the retired military, who have been promised medical insurance coverage, are responsible for taking money from active duty personnel. Those active duty members that survive this administrations war policies will need this coverage even more than we, but they will not have any coverage at all if Bush has his way. This is just one more disgrace that will be remembered by the military families betrayed during the Bush era.
---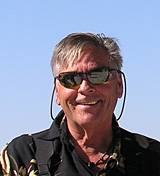 David Lord served in Vietnam as combat Marine for 1st Battalion 26th Marines, during which time he was severely wounded. He received the Purple Heart and the Presidential Unit Citation for his actions during the war in Vietnam. In Mexico, David now represents all veterans south of the U.S. border all the way to Panama, before the V.A. and the Board of Veterans Appeals. David Lord provides service to veterans at no fee. Veterans are welcome to drop in and discuss claims/benefits to which they are entitled by law at his office located at Bayside Properties, 160 Francisca Rodriguez, tel.: 223-4424, call him at home 299-5367, on his cell: 044 (322) 205-1323, or email him at david.lord@yahoo.com.
Click HERE for more Veteran Affairs with David Lord »»»
Tell a Friend
•
Site Map
•
Print this Page
•
Email Us
•
Top