Vallarta Living | Veteran Affairs | August 2007
The Tragic Neglect of US Veterans

David Lord - PVNN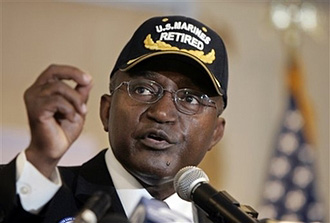 Retired U.S. Marine Col. Jim Cook, who is Northern California Director of Veterans United for Truth, speaks during a news conference in San Francisco, Monday, July 23, 2007. Cook is part of a class-action lawsuit against the U.S. Department of Veterans Affairs, filed in federal court in San Francisco, seeking broad change in the agency as it struggles to meet growing demands from veterans returning home from Iraq and Afghanistan. (AP/Paul Sakuma)

The Department of Veterans Affairs is now facing criticism by the general public and lawsuits generated by families outraged by Veterans' lack of treatment as evidenced at Walter Reed Naval Hospital just two months ago.


The tragic neglect of Veterans has been a fact for many years. Learning the reality of this, the public's outcry is growing fast. The Veteran in rehabilitation is waiting discharge from military service because of war wounds that are often both physical and mental. Now these lawsuits are filed by surviving families of Combat Veterans who have since committed suicide, which has sparked major problems within the V.A. because they turned Veterans away from treatment.


The state of disarray within the mental health sections of the V.A. are finally being exposed after many decades. The same inept bureaucracy that crippled F.E.M.A. in its response after Katrina is alive and well at the Veterans Administration.


The difference is that the V.A. has been getting away with it for decades. The second largest bureaucracy in government after the Department of Defense has been expert in the denial of benefits for Veterans for years. Instead of helping establish claims, they deny them. We see that, even in Federal Circuit Courts, this arrogant agency will fight against the Veterans it is suppose to care for.


As you read below the recent decision against the V.A. in Sanders vs. Nicholson, you can see how the V.A. continues to fight against us - even after they have been told to cease their wrongful actions. (The Federal Circuit has recently decided two cases, Sanders v. Nicholson and Simmons v. Nicholson, in which it held that any notice element error is presumed to be prejudicial.)


The four notice elements under 38 U.S.C. 5103(a) and 38 C.F.R. 3.159(b) are:


(1) notify the claimant and representative, if any, of any information, and any medical or lay evidence not previously submitted that is necessary to substantiate the claim; (2) indicate what information and evidence is to be provided by the claimant and (3) what information and evidence is to be provided by VA; and (4) request the claimant to provide any evidence in his/her possession that pertains to the claim.


Prior to these holdings, only error found in the first element notice was presumed prejudicial and the claimant was required to demonstrate prejudice when any second through fourth notice element occurred.


As a result of these holdings, VA would be required to rebut the presumption of prejudice when any notice element error is demonstrated. General Counsel has asked the Department of Justice to petition the Federal Circuit for reconsideration in both cases.)


This is a good example why you need professional advice and guidance when filing claim. We are told as Veterans, we do not need attorneys to represent us as we are given the benefit of the doubt in our non-adversarial claims against the V.A.


This has always been their public statement. They have been hiding behind this lie since a public law was written just after the Civil War, this law it barred attorneys from receiving money in excess of ten dollars if representing a Veteran.


The Government made sure the representation by an Attorney is only after a Veteran has been denied his claim for benefits. Re-opening or appealing the denied benefit within their mandatory time makes getting new evidence very hard.


You may have an Attorney as long as you are making the new claim with all new evidence not used during the initial claim. This is causing you to spend more time, energy and money to develop your evidence, because it must be all new, never used before evidence.


An example of this would be any documentation of diabetes type II determined service caused by a medical exam could not be used if it was in the original claim. If all new evidence exist, then the veteran has the right to an attorney.


In the above ruling by the court, you realize the V.A. have never asked you about even the basic evidence required, or asked you if you have or can show information they want.


Talk about the ultimate "Don't Ask - Don't Tell" policy.


They hide behind the law, but when ordered to obey the law they ask the Department of Justice to strip away the legal rights of the very people who fought and died for this nation of the United States of America. Using laws we Veterans fought to defend as tools to defeat them. Like yours, my question is: "Why?"
---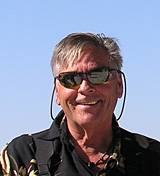 David Lord served in Vietnam as combat Marine for 1st Battalion 26th Marines, during which time he was severely wounded. He received the Purple Heart and the Presidential Unit Citation for his actions during the war in Vietnam. In Mexico, David now represents all veterans south of the U.S. border all the way to Panama, before the V.A. and the Board of Veterans Appeals. David Lord provides service to veterans at no fee. Veterans are welcome to drop in and discuss claims/benefits to which they are entitled by law at his office located at Bayside Properties, 160 Francisca Rodriguez, tel.: 223-4424, call him at home 299-5367, on his cell: 044 (322) 205-1323, or email him at david.lord@yahoo.com.
Click HERE for more Veteran Affairs with David Lord »»»
Tell a Friend
•
Site Map
•
Print this Page
•
Email Us
•
Top