News from Around Banderas Bay | September 2007
Vallarta Celebrates El Mes de la Patria

PVNN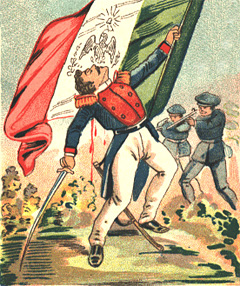 Every September, know as El Mes de la Patria, cities throughout Mexico host a series of colorful and patriotic celebrations commemorating Mexico's Independence from Spain.

Puerto Vallarta - History is very important in Mexico. To the Mexican people, "History is not only the story of how the present came to be, but the explanation of present realities and future possibilities."


So it's only natural that every year the month of September is dedicated to the celebration of the first and most significant episode of the country's history - Mexico's Independence from Spain.


Every September, know as El Mes de la Patria [The Month of Our Nation,] cities throughout Mexico host a series of colorful and patriotic festivities celebrating the events and people that eventually resulted in Mexico's Independence from Spain.


Here in Puerto Vallarta, the celebrations are unbeatable. On every street corner there are vendors selling flags, balloons, sombreros and rehiletes, all in the national colors of red, white and green.


Excitement fills the air as hotels, bars and discos offer special entertainment and activities most every night, and several of the best restaurants in Puerto Vallarta are offering special menus featuring traditional Mexican dishes.


Here are just a few of the places where you can celebrate Las Fiestas Patrias with an authentic Mexican dinner.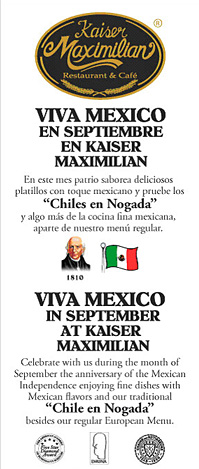 KAISER MAXIMILIAN

During the month of September, Andreas Rupprechter of Cafe Maximilian will be celebrating El Mes de la Patria by offering Traditional Mexican Dishes [see PDF menu] in addition to the Austrian delights featured on his regular menu.


Don't miss his special Chiles en Nogada, the Mexican dish that is most emblematic of the holiday. A specialty of Puebla, Chiles en Nogada are not your everyday chiles rellenos. Made from red, white and green ingredients to symbolize the colors of the Mexican flag, they are roasted chiles poblanos stuffed with a sweet-savory pork and fruit picadillo filling and served at room temperature with a delicate fresh walnut cream sauce topped with pomegranate seeds.


According to historical accounts, the recipe was created by the Agustine nuns of the Santa Monica convent in 1821, [the year of the declaration of Mexican Independence,] who decided to prepare a dish with the three colors of the newborn flag, green, white, and red, to commemorate the entrance of Agustín de Iturbide into the city of Puebla.


Iturbide eventually became the First Constitutional Emperor of Mexico in 1822 - just as Chiles en Nogada eventually became one of Mexico's most famous dishes. Today this culinary creation is found all over the country, including many restaurants throughout Puerto Vallarta, during the patriotic month of September. (Click HERE for contact info)

EL ARRAYÁN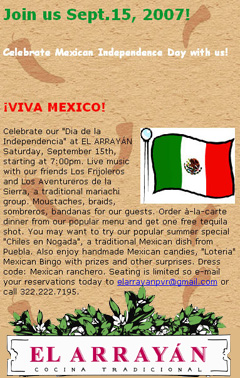 Celebrate El "Dia de la Independencia" at El Arrayán! On Saturday, September 15th, starting at 7 pm, Vallarta's Favorite Mexican Restaurant will be featuring live music with Los Frijoleros and Los Aventureros de la Sierra, a traditional mariachi group.


The dress code will be Mexican Ranchero, but if you don't have anything in your closet, don't worry! El Arrayán will be handing out moustaches, braids, sombreros and bandanas so everybody can celebrate with style.


And to get you into the "spirit" of celebration, they'll also be giving away one free tequila shot with every ŕ-la-carte dinner ordered from their regular menu. Or you may want to try their popular September special "Chiles en Nogada," a traditional Mexican dish from Puebla.


You'll also enjoy handmade Mexican candies, "Loteria" (Mexican Bingo) with prizes and many other special surprises. Seating is limited - so make your reservations today by calling (322) 222-7195 or sending an email to elarrayanpvr@gmail.com.


This is a great time to be in Puerto Vallarta if you like celebrations, parties and a buzzing atmosphere! But September 15th, or the eve of Independence Day, is when the celebrations really begin.


All day long there will be events and ceremonies in the Plaza Principal, traditional games and competitions on the Malecón and a variety of shows performed by Mexican dancers and musical groups, including Mariachis, at Los Arcos Amphitheater.


At 11 pm the Presidente Municipal of Puerto Vallarta, Mayor Javier Bravo, will deliver "El Grito," reenacting the historic cry for independence. The ceremony reaches the high point when the crowd joins in proudly shouting out the names of the heroes of Mexico's Independence.


When the Grito ceremony comes to an end, everyone sings the National Anthem as the sky lights up with multi-colored fireworks, then everyone gathers in the Main Square and along the Malecón for the annual Baile Popular [Public Street Dance.]


September 16th is a National Holiday, similar to July Fourth in the United States. Most people have the day off from work so they can enjoy fiestas and the parade that winds through downtown.


Banks, government offices and about half of the businesses in Puerto Vallarta will close in observance of the holiday, but plenty of restaurants will be open so you can wrap up the festivities with an authentic Mexican dinner.
Tell a Friend
•
Site Map
•
Print this Page
•
Email Us
•
Top