Vallarta Living | September 2007
New Legislation for Veterans Benefits Has Passed!

David Lord - PVNN

New Legislation for Veterans benefits has passed! Military Construction and Veterans Affairs Appropriations Act (H.R. 2642), which passed with 92 supporting votes and only one no vote.


The legislation, which funds the Department of Veterans Affairs and Military Construction for the 2008 fiscal year, includes $6.5 billion more for veterans than 2007 and will help ensure that Veterans receive top-notch care and treatment.


The $87.5 billion provided for the Department of Veterans Affairs includes funding increases that will help reduce the current backlog in veterans' claims processing and improve and increase access to polytrauma rehabilitation programs, mental health services, and readjustment counseling.


Specifically, the bill will:


• Provide $87.5 billion for the Department of Veterans Affairs - $3.6 billion more than requested by the President and $6.5 billion more than appropriated for 2007.


• Provide $44.6 billion for the Veterans Benefits Administration (VBA) - $3.2 billion more than allocated for 2007. Includes $131 million to hire 500 additional claims processors to address the veterans claim backlog.


• Provide $37.2 billion for the Veterans Health Administration (VHA) - $2.6 billion more than the President requested. This increase in funding will primarily help improve and increase access to polytrauma rehabilitation programs, mental health services, PTSD treatment, TBI treatment and readjustment counseling.


• Provide over $4 billion for VA medical facilities operations and maintenance and $1.5 billion for major and minor construction to ensure Vets have first class facilities for care.


• Provide $125 million to boost the travel reimbursement rate for disabled vets who have to drive long distances to receive VA health care.


The following increase will assist Puerto Vallarta Veterans and others living in Mexico, although total mileage from Puerto Vallarta to the V.A. will not be covered. Veterans must pay from the port of entry city to the V.A. Hospital.


The rate has not been adjusted in nearly three decades, with disabled veterans currently receiving only 11 cents per mile. The extra $125 million provided by the amendment, which "allocates $125 million to increase the travel reimbursement rate for disabled veterans who must drive long distances to receive VA health care," allows the VA to increase their reimbursement rates significantly. For example: The fee I paid to enter the U.S.A. from Laredo to Houston cost me $70 USD, but only because I had a scheduled appointment.


Another amendment requires the VA to place a direct link to the department's Inspector General website on its home page within 30 days, as well as provide an easily accessible place for people to anonymously report waste, fraud and abuse.


TRICARE Management Activity launched a new Member Choice Center (MCC) as part of the services provided to ease registration for the TRICARE Mail Order Pharmacy (TMOP). By using this new service, not only will the beneficiary obtain TMOP enrollment assistance, but the MCC also will actually contact the physician to obtain new prescriptions and forward them to the TMOP for processing, making the switch from retail to mail order virtually effortless for the beneficiary.


Beneficiaries can register on the "My Benefit" portal at www.tricare.mil or at http://member.express-scripts.com/dodCustom/welcome.do or by phone at 1-877-363-1433 to switch from the retail program to TMOP.


In other Veteran news, on September 1, 2007, the American Journal of Epidemiology published a study which found that both Type 1 and 2 diabetics experience a statistically significant increased risk of non-traumatic hip fracture.


Service officers should be aware of this study and encourage veterans who fracture a hip after diagnosis of service connected diabetes to file a claim for secondary service connection of the residuals of the hip fracture.


The veteran should supply a medical opinion to the effect that the hip fracture was, as likely as not, caused by the service connected diabetes. If he/she cannot afford the opinion, one should be requested from the VA.


This week, may all remember the sacrifices made by our Citizens and Veterans since 9-11-01, especially those serving in the Middle East, who deserve all the support we have to give them.
---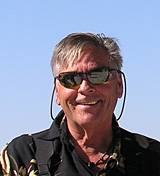 David Lord served in Vietnam as combat Marine for 1st Battalion 26th Marines, during which time he was severely wounded. He received the Purple Heart and the Presidential Unit Citation for his actions during the war in Vietnam. In Mexico, David now represents all veterans south of the U.S. border all the way to Panama, before the V.A. and the Board of Veterans Appeals. David Lord provides service to veterans at no fee. Veterans are welcome to drop in and discuss claims/benefits to which they are entitled by law at his office located at Bayside Properties, 160 Francisca Rodriguez, tel.: 223-4424, call him at home 299-5367, on his cell: 044 (322) 205-1323, or email him at david.lord@yahoo.com.
Click HERE for more Veteran Affairs with David Lord »»»
Tell a Friend
•
Site Map
•
Print this Page
•
Email Us
•
Top