Puerto Vallarta Real Estate | November 2007
In Mazatlan, Rising Prices

Marla Dickerson - Los Angeles Times
go to original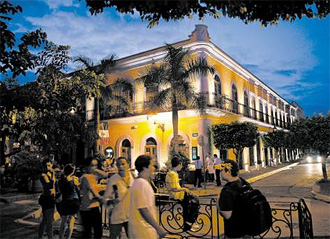 With the influx of foreign baby boomers settling in Mazatlan, Mexico, the coastal city's historic center is undergoing a renaissance. Mazatlan has become popular with Americans, but prices are booming there, and may make it too expensive for many before long, experts say. (LATimes)

Mazatlan, Mexico — This bustling port was supposed to be just a whistle-stop for Lana and Joe Reid. The San Jose, Calif., retirees were en route to the tourist hotbed of Puerto Vallarta, where they were planning to buy a home near the water.


But their detour through Mazatlan turned out to be a date with destiny. They were drawn to the street life of the historic downtown. They strolled the oceanfront walkway known as the "malecon."


They watched the fishing fleets skipping across the bay to the seafood canneries. They liked the cultural amenities, such as the restored 19th-century theater, and the good health care and other services available in this industrious city of 400,000.


"Puerto Vallarta was not the working ... city we found here in Mazatlan," said Lana Reid, 60.


The couple bought a $230,000 three-bedroom penthouse in a high-rise condo on the malecon in 2004 and haven't given Puerto Vallarta, 275 miles to the south, another thought.


Long the bridesmaid of beach communities in Mexico, Mazatlan is starting to turn the heads of American retirees and vacation-home buyers. They're finding they can get more for their money than in better-known resort areas. And they're getting a chance to live in a mid-size, "authentic" Mexican city, rather than a tourist hub.


An estimated 3,500 to 7,000 U.S. and Canadian expatriates call Mazatlan home. They are restoring old properties in the city center, building palaces on the hills overlooking the bay and buying homes on golf courses. Developers are building a marina and luxury condos, some selling for more than $750,000. Not even the area's ferocious summer heat and Sinaloa state's reputation as a stronghold for drug cartels is deterring the flow.


"All of a sudden, these companies saw affordable beachfront property and they zoomed in here," said real estate agent Carol Sinclair, a Canadian native who has lived in Mazatlan for 23 years.


Government officials are courting well-heeled retirees and upscale developments. Property values are rising fast. The changes irk those who like the city's unvarnished edges.


"The old hippies are having issues," said Tony Feuer, 60, a San Francisco Bay Area expat who owns an inn near the city's lively Plazuela Machado, a refurbished square ringed with cafes.


Feuer says modest homes that would have fetched $50,000 five years ago now sell for triple that. After 51/2 years in the city, he's planning his escape to a more rural, affordable area of Mexico.


Foreign influence is nothing new for Mazatlan. Founded in 1531 by a Spanish conquistador, Mazatlan became a port for exporting gold and silver from nearby mines. U.S. and European investors helped transform the city into an industrial hub in the late 1800s.


Their legacy can be seen in the European architecture of the historic center and heard in the region's signature "banda" music, whose oompah beats fuse polka with mariachi brass.


Foreign tourists have been coming since the 1950s. Cruise ships dock regularly at the harbor. U.S. and Canadian snowbirds flock here during the winter. The city hosts one of the largest Mardi Gras celebrations in the hemisphere.


Still, tourism doesn't dominate Mazatlan's economy the way it does in Cancun or Cabo San Lucas.


The vibrant mix captivated Bill and Jacque Demmer of Texas, who built their first house in the city in 1983. Jacque, 59, is active in an expat group that raises funds for local schools. Bill's passion is the modern home they're building overlooking the bay.


Bill, 75, a former developer, said the structure — with jaw-dropping views, an elevator and a bridge connecting the front of the home to the back — was one of the most complicated projects he had ever taken on. He spent a recent morning chasing down his cabinet maker, who is weeks behind.


"It's one of the things I still can't get used to," Demmer said of the culture's liberal interpretation of deadlines.


Other expats, though, are reveling at being off the clock.


Larry Lambert, a vacationing Idaho workaholic, underwent a conversion last year in Mazatlan. Something about the warm sea air and the gracious local people ripped open the buttoned-down engineer. Upon his return to Boise, he quit his job, pierced his ear, packed what would fit into a 5-by-8-foot trailer and headed back to Mazatlan.


He and partner Pattie Wells bought an $80,000 home in a neighborhood filled with businesses that local families operate out of their homes, including a pinata store, a tailor shop, appliance repair and a taco stand.


Lambert and Wells take Spanish classes and find joy in shopping for fresh vegetables or chatting with neighbors.


"My new philosophy is that if we get one thing done today, it's a good day," said Lambert, 63. "If not, there's always manana."
Tell a Friend
•
Site Map
•
Print this Page
•
Email Us
•
Top