Vallarta Living | November 2007
Ayuda a Los Animals Caring Crate Program

Laura Gelezunas - PVNN
No matter when you plan to visit Puerto Vallarta, there's always something to see and do - and you'll find everything you need to know in the Banderas Beat Archives.




Ayuda a Los Animals, a non-profit organization, is part of the PEACE charity association. They are gearing up for another season of spay and neuter clinics, and there's an easy way for you to lend a paw if you are planning a trip to the Bay of Banderas.


High-volume spay and neuter clinics use an immense amount of supplies, everything from surgical gloves to stethoscopes and operating tables to hair clippers.


Over the last five years Ayuda a Los Animals has saved millions, yes, millions of unwanted cats and dogs from being born through their aggressive campaign in Nayarit.


"We've grown so much in Nayarit and have been looking for the right people to work with in Jalisco for a long time," says Molly Fisher, PEACE Director, "So we're really excited about more spay and neuter clinics happening there."


To start a Jalisco, high-volume spay and neuter campaign all the supplies for a mobile animal surgical hospital are needed. And a great way to assist is to bring down a new or used pet crate. Small, medium and large sizes are needed. These can be filled with old sheets or comforters, and old towels. Flea and tick collars, water and food dishes, plus new and/or used collars for dogs and cats, plus leashes and slip leads are needed.


Once the crate is full, tape it up and check it as a piece of luggage. Include a duffel bag for items to take home. This is a super easy way to help in the humane efforts of animal population control in the Bay of Banderas.


For a complete list of the pet supplies needed to make the Ayuda a los Animales M*A*S*H* (Mobile ANIMAL Surgical Hospital) unit possible in Jalisco, click HERE.


To watch the video for this story, check out the November 2007 edition of Banderas Beat.


If you will be staying in Jalisco, email me, Laura, at vallartadiva@gmail.com or if you are staying Nayarit, email Molly at mollyinmexico@yahoo.com for a pick-up.
---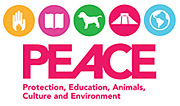 A Banderas Bay non-profit organization, PEACE acts as an umbrella organization for four charitable programs, Casa Comunidad, Ayuda Los Animales (Help The Animals), a Women's Co-Op (Manos de Mujeres Unidas) and Community Pride. It is a U.S. non-profit 501(c)(3) organization, which accepts tax-deductible donations and a Mexican Civil Association that issues facturas for donations. For more information, please visit PeaceMexico.org or click HERE to read more about PEACE
Tell a Friend
•
Site Map
•
Print this Page
•
Email Us
•
Top