Vallarta Living | Veteran Affairs | November 2007
Waging War on the VA

David Lord - PVNN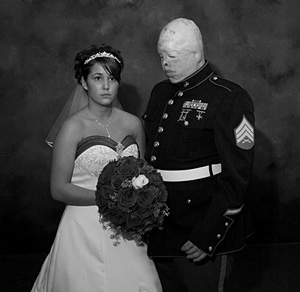 This image is from Ziegel's wedding day last October, when he married his longtime fiancée Renee Kline. Recently chosen for the 2007 World Press Photo Foundation Award, it was taken by Nina Berman, a New York–based photographer.

I, like many other Veterans and Citizens of the United States, watched a program on CNN last Sunday evening and was stunned by Marine Sgt. Ty Ziegel, a 25 year old severely burned and disfigured by a suicide bomber.


He tells on camera of how disabilities were rated at 80% for facial disfigurement, 30% loss left arm, 10% for head trauma, then on 3 other separate injuries 0% for *brain left lobe, 0% *right eye blindness, 0% *jaw fracture, and how within 48 hours of telling this to Dr. Sanjay Gupta of CNN, he gets his ratings immediately increased by the V.A.'s, Director Jim Nicholson, changing from the 10% head trauma into a traumatic brain injury with a 100 per cent rating.


Ty recounts his story from behind a smooth mask-like face, a face having been melted by terrorist fire; he has no ears or nose or eye lids of his own. You've heard the term "burnt beyond recognition," Ty is living proof.


Ty is living his life behind the waxy tissue of skin that is graphed on from some other part of his body. He knows what it is like to be the source of fear to a child; he sees the panic of a mother who shields a child's eyes from Him and the horrors of this Iraq War.


Unlike any other time we are bringing them home from war, those disfigured wounded do not die; they live among us, causing us pain within their pain, the Ty's and Mary's of Afghanistan and Iraq.


They make us fear for our children, for ourselves, and our questions about this War, and why this sacrifice? His scared face was on the cover of People Magazine in 2006 and I shake my head in disbelief that this was not enough for the V.A. to treat Ty justly, but it was not.


The abuse is still going on Vet after Vet. I write this column in Mexico for the Vallarta Tribune, and most visitors have no time to be bogged down in anything other than a happy, relaxed, well deserved vacation in Puerto Vallarta, so it is to those that own property and live here in Paradise, or those that read the column online at banderasnews.com, that I address my plea: to keep your heart open to those that are wounded.


The dollars given as compensation to the wounded only serve to partially cover the losses in ability to produce income compared to a healthy non-military serving person; compensation does not cover the loss in quality of life.


His or Her life will never be what it would have been had the physical or mental wounds been less or non-existent. The obstacles resulting from the wounds will continue for the duration of their life, the wounds may in fact shorten life by many years.


Ty was engaged to be married before serving in Iraq, but upon this Marine's return, his fiancée was by his side long enough to get him through the toughest recovery period, and God bless her for that gift to him, many less strong would have walked away and not stayed the year.


Ty's future struggles will last his life time and I know whether it is ten or twenty or thirty or forty years he will fight everyday to stay on track, maintain his valor and withstand the loneliness his wounds bring about.


The Viet Nam War Veteran knows full well the neglect that is being perpetrated on Veterans of Iraq and Afghanistan and we apologize to them for not being able to bring about justice. Only the Citizens of the United States can bring about changes to Veterans Law voted by Congress, Laws in place and unchanged for the last fifty-six years. Citizens make your support known for the granting compensation not only for wounds of war, both the physical scarring and physiological trauma, but the resulting loss of "quality of life."


The years of frustration we veterans experience in the hands of young bureaucrats at the V.A. is a punishment undeserved, a punishment against the Valor of unselfish Service to Country. It is placed on us by V.A. Regional Offices all across America, with a position of power over our lives, but they never having faced the fire of combat or a convoy run through I.E.D.'s, are detached from it all, they are God and we are the undeserving combat wounded men and women.


We are seen as fools because we volunteered to be in Service to our Nation, we are seen as guilty of bringing about our own wounds. Like them, we had a chance to refuse to volunteer, to never serve America in the Military, but we did so and it is our mistake. That's how it feels to a wounded Vet; we are treated as if we are seeking a hand out at their personal expense.


This is in a way true, because the V.A. is based on the incentive program pay system. These little bureaucrats gain their bonus and promotion by the number of claims processed and rammed down the throats of Veterans. This end product, a term meaning the number of claims processed and adjudicated by a bureaucrat each month, demands timeliness above all else. Claims development, which requires the V.A. to fully explore and find records, is a distant second place because it takes time which hurts the End Product numbers.


Retiree Cost of Living Allowance to Increase
Military retirees will receive a 2.3 percent increase in their annual cost-of-living allowance beginning December Dec. 1, 2007. The increase applies not only to military retired pay but also to disability compensation and survivor annuities.
---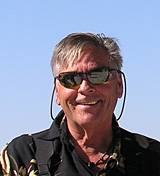 David Lord served in Vietnam as combat Marine for 1st Battalion 26th Marines, during which time he was severely wounded. He received the Purple Heart and the Presidential Unit Citation for his actions during the war in Vietnam. In Mexico, David now represents all veterans south of the U.S. border all the way to Panama, before the V.A. and the Board of Veterans Appeals. David Lord provides service to veterans at no fee. Veterans are welcome to drop in and discuss claims/benefits to which they are entitled by law at his office located at Bayside Properties, 160 Francisca Rodriguez, tel.: 223-4424, call him at home 299-5367, on his cell: 044 (322) 205-1323, or email him at david.lord@yahoo.com.
Click HERE for more Veteran Affairs with David Lord »»»
Tell a Friend
•
Site Map
•
Print this Page
•
Email Us
•
Top