Puerto Vallarta Real Estate | December 2007
The World's First Condo-Hotel for Gay Men, Lesbians and Friends Opens in Puerto Vallarta, Mexico

Patrick Harrison - PVNN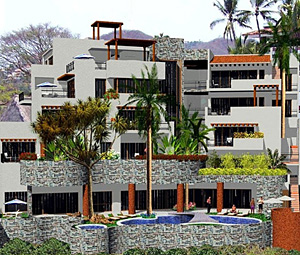 To learn more about The Private Residences at Casa Cupula contact Ron Morgan with Timothy Fuller and Associates via email at ron(at)timothyfuller.com to schedule your personal tour or call 1-866-261-3516 x252

Puerto Vallarta - Excited crowds turned out Saturday, December 8th for the inauguration of The Private Residences at Casa Cupula, the world's first fractional condo-hotel developed exclusively for the gay community.


As noted earlier this week by the New York Times Travel section: Puerto Vallarta is "becoming gayer by the year and [taking over] as Mexico's leading gay beach." The burgeoning gay community in Puerto Vallarta has created dozens of new and innovative businesses in Romantic Zone, enjoyed by tourists of all stripes who enjoy the new vitality these investments bring to this resort town. Now this innovative new project plants the seeds for this new form of vacation home ownership, which resonates with many gay professionals.


High-end hotels and resorts such as The Four Seasons and The Ritz Carlton are creating luxury fractional ownership projects worldwide, and now Casa Cupula is doing the same for gay vacationers. Having established a reputation as one of the leading luxury gay resorts in the world since its inception in 2002, Casa Cupula is responding to a real need from guests. They want to invest in property in fast-growing Vallarta, but don't want to give up the services and benefits of staying in a five-star resort with other gay travelers.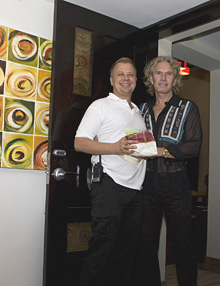 Don Pickens (left) and Ron Morgan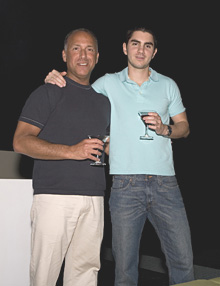 Casa Cupula guest, Richard Stein (left) and Mike Gregg, Residences buyer.

"Building on Casa Cupula's successful growth, it was a natural progression for us," stated Don Pickens, founder of Milagro Properties, the developer. "We have many guests who have purchased homes and condos in Puerto Vallarta after staying with us, but they told us they regretted having to trade off Casa Cupula's ambience and services because they wanted to buy real estate. Now we can offer the best of both worlds."


The Private Residences at Casa Cupula has also found success with an unexpected audience: younger gay professionals. Many gay people in the US live in or near major cities, where the cost of buying a first home has grown out of reach for many young buyers. Fractional ownership offers a way for them to make their first real estate investment with a capital cost of less than $100,000.


Twenty-seven year old San Francisco resident and financial planner Mike Gregg, an early buyer recounted, "Buying into real estate in the Bay Area is out of reach for me, even on a professional salary. So I chose to make my first investment at Casa Cupula, which is located a short four hour plane ride from San Francisco. I know I'll use the vacation time, and when I can't, they'll manage it and rent it out for me. With rental income offsetting the costs, it can work out to a free vacation each year. And I still get the chance for capital appreciation."


Indeed the project's first homeowners already profited from their purchase. Homeowner Tim B. of Charlotte, NC said: "We are very pleased with the quality and luxurious amenities of our new suite and know that when the project is finished it will be truly spectacular. You are doing a great job putting it all together. Thanks for planning and creating a place like this for us to enjoy!"


These condo-hotel units are available in both full and fractional ownership. Often confused with timeshares, which are usually time-limited usage contracts, fractional interests offer fully deeded ownership in perpetuity in four-week periods. Buyers then keep their capital investment to a minimum but still own part of a luxury home of the highest quality.


"I think that is an important benefit for our buyers," stated Ron Morgan, Listing Agent for The Residences with Timothy Fuller and Associates. "And while ownership rights are assured, homeowners can still trade days from their fractions, to stay in the hotel during other time periods so they can still have the flexibility to vacation whenever they want."


To learn more about The Private Residences at Casa Cupula contact Ron Morgan with Timothy Fuller and Associates via email at ron(at)timothyfuller.com to schedule your personal tour or call 1-866-261-3516 x252.


The Private Residences at Casa Cupula is the world's first luxury condominium hotel being developed exclusively for gay men and friends, located in Puerto Vallarta, Mexico. As one of the world's finest resort hotels for gay men, Casa Cupula has built a reputation since 2002 for services and luxury equal to any mainstream 5 star resort. Now, the Private Residences offers a way to combine the best of both worlds: hotel living with the benefits of vacation home ownership. For more information please visit CasaCupula.com or call 011-52-322-223-2484 x252.
---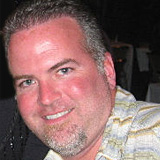 Born in Seattle, WA, Patrick Harrison has been living in PV for more than 3 years. Drawing on his experience in entertainment, radio, retail and sports marketing in major US cities, Patrick opened his own business here in Vallarta, P. Gringo Marketing & PR, a successful Public Relations Firm that targets the English-speaking tourist and local communities. You can contact Patrick at patrickinpv(at)gmail.com
Click HERE for more articles by Patrick Harrison.
Tell a Friend
•
Site Map
•
Print this Page
•
Email Us
•
Top