Vallarta Living | December 2007
Family, Friends, Broadway and More - Part I

Polly G. Vicars - PVNN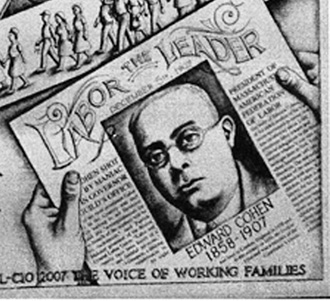 Edward Cohen taken from the plaque to hang in the Massachusetts State House.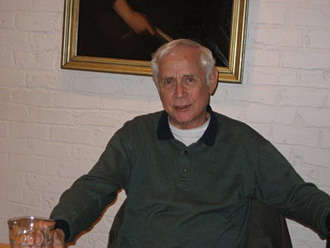 Brother, Harry Greenberger, our leader on the trip to Boston.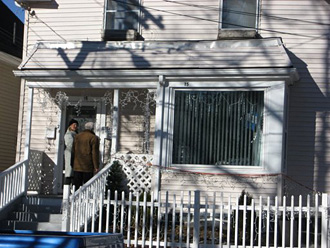 Grandfather Cohen's home in Lynn, Massachusetts with Harry and Janis hoping to go inside.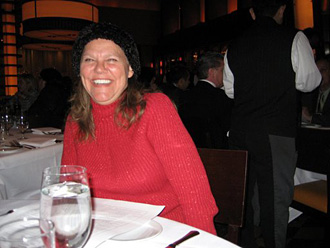 Niece, Janis Greenberger, who started it all.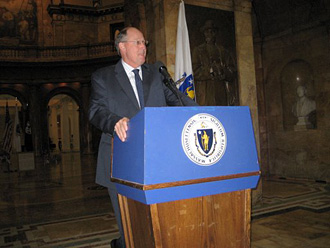 Robert J. Haynes, President of the Massachusetts AFL/CIO

Janis, daughter of my deceased older brother, Jerry, found herself with my brother Harry and me as her only known living relatives, and residing far apart - she in Okeechobee, Florida, Harry in New Orleans and Husband and I in Puerto Vallarta, Mexico. So she decided to begin genealogical research to try to find a few more. Periodically, she would send emails with dribs and drabs of information she had found, which we read with only a cursory interest.


Then she wrote us to tell us that she had found a query posted on the Ancestry.com site looking for relatives of Edward Cohen, our Grandfather's name, and she had contacted the source, Gompertz in Australia, opening a large kettle of relatives.


Our Mother had always told us that her father was a labor leader in Lynn, Massachusetts and that while waiting to see the Governor on behalf of one of the union men, a lunatic had rushed into the Governor's waiting room and when he found that Governor Guild was busy and could not see him, pulled out a gun and started firing, killing Grandfather Cohen. As a result, Grandmother Cohen, Rebecca, packed up her 8 children and moved back to New York City, their former home. Mother always added, "I had to go to work at the age of 14." That was all we knew about her family at that time.


I wasn't really sure that this event had even taken place as many of us are prone to telling stories of the past the way we wanted them to be, not as they really were. Now, 100 years after the possible assassination, Janis found "the rest of the story" as gleaned from AFL/CIO press releases and the 1907 newspapers in Boston after his murder.


Grandfather Cohen was born in London in 1858. He was one of 8 children, 7 of whom emigrated to Australia with their parents, while he, at the age of 23, opted for the United States. He settled in New York City where he worked as a cigar maker, found and married Rebecca.


In the early 1890's they moved to Lynn, Massachusetts where the last of their 8 children were born, including my mother, Marion. They lived in a home on Ingalls Street, now a two family duplex, that according to Mother, was the first home in Lynn with indoor plumbing! She also told of ice skating to school, the memory of which came rushing back to me last week as I walked gingerly on the icy sidewalk in front of that house in the 3° F Lynn weather.


From the newspaper accounts of the murder of Grandfather Cohen, I have been eerily touched by the telling of his rise in the labor union and of his unique idea to organize the wives to further the causes of organized labor and his passion to eliminate child labor.


When I read that Grandmother Cohen was the President of the Women's Labor Auxiliary, I felt a familial kinship that I had never before felt. I had never seriously questioned why I have spent much of my life in causes that I now know would have been near and dear to my grandparents - sixth grade teacher, activist in the Kentucky Democratic Party, and since our retirement, passionately working to see that local girls and boys have an opportunity to get the education they want and deserve, but haven't the economic resources to obtain. It was quite a shock, at the age of 75, to realize that inadvertently I had taken up the causes of my Grandparents, albeit on a much smaller stage.


According to press releases Grandfather Cohen's work at a cigar factory in Boston's West End was his first exposure to organized labor through the Boston Cigar Makers Union. There, he moved up the ladder in the fledgling movement, eventually successfully running for President of the Lynn Central Labor Union, which made him a Vice President of the Massachusetts AFL.


In 1906, he was elected President of the State Federation. He was in his second term as President of the Massachusetts AFL at the time of his tragic assassination. Though he was only 44 when he died, he is perhaps most remembered for his successful struggles to enact ground breaking child labor legislation.


He pushed a bill through congress that prevented children under the age of sixteen from working in manufacturing if they could not read and write as well as a bill to prevent children under the age of fourteen from working during school hours. One newspaper called those pieces of legislation protecting children by emphasizing the central role that education plays in improving the lives of working families the real monument to Edward Cohen. But he didn't stop there, he pushed for woman's suffrage, no doubt himself pushed by Rebecca, overtime pay for workers, safety standards and workers compensation.


On December 5, 1907, Grandfather Cohen and two of his cohorts, Dennis D. Driscoll and Arthur M. Huddle, were waiting in the anteroom of Governor Curtis Guild, Jr. while the Governor was finishing a meeting inside his office.


Meanwhile, John A. Steele, a 38 year old Everett, MA man, was having a bad day. He had only been released from the Danvers Insane Hospital three weeks previously. Somehow he had it in his mind that Gov. Guild had been instrumental in keeping him confined and had written many letters and sought legal advice to get himself released. No one is sure how he came to be released, certainly not at the request of Governor Guild. According to his Mother, he took the train into Boston that morning and once there, bought a gun - no gun laws in those days. He felt that it was not working properly so he returned to the gun store to complain. Who knows if it was to complain to the Governor about his supposedly faulty gun or about his prior confinement when he went into the anteroom to the Governor's Office?


But what is known is that when told the Governor was busy, Steele turned to the three labor leaders waiting in the room, pulled out his gun and fired. His first shot went into the wall, but the noise caused Grandfather Cohen to turn toward the shooter giving him a perfect target. As the bullet entered his brain, Grandfather sunk to the floor while Steele took aim at Driscoll. At that moment Huddle rushed to tackle Steele deflecting the bullet from another fatal shot.


By this time Governor Guild rushed into the anteroom and helped to subdue the killer and then gave succor to Grandfather who was rushed to the hospital where doctors gave him no chance to live. Grandmother Cohen with her two eldest boys rushed into Boston to the hospital where she was joined by Governor Guild and many prominent labor leaders of the day. Grandfather never regained consciousness and died in the early morning hours.


The papers reported that more than 12,000 people lined the streets to watch the horse drawn procession that took Grandfather Cohen and his bereaved family to the train to return to New York for burial. The tributes to my grandfather published in the Boston and New York newspapers were unstinting in their praise for this man whom I never knew, but with whom I now feel an unbreakable bond.


I want to quote from one tribute by Frank H. McCarthy of the AF of L: "Few persons fully realize the loss the labor movement has sustained in the death of Edward Cohen. His sterling integrity, his sincerity and his firm insistence in every movement won for him the respect and confidence of not only everyone in the labor movement, but every public official and every employer of labor with whom he had come in contact. What few men in organized labor knew or realized is that Mr. Cohen had been one of the most valued confidential advisers of National President Gompers and others in the national labor movement."


Thanks to niece Janis, whose research unearthed the Massachusetts AFL-CIO quest for Edward Cohen descendants, and who then made contact with now President Robert J. Hayes, we were honored guests at the unveiling of a bronze plaque honoring Edward Cohen to be placed outside the Massachusetts Governor's Office commemorating the 100th anniversary of Grandfather's assassination.


What an experience! We were reunited with some long-lost relatives and met some new ones. But that is enough for now. More to come on this incredible event and our New York adventures.

---

Polly G. Vicars and her husband of 55 years, Hubert (a.k.a. "Husband") retired to Puerto Vallarta in 1988 and soon became active members of several charitable organizations. Polly is the author of "Tales of Retirement in Paradise: Life in Puerto Vallarta, Mexico" [a sell-out!] and "More Tales of Retirement in Puerto Vallarta and Around the World." Proceeds from the sale of her books go to the America-Mexico Foundation, a scholarship foundation that is their passion.

Click HERE for more articles by Polly Vicars.
Tell a Friend
•
Site Map
•
Print this Page
•
Email Us
•
Top