Vallarta Living | Veteran Affairs | December 2007
V.A. Letters, Exams, Communication; What You Should Do When Responding to Them

David Lord - PVNN

The best response you can give to the V.A. is to maintain your rights by responding within the Time Frame given in the form letter you received. When paperwork is to be sent off your claim is in process, and you must maintain contact in a timely manner, even if they already have the information somewhere on file, if they have asked for it - send it!


I have seen many claims ranging in length from a few months to years, and in every single case it required more paperwork, in addition to the claims initial documents.


Letters from the V.A. will result in frustration over their confusing legal speak. Their letters challenge your coping skills to the max, but remain cool and seek help if you are not sure how to respond. We all expect the V.A. to use common sense by connecting the dots when reviewing our application for benefits.


The fact is that in today's V.A. the people employed to process your claim are totally involved with the step-by-step process required by law, not the Veterans intended meaning. In other words, it is more important that they have followed the legally required process than aid you in the claim.


If a Veteran is married and did not fill out that section of the form correctly, leaving out some detail, then He or She will be considered Single when the check is cut for benefits. That in itself is annoying, but if your disability is thirty per cent or more it also cost you money.


The V.A. pays more to disabled Veterans when you meet certain criteria. Even when living as if married, if you hold yourself out to the public as married, you are qualified as married even when she does not have the same last name, and her children under age eighteen are also included from a former marriage. This also includes defendants that rely on your income, whether they are biological children, adopted children, foster children, or even parents from either side if they are members of the household, living with your support.


Continuation of my December 21st article...


Last week I ended my article with a report to you about my claim in process and my attempt to connect that disability suffered forty years ago in Viet Nam to my service connected disabilities today.


First, understand that a veteran living in Mexico is covered by medical insurance for all conditions related to Military Service, if those claims have been adjudicated and are listed in the claims folder as service caused and/or worsened by military service.


I filed the claim almost three years ago for loss of sight in one eye. The V.A. has not changed from what we all hear, they are not there to assist in the claim, but deny your claim if it is not within the records. If that sounds overstated it is not, your first lesson is to understand that they are not allies, but adversaries, in the claims process.


I waited a year and a half for any news from the V.A. before calling the Houston Regional Office to inquire about the claim. I just figured they were slow, but they said the claim was not in my file and they suggested I start all over again.


I had to press them to find the claim, and finally when they did find it, the claim form showed up at the B.V.A., that's the board of Veterans Appeals, (somewhere you go after a denial has been given to you.) They simply have no explanation as to why my filed claim was there, nor are they going to investigate it so that I know why a couple years passed without any work being done.


The claim, and the Military doctor's statement were found together (thank God) said the adjudication person by telephone. He then asked if I wanted to drop the claim because it was two and a half years old.


The question was so stupid, I held the phone out and took a second before responding to this twit. Yes, I would like to continue the claim and please do it NOW, emphasis added. "OK," he said, "you don't have to re-file, but where do you want a V.A. compensation exam to take place?"


"I do not need an exam," I told him, "the military doctor's statement is sufficient."


"I do not agree with you," he said, "you will see a V.A. doctor and we will inform you as to when," the phone clicked.


TO BE CONTINUED


Have a Great New Year and God Bless.
---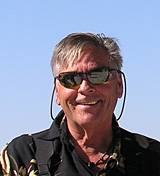 David Lord served in Vietnam as combat Marine for 1st Battalion 26th Marines, during which time he was severely wounded. He received the Purple Heart and the Presidential Unit Citation for his actions during the war in Vietnam. In Mexico, David now represents all veterans south of the U.S. border all the way to Panama, before the V.A. and the Board of Veterans Appeals. David Lord provides service to veterans at no fee. Veterans are welcome to drop in and discuss claims/benefits to which they are entitled by law at his office located at Bayside Properties, 160 Francisca Rodriguez, call him at home 222-5990, on his cell: 044 (322) 205-1323, or email him at david.lord(at)yahoo.com.
Click HERE for more Veteran Affairs with David Lord »»»
Tell a Friend
•
Site Map
•
Print this Page
•
Email Us
•
Top