Entertainment | January 2008
Kosmas Opens at Coco Tropical Restaurant and Beach Club

Bob Cohen - PVNN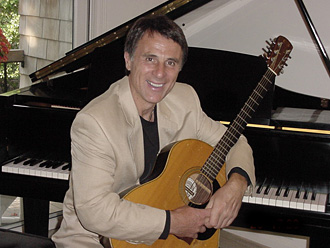 On Saturday night Kosmas will bring his act that made him a New York City success for over thirty years to Coco Tropical.

Kosmas Mamadopoulos, who has played to full houses regularly at Le Gourmet Restaurant for the last five years, will be bringing the crowds in this winter season at Coco Tropical Restaurant and Beach Club at Basilio Badillo 101 on Los Muertos Beach, South side on Wednesday, Friday and Saturday nights through the end of March. Kosmas begins his two set dinner show at 8:30 pm each night. It is best to call for reservations at 222-5485 on these nights as there are generally full houses when Kosmas plays.


On Saturday night Kosmas will bring his act that made him a New York City success for over thirty years to this new venue. The personable and charismatic Greek delighted diners with his mix of songs in six different languages and he always plays requests from the audience. Playing guitar, piano and organ combined with a synthesizer that sounds like there is an orchestra accompanying him, Kosmas sings popular tunes that generally have patrons singing and dancing to almost every song.






Click the titles to check out the music of Kosmas

At Coco Tropical, located on the beach, one can enjoy the fabulous views of Banderas Bay, marvelous sunsets while dining from a menu prepared by accredited Swiss Chef and owner Heinz E. Reise, who was one of the founders of Puerto Vallarta Gourmet Festival and a participant since 1995.


Coco Tropical's menu features international cuisine prepared with a Mediterranean flair, such as a delicious Ossubuco, Strudel Florentina and authentic risotto, as well as popular seafood dishes like coconut shrimp and Pacific lobster bisque.


Kosmas plays two one hour sets; the first is softer as patrons are dining and the second set is extremely upbeat as deserts and drinks are on the tables, with the dance floor full. One can hardly listen and not know any song in Kosmas' collection of music which is well over five thousand. His music ranges from Frank Sinatra tunes to 60'sand 70's popular soft rock, as well as popular songs performed in a number of languages. Patrons are often invited up to sing a duet with Kosmas when they have a special request.


Try not to miss a gourmet dining and entertainment experience that will leave one feeling as if they had spent an evening in a fancy Manhattan night club mixed with an incredible beach atmosphere. With your belly satisfied and popular tunes spinning through your head, one will find that they leave with plenty of pesos left in their wallet, allowing another return to experience another evening at Coco Tropical. Please bring along a jacket or sweater as the evenings get a bit nippy in our winter months. Remember to call for reservations locally at 222-5485.


Check out our profile of Kosmas HERE on BanderasNews.
Tell a Friend
•
Site Map
•
Print this Page
•
Email Us
•
Top