Local Profiles
Entertainer, Athlete, Puerto Vallarta Resident
a profile of Kosmas Mamadopoulos by Bob Cohen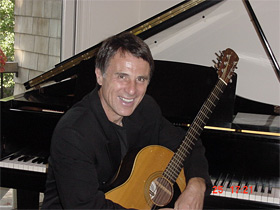 Entertainer, athlete and Puerto Vallarta resident, Kosmas Mamadopoulos, who plays his music at Le Gourmet Restaurant and his tennis at Canto Del Sol Tennis Club.

I was first introduced to Kosmas in December of last year and my initial impression was "What an asshole!" He came to the Canto Del Sol tennis courts with this old "Miami Beach" style bag and appeared very loud and demanding. Within days I learned yet once again that first impressions are not at all as they appear.


I've come to know Kosmas as a loving, caring and happy man and one hell of a tennis player and entertainer. Kosmas has adopted Puerto Vallarta as his second home and has been coming here every winter for the last sixteen years. When he retired from full time work in New York five years ago, he made Athens, Greece his home once again during the summers and Puerto Vallarta his winter home.


Kosmas came here annually at first for the tennis competition, but made a lot of friends and has returned each year for the tennis, renewing his friendships while acquiring new ones and his love of our tropical paradise. In 2001, he met Jose Luis Hernandez, "a very good man" as Kosmas puts it, the owner of Le Gourmet restaurant and adjoining Hotel Posada Rio Cuale. It is one of the oldest restaurants in Vallarta and his father opened it about 40 years ago, and Jose Luis came to work there after graduating college 25 years ago, and to his surprise has never left.


The two struck up a friendship on the tennis courts (where else?) and Jose Luis invited Kosmas, who had a very successful singing career in New York to entertain diners a few nights a week. Kosmas accepted and still can be found on Wednesdays, Fridays and Saturdays behind the keyboards, strumming his guitar and belting out tunes in six different languages from all eras.




Click the titles to check out the music of Kosmas

Kosmas was born on the 4th of July, 1949 in Athens, Greece and at the age of 11 ½ quit school and went to work in a handbag factory, saved $5 and purchased a used guitar. Completely self taught, his inspiration was the music of the Beatles and Kos worked hard playing anywhere he could in the local neighborhoods of Athens. He was drafted by the Royal Air Force and met a well known Greek musician there named Antones Theodoropoulos, who took him under his wing and helped him launch his career in music.


At the age of 21, he left his Mom, Stella, whom he says "gave me enough love for three lifetimes," and got hired on as a singer and guitarist for a lounge band on the Celebrity cruise ship line. He stayed with the cruise lines for three years before giving Miami a shot. In his old Catalina he commuted 60 miles every day to play in night clubs.


Realizing there was not much opportunity fpr stardom in Miami; he packed up and headed for the "Big Apple." His first job was not in music, but as a mail boy, so he could audition at different night clubs in the evenings. He was finally hired at a popular Manhattan Italian restaurant and night club named "Giordanos" for two weeks, and ended up staying there for 17 years. He also played for four years in the French "La Verte Galant" owned by Maurice and Marilyn Hommery.


On alternate nights he played at the exclusive Palace Hotel, owned by Leona Helmsley, where, in 1991, rooms started at $400 a night, parking was $60 a night and drinks were $12. He retired at age 54 after playing a 12 year stint in Northern New Jersey at "Iltulipano" restaurant and night club.


He mentioned another mentor of his, Bruce Moore of Virginia, who introduced the street-smart kid to the technology in music. In the interim, he met his wife Susan "the most wonderful person in the world to me," when she was a customer in 1985. The couple is as happy as they were as newlyweds and Susan is one of the warmest people one would like to meet.






Kosmas will be playing at Coco Tropical every Wednesday, Friday and Saturday at 8 pm throughout the "High Season."

As an athlete, Kosmas was always competitive, winning the 60 meter dash as a 12 year old in Athens. He first played tennis in Miami at age 22 and actually hated it, but his competitive spirit forced him to continue and eventually excel. He played tennis competitively and was ranked in the Top 20 "35 year old division" and the Top 10 "45 year old division" in the State of New Jersey. When he moved back to Greece, he took the country hostage, being the top ranked tennis player in the "55 year old division" in all of Greece.


His game is quite unorthodox, utilizing his speed, conditioning and intense study of the game to defeat opponents that appear to be of much better quality. Taking the macho image of always slugging away, he patiently utilizes lobs, drop shots and well placed balls into play until he wears his opponent out. The "Miami Beach bag" is a personal joke between us, as I asked him why he didn't carry his tennis equipment in a more fashionable manner. I told him he came onto the court looking like one of the old ladies that I had seen while growing up in Miami Beach.


Every morning, we both go online very early and chat on Instant Messenger. The first comment is generally "isn't this a great day to be alive?" I share his love of life and people and if you're lucky, he'll invite you over to share a gourmet lunch he cooks for Susan.


Treat yourself to a wonderful dinner at Le Gourmet restaurant and dine, listen, sing along and dance to the more than 5000 songs he sings in six different languages. Kosmas also does private parties and can be reached at kosmas7553@yahoo.com.

If you have a suggestion for a future profile, email us at Profiles@BanderasNews.com
---
Kosmas Opening at Coco Tropical a "Hit"

Bob Cohen

Last Saturday night felt like a high school reunion as a crowd of 80-90 people, many of whom had known each other for years, came for dinner, drinks and entertainment by Kosmas at Coco Tropical Restaurant and Beach Club.

---
Kosmas Opens at Coco Tropical Restaurant and Beach Club

Bob Cohen

Kosmas Mamadopoulos, who has played to full houses regularly at Le Gourmet Restaurant for the last five years, will be bringing the crowds in this winter season at Coco Tropical Restaurant and Beach Club on Los Muertos Beach.

---
Kosmas Mamadopoulos Runs Athens Marathon

Bob Cohen

Puerto Vallarta entertainer and athlete, Kosmas Mamadopoulos, who plays his music at Le Gourmet Restaurant and his tennis at Canto Del Sol, recently traded in his tennis shoes for running shoes to compete in the 26.2 mile Athens Classic Marathon.

Tell a Friend
•
Site Map
•
Print this Page
•
Email Us
•
Top