Vallarta Living | January 2008
Bambinos, Becas, Beautiful People

Polly G. Vicars - PVNN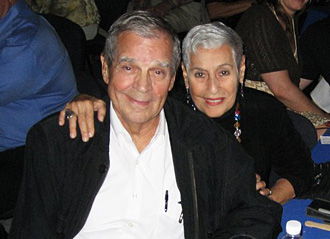 Husband and me, hanging in there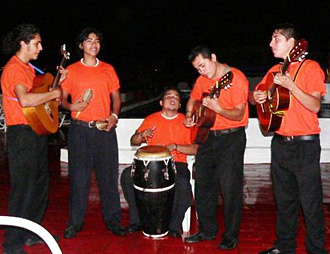 Los Bambinos doing their thing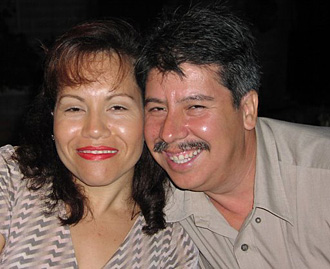 Melchor Cortes teaching us Gringos to hablan Español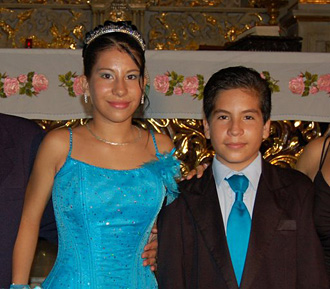 Yesi and Alex - Great Kids!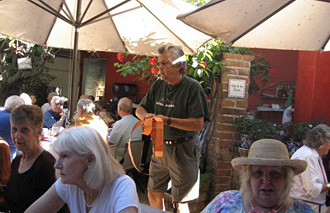 Len Ambrose helps out Becas by selling lots of raffle tickets at the last breakfast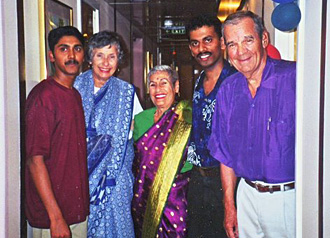 Getting ready for the Indian Party dressed in our Saris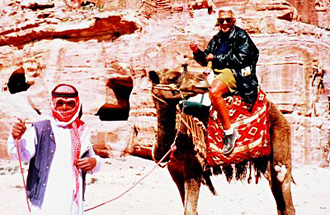 Lynn Stephenson in 2000 viewing Petra from a great advantage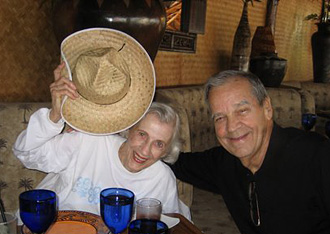 Lynn with Husband at La Palapa New Year's Eve 2007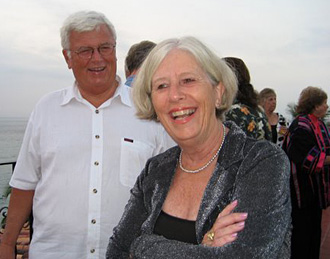 Hank and Kai Doyle before the deal went sour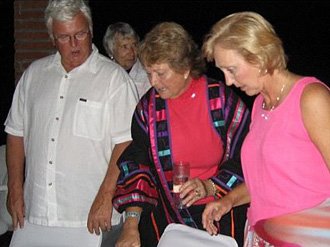 Hank, Dottie and Vickie talking it over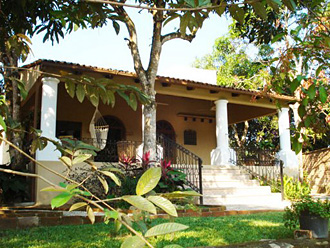 Hank and Vickie's El Tuito casa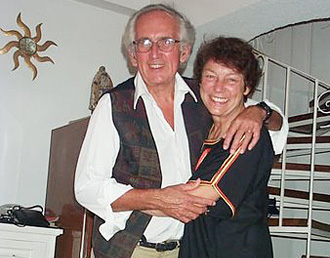 Vicki and Jay in their Girasol Condo

Despite Husband's severe case of pneumonia in June and my broken wrist in October, 2007 was a marvelous year for us and for those close to us. Los Bambinos, with Blaine Selkirk, recorded a fantastic new CD of all original music by the quintet of talented musicians. As they recorded, they began to morph into a professional group, Metamorsa, now on the first rung of the ladder to the big time.


Melchor and Martha Cortes also had a fabulous year with their Vallarta Spanish School turning out Gringos speaking Spanish like natives and their children Yesi (16) and Alex (14) healthy, happy and really doing well in school. The next Spanish Classes start January 6th & 7th, so give them a call at 224-8917 to sign up.


Our passion, Becas Vallarta, A.C. (The America Mexico Foundation, Inc.), saw many of its scholarship students graduate from junior high, senior high and university - attesting to the success of this almost 50-year-old foundation. It also had a rewarding financial year with the success of the Becas Ball, the sale of books, breakfast tickets, assorted raffles and direct donations, all capped by a generous grant from the State of Jalisco.


And beautiful people - friends and relatives continued to make our life so wonderful, both here in the Puerto Vallarta Paradise and in Kentucky, Virginia, West Virginia, Louisiana, New York, Massachusetts, California . . .


Now the year 2008 is poised to surpass 2007. After being voted Vallarta's Best Musical Group by the prestigious Virtual Vallarta Readers' Choice Awards in '06 and '07, bringing in the New Year at the Santa Barbara both of those years, Los Bambinos are now appearing in concert there every Monday night in January. Their shows are not to be missed, so give Ed Hutmacher a call at (322) 223-2048 for your reservations as their shows are always sell-outs.


Becas Vallarta is also on the move early in this new year. On Tuesday, January 22nd at 9:30 am, they are sponsoring their third fund raising breakfast at La Palapa, the premier Los Muertos Beach restaurant. There will be a sumptuous sit down breakfast, many raffle and door prizes, lots of conviviality, and the opportunity to help bright young Vallartenses reach their educational goals.


For tickets, which must be bought in advance, call Buri Gray at (322) 221-5285 or me at 223-1371. This is sure to be another sold-out affair, so call now and also mark your calendar for the February 26th breakfast at the celebrated riverside restaurant, Le Bistro.


Now that you have your calendar out, note that the Becas Ball, Vallarta's social event of the season, is going to be on Thursday, March 6th, 2008 at the elegant Westin Resort and Spa. Members Pat Bendix, Buri Gray and Elinor Prawer are hard at work planning a spectacular evening with many innovations to delight you. Tickets will be on sale soon, but it isn't too early to call Pat, Buri or me for reservations.


Hank and Vickie Lindsay, of Frankfort, Kentucky and now El Tuito, Jalisco, are almost settled in their retirement Casa that has just undergone a complete make-over. In the mid 80's Hank was the Press Secretary to Kentucky's Governor Martha Layne Collins when I was one of her Senior Administrative Assistants.


About a year ago, Hank emailed me that he and his wife were coming to Puerto Vallarta and wanted me to help them find a place to buy, not on the beach, or even in Vallarta, but in a more rural setting, not more than an hour or so from the city.


We had become good friends with Kai Doyle, a transplant from the Bay area, who not only has a condo in La Palapa, but a fabulous casa out in El Tuito. So I enlisted her help. She contacted Dottie Thompson, a woman who has been in Vallarta more than 30 years, who then brought in Luis Martinez, realtor, designer, pianist and more.


When Hank and Vickie arrived, Luis showed them several places in El Tuito until they saw what they thought would be perfect. After some bargaining, Hank and Vickie bought their dream retirement home. They invited us and several of our friends to dinner down on the beach at La Palapa and we toasted and celebrated their purchase far into the night.


Sadly, we had celebrated too early. Next day the sellers decided to renege on the deal thinking they had priced it too low and told them "no sale!" Needless to say, I felt horrible for them and for the bad experience they were having in our adopted home. However, you know me, I truly believed they would find something better. (Our friends Irene and Carl Johnson had much the same experience trying to buy in La Palapa and ended up with a much better deal in the new Molina de Agua.)


The Lindsays returned to Kentucky disappointed and just a little angry. But, it wasn't long until the trio, Kai, Dottie and Luis, found a place they thought much better with a more reasonable price tag and a seller who really wanted to sell.


Hank and Vickie returned, looked, bought, and began to remodel. They are here now in an incredibly beautiful spot with a huge yard with every kind of fruit tree and a casa and guest house that will be the envy of all their Kentucky friends and family who come to visit.


Lynn Stephenson, from Raleigh, North Carolina, was on our four month round-the-world cruise on the Ocean Explorer 1999-2000. We were about the same age and loved to party and to give parties, so every now and again, one or both of us would organize a great party for the whole ship.


Much of the crew were from Goa, India and were the greatest group we ever saw. The party I remember most vividly was a joint effort by several of us for the Indian Crew. We gals dressed in our saris and the guys in whatever they could conjure up. The dancing was incredible with the guys whirling and twirling. What fun!


Lynn, who is officially the 2nd most traveled woman in the world, emailed that she would be in Puerto Vallarta on New Year's Eve on the Norwegian Sun. Naturally we were thrilled when she came to La Palapa for good conversation and lunch. We exchanged what we remembered about fellow passengers and renewed our friendship from that incredible voyage.


When I put her in the taxi back to the ship, I thought of all the others whom we have met in our travels and how many of them have been to Puerto Vallarta and more than you would expect have actually bought condos down here, including Vicki and Jay, who were instructors on the voyage and are now owners of a great condo at Playa Girasol. How lucky we are to have stumbled upon this place more than twenty years ago.


There may be other places with mountains coming down to greet the sea, with sunsets that fill the sky with reds, magentas, oranges and gold, with year round sunshine and balmy nights, but I am sure there is not another place in the world with people like Vallartenses, native born and ex-pats.


The love, the friendship, the helping hands - all given while asking nothing in return - are unique to this incredible paradise by the sea. With such people surrounding us, I just feel it in my bones that 2008 is going to be another year filled with adventures, happiness, full Becas coffers, a hit Metamorsa CD and many other incomparable happenings!
---

Polly G. Vicars and her husband of 55 years, Hubert (a.k.a. "Husband") retired to Puerto Vallarta in 1988 and soon became active members of several charitable organizations. Polly is the author of "Tales of Retirement in Paradise: Life in Puerto Vallarta, Mexico" [a sell-out!] and "More Tales of Retirement in Puerto Vallarta and Around the World." Proceeds from the sale of her books go to the America-Mexico Foundation, a scholarship foundation that is their passion.

Click HERE for more articles by Polly Vicars.
Tell a Friend
•
Site Map
•
Print this Page
•
Email Us
•
Top