Vallarta Living | Veteran Affairs | January 2008
Disabled US Veterans Need to Know it All

David Lord - PVNN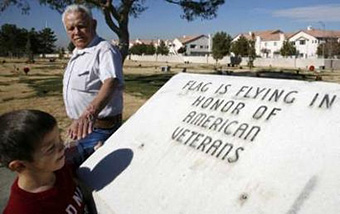 Raul Bravo leaves the veterans section of the cemetery with his grandson Alex Bravo, where his U.S. Marine son Raul Bravo, Jr., is buried in Las Vegas, Nevada, January 10, 2008. (Reuters/Rick Wilking)

Benefits become a real necessity for Veterans in this economic turn down of the USA. I am amazed at some of the mail I receive telling of the benefits gained for disabled veterans by your efforts to help after reading my articles.


For example, after returning to Vallarta, I attended a really fun party given by Fred and Gerry on my second night home. Before his enlistment in the U.S. Army, Fred, a Veteran of WWII, had to escape from Nazi Germany. At great risk, he traveled across Europe and Russia, reaching Japan to flee on the last ship to America with only his defiant spirit to guide him.


At the party, a guest told me how he had forwarded an article of mine to his brother. The brother had previously been turned away by the V.A. for medical coverage, but he now has benefits and is fully admitted to the V.A. medical coverage as a result of the effort by the Vallarta brother.


You never know what you can do... so some facts:


The benefits are available for service connected disabled veterans, whether you're just traveling on vacation or living here in Mexico, the U.S.A. or any other place in the world. Each will gain additional benefits along with the monthly cash for a lifetime, as the rating grows from 0 to 100% different perks kick in.


If rated from 0% to 20%, you get:
• Certification of Eligibility for home loan guaranty.
• Home loan guaranty fee exemption.
• VA priority medical treatment card. (it is an eight-tier eligibility schedule)
• Vocational Rehabilitation and Counseling under title 38 USC Chapter 31 (must be at least 10%)
• Service Disabled Veterans insurance (Maximum of $10,000 coverage) but you must file within 2 years from date of new service connection.
• Ten point Civil Service Preference (10 points added to Civil Service test score.)
• Clothing allowances for veterans who use or wear a prosthetic or orthopedic appliance (artificial limb, braces, or wheelchair) or use prescribed medications for skin condition, which tend to wear, tear or soil clothing.
• Temporary total evaluation (100%) based on hospitalization for a service connected disability in excess of 21 days; or surgical treatment for a service connected disability necessitating at least 1 month of convalescence or immobilization by cast, without surgery of more major joints.


At 30%, in addition to the above, you get:
Additional allowances for dependent(s): spouse, child(ren), step child(ren), helpless child(ren), full-time students between the ages of 18 and 23, and parent(s).
Additional allowances for a spouse who is a patient in a nursing home, helpless, blind, or so nearly helpless or blind as to require the aid and attendance of another person.


At 40%, in addition to the above, you get:
Automobile grant and/or special adaptive equipment for an automobile provided there is loss or permanent loss of use of one or both feet, loss or permanent loss of one or both hands or permanent impaired vision of both eyes with central visual acuity of 20/200 or less in better eye.
Special adaptive equipment may also be applied for if there is ankylosis of one or both knees or one or both hips.


At 50% - in addition to the above, you get:
VA Medical outpatient treatment for any condition except dental.
Preventive health care services.
Hospital care and medical services in non-VA facilities under an authorized fee basis agreement. This does not include Mexico unless you are registered for coverage through the V.A. Foreign Medical Program, (I will get it done for you.)


At 60% - In addition to the above, you get:
Increased compensation (100%) based on individual un-employability (applies to veterans who are unable to obtain or maintain substantially gainful employment due to service connected disability)


At 100% - in addition to the above, you get:
• Dental treatment.
• Department of Defense Commissary privileges.
• Veterans employment preference for spouse.
• Waiver of National Service Life Insurance premiums after 1st $10,000 coverage, and an extra $10,000 for free.


National Service Life Insurance Total Disability Income Provisions:
Specially adapted housing for veterans who have loss or permanent loss of use of both lower extremities or the loss or blindness in both eyes having light perception only, plus loss or permanent loss of one lower extremity or the loss or permanent loss of use of one lower extremity with loss or permanent loss of use of one upper extremity or the loss or permanent loss of use of one extremity together with an organic disease which affects the function of balance and propulsion as to preclude locomotion without the aid of braces, crutches, canes or wheelchair.


Special Home Adaptation Grant (for veterans who don't qualify for Specially Adapted Housing) may be applied for if the veteran is permanently and totally disabled due to blindness in both eyes with visual acuity or 5/200 or less or loss of or permanent loss of use of both hands.


At 100% (Permanent and Total Disability) - in addition to the above, you get:
Civilian Health and Medical Program for dependents and survivors (CHAMPVA)
Survivors and dependents' education assistance.
---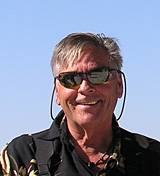 David Lord served in Vietnam as combat Marine for 1st Battalion 26th Marines, during which time he was severely wounded. He received the Purple Heart and the Presidential Unit Citation for his actions during the war in Vietnam. In Mexico, David now represents all veterans south of the U.S. border all the way to Panama, before the V.A. and the Board of Veterans Appeals. David Lord provides service to veterans at no fee. Veterans are welcome to drop in and discuss claims/benefits to which they are entitled by law at his office located at Bayside Properties, 160 Francisca Rodriguez, call him on his cell: 044 (322) 205-1323, or email him at david.lord(at)yahoo.com.
Click HERE for more Veteran Affairs with David Lord »»»
Tell a Friend
•
Site Map
•
Print this Page
•
Email Us
•
Top