Vallarta Living | Veteran Affairs | March 2008
Transitional and Wounded

David Lord - PVNN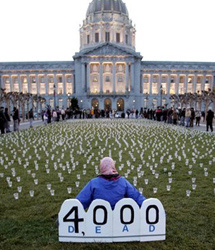 San Francisco residents and Veterans for Peace gather in front of the state capitol for a candlelit vigil commemorating the 4,000 Americans killed in the Iraq war. (Erin Siegal/Reuters)

This week I am sharing an article published in the New York Times by Lawrence Downes on March 24th, entitled "A Journey Without Maps," which was sent to me by a real patriot, Keith Lupton. My comments follow the article.

A Journey Without Maps


The men - a Marine, a Sailor and a National Guardsman - went to Iraq to fight as ordered, served honorably and suffered grave injuries. When they came home another struggle began, to find the care to make them whole again.


At a recent hearing in Washington before the Senate Veterans' Affairs Committee, the men's families told anguished tales of trips through bureaucratic hell in the transition between the Defense Department and the Department of Veterans Affairs.


That terrain is notorious for its paperwork mountains and tripwires of red tape, but especially treacherous for those with traumatic brain injuries, the signature affliction of this five-year-old war.


Mr. Bunce lost an eye in a roadside bomb blast that also thrust shrapnel into his frontal lobe. His father, Peter, said his care was so "stovepiped," with nobody knowing what anyone else was doing, that doctors working on his head ignored his broken leg.


Technicians nearly did an M.R.I. on his brain, not realizing - because scans had not been done - the danger from the metal in his skull. Nobody tried to coordinate his many medications. Time and again his parents had to cross the country looking for the right therapies and treatment.


Whatever expertise they found they stumbled on; there was no one but them to manage his case. The V.A. relied on the brain-damaged young corporal to evaluate his own mental state, and once sent him a letter threatening to cut off benefits because he could not manage his affairs.


Mr. Verbeck's injuries, in a shipboard accident, were catastrophic. He cannot speak or control his limbs, though he can laugh and smile. His father, Robert, told of years of battling with the V.A. over treatment, tests, prescriptions and plans for therapy and assistance at home. "They can't plan or execute," he said. "The only logical conclusion is that they just don't care."


The bomb blasts that crushed Mr. Mcmichaels vertebrae and damaged his brain did not take his life, at least not all at once. When he came home he seemed intact, but it soon became clear that his psyche was in shreds. His behavior put him in constant danger of losing his independence, his composure and dignity, his home, his family.


His wife, Jackie, has refused to let that happen. As a National Guard spouse not immersed in military life, she had to rely on doggedness and patience and large measures of self-tutoring. It took her a year and a half, on her own, to assemble a support network for her husband.


That forced self-reliance is the most difficult and baffling part of these veterans' struggles. Had they lost arms or legs, the process would have been much easier. But the quest for care for psychic injuries takes place on a landscape without maps. All three families said that doctors and therapists were constantly handing out business cards, friendly advice and vague offers of help, but that it was nearly impossible to find firm guidance and quick, flexible, responsive care.


At the hearing, representatives of the Pentagon and V.A. played to type, laying down a bewildering fog of acronyms and promises. Their central point was that things were moving now, that the two departments were "in the process of implementing more than 400 recommendations of five major studies."


One involved hiring eight "recovery coordinators" to oversee care for 46 people. That's a droplet of care in an ocean of need: about 3,000 veterans have sustained traumatic injuries, by some rough estimates, and untold thousands of others are afflicted by post-traumatic stress disorder.


The three families in this article were unusually, perhaps stunningly, well equipped to overcome those hurdles. Robert Verbeke is a corporate executive. So is Peter Bunce, who worked at the Pentagon as the Air Force's liaison to the House of Representatives. His wife, Patty, is an occupational therapist. Jackie McMichael has a master's degree in counseling, and practically grew up at the V.A. hospital in Durham, N.C., where her mother worked.


As Ms. McMichael testified, Michael sat behind her, his back straight, hands gripping a cane and shaking so hard they looked as if they were plugged into something. Peace has not arrived for him, and may not come anytime soon.


He is lucky in many ways: he has two young children and a wife who loves him and has sacrificed so much to travel the bureaucratic labyrinth for him. It is more than anyone could ask, but far less than any wounded soldier deserves.


"I am educated, tenacious and resourceful," Ms. McMichael said of her work as a self-taught case manager. "And I was completely lost."

I am doing something about providing a helping hand here in Mexico for those Vets that need an escape from their personnel turmoil for just a few weeks to rest here in Puerto Vallarta.


The P.T.S.D. counseling is also provided, so maybe they can regain their balance or sense of belonging and learn to face their future as a returned combatant living in a civilian world.


"The returning to life at home problem," as I call it, is one that many do not consider. Their may have wounds that are physical, but in every case it is also psychological to some degree.


These unseen wounds become psychological scares and left untreated veterans become overwhelmed. Without a loving family or partner to find help, there is danger, a race against the clock.


The hair trigger response of a veteran using deadly force is habit and it must be broken before being locked into survival mode. Having learned this combat auto response, they don't realize that they are literally a weapon, although their armor and arms were left behind, they remain fully loaded. If squeezed, just like any trigger, at some point continuous pressure causes explosion.


Of all the needs these men and now women have, this pinpoints the most desperate side effect of war, called P.T.S.D. it comes back home inside those sent to fight and we need to assist them now. Contact me for helping Veterans anywhere.
---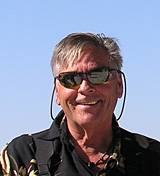 David Lord served in Vietnam as combat Marine for 1st Battalion 26th Marines, during which time he was severely wounded. He received the Purple Heart and the Presidential Unit Citation for his actions during the war in Vietnam. In Mexico, David now represents all veterans south of the U.S. border all the way to Panama, before the V.A. and the Board of Veterans Appeals. David Lord provides service to veterans at no fee. Veterans are welcome to drop in and discuss claims/benefits to which they are entitled by law at his office located at Bayside Properties, 160 Francisca Rodriguez, call him on his cell: 044 (322) 205-1323, or email him at david.lord(at)yahoo.com.
Click HERE for more Veteran Affairs with David Lord »»»
Tell a Friend
•
Site Map
•
Print this Page
•
Email Us
•
Top