Fishing Action Proves Hot for Italians in Day One of Ninth Annual IGFA Offshore World Championship

Pete Johnson - IGFA.org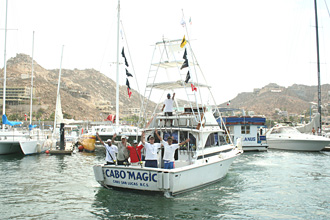 Members of the San Benedetto del Tronto, Italy team show their joy after catching and releasing seven marlin to take the lead after Day One of the weeklong IGFA Offshore World Championship in Cabo San Lucas Mexico. (Daniel Mathews)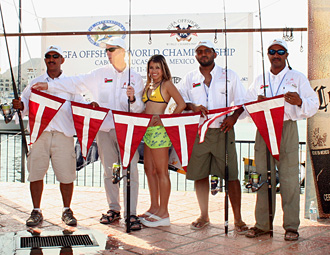 Representing the Sinbad Classic in the Sultanate of Oman, team members hold up six release pennants signifying their first day action in the ninth annual IGFA Offshore World Championship in Cabo San Lucas, Mexico. (Daniel Mathews)

Cabo San Lucas, Mexico - The bite was hot for two teams from Italy as was the weather for all 63 teams on Day One of the four-day IGFA Offshore World Championship, a prestigious billfishing tournament sponsored in part by the Secretaria de Turismo de Baja California Sur.


Leading the field and going seven for seven in attempts to catches was an Italian team from San Benedetto del Tronto. Team members include Sergio de Tommasis, Fabio Gieri, Daniele Tarroni and Carlo Pezzini representing their win in the La Sfida TroFeo M. De Nardis and are one of the four teams from Italy. They have 2100 points.


Each catch-and-release of a marlin (blue, black and striped) or a swordfish equals 300 points. The catches, all caught on circle hooks, are scored and released alive at the boat in accordance with IGFA tournament rules.


With 1800 points in second place catching and releasing six marlin was the Sultanate of Oman in Muscat, a team representing its win at the Sinbad Classic. Team spokesman Mohammed Al Jahwari said, "We've fished Cabo many times and this was the best day ever. We caught our last fish in the last twenty minutes." His teammates include Pascal Richard, Kamal Al Busaidi, Saeed Al Hajri and Faisal Riyami.


At 1200 points in third place on four releases was another Italian team from Castel Volturno representing their win in the Trofeo Drifting Castel Volturno. Team members are Antonio Russomando, Giuseppe Gravante, Giuseppe Damiano, Maurizio Primavera and Mario Cosentino.


The teams, many of them fishing the Sea of Cortez faced 96 degree temps, light winds and calm seas. A total of 64 marlin and one sailfish were caught and released.


Four teams were tied at 900 points on three marlin releases each and 10 more with two marlin releases.


Making up the rest of the Top 17 among the 63 teams in the Day 1 standings are:


• #4 - Los Suenos Signature Billfish Series II, Playa Herradura, Costa Rica; 900 points
• #5 - Miami Swordfish Tournament, Miami, Fla., USA, 900 points
• #6 - Outdoor Channel Offshore Classic, Islamorada, Fla., USA, 900 points
• #7 - Stu Apte Fly Fishing for Sailfish Tournament, Golfito, Costa Rica, 900 points
• #8 - 9th Int'l Big-Game Sportfishing Tournament, Jezera, Croatia, 600 points
• #9 - 28th Annual Bluewater Classic, Venice, La., USA, 600 points
• #10 - Desafio Mediterranea Faeton, Spain, 600 points
• #11 - GFA of PNG National Game Fishing, Port Moresby, Papua New Guinea, 600 points
• #12 - IWFA Annual Billfish Tournament, Isla Mujeres, Mexico, 600 points
• #13 - IX Trofeu de Big Game Fishing Clube Nautico de Tavira, Algarve, Portugal, 600 points
• #14 - Jeff Alexander Memorial, Biloxi, Miss., USA, 600 points
• #15 - Presidential Caribbean Cup, La Guaira, Venezuela, 600 points
• #16 - XI Torneio de Marlim Azul de Rio de Janeiro, Brazil, 600 points
• #17 - YCSS-IMD Fishing Tournament, Porto Santo, Italy, 600 points


The final results of the four-day event will be made on Friday at noon PDT.


The tournament is considered the most prestigious catch-and-release billfishing tournament in the world, drawing the single largest contingent of international teams ever to compete in a fishing competition. A total of 27 countries on six continents are competing.


Countries and territories represented include teams from Angola, Australia, the Bahamas, Bermuda, Brazil, Canada, Costa Rica, Croatia, Grenada, Guatemala, Italy, Jamaica, Kenya, Mexico, New Zealand, Panama, Papua New Guinea, Portugal, Puerto Rico, St. Lucia, Spain, Sultanate of Oman, Trinidad & Tobago, Turks and Caicos, the United States, Vanuatu and Venezuela.


Many of the teams in the ninth annual tournament will be represented by anglers from a number of additional countries. The U.S. has 14 teams competing. Mexico and Brazil are represented by five teams each and Italy and Angola each have four.


The teams previously qualified by winning one of 130 IGFA sanctioned tournaments held in 38 countries worldwide during 2007. It's the seventh straight year Cabo San Lucas has been chosen as the championship location. Each team fishes from four different boats captained by local Cabo guides. The teams also receive "weight" points (per pound) over 25 lbs. for tuna, wahoo and dorado. Local charities receive the donations of all fish weighed at the Cabo docks.


The top team wins engraved watches along with trophies and merchandise. Awards are presented through to the third place finishing team.


Partners and sponsors for the IGFA Offshore World Championship are Secretaria de Turismo de Baja California Sur, Costa Del Mar, Hotel Finisterra, Guy Harvey Inc., Shimano, Picante Sport Fishing and Yacht Sales, Cabo Yachts, K D & G Sea Life Masterpieces, Hook & Tackle, Momoi Hi-Catch, Murray Products, AFTCO BlueWater, Bodo Muche, Minerva's Baja Tackle, Seρor Greenberg's, IWS Scales, King Sailfish Mounts, Pompanette, Pisces Sportfishing, Corona and Modelo S.A DE C.V. Mexico, Don Tyson, Trans Cabo, Eagle Claw, MoldCraft Products, Inc. and API Dock.


Each morning the daily results along with photos of the previous day's round will be posted on the IGFA's website at IGFA.org. A list of registered teams can also be found on the website under the fishing tab on the home page by clicking "tournaments."

Founded in 1939 the IGFA is a not-for-profit organization committed to the conservation of game fish and promotion of responsible, ethical angling practices through science, education, rule making and record keeping. IGFA members are located in over 125 countries and territories. The IGFA welcomes visitors to its 60,000-square-foot interactive Fishing Hall of Fame and Museum in Dania Beach, Florida.