Vallarta Living | May 2008
Now There are Two Fewer of "The Best People on Earth"

Polly G. Vicars - PVNN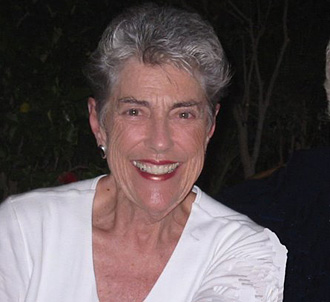 Val McMullen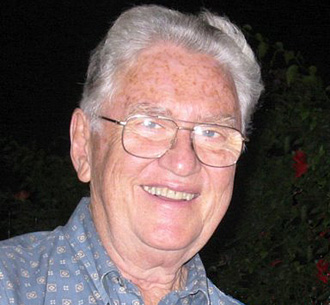 Paul McMullen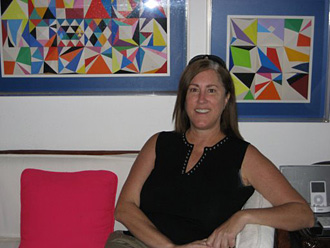 Melinda McMullen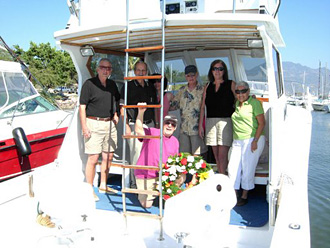 The gang celebrating the lives of Val and Paul McMullen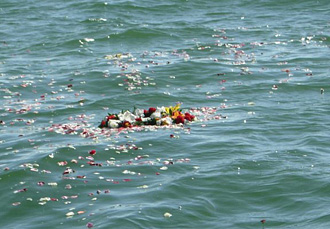 The wreath coming back for an encore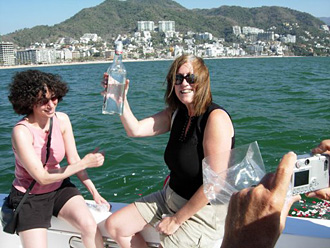 Lesley and Melinda (Vista Del Sol in the background)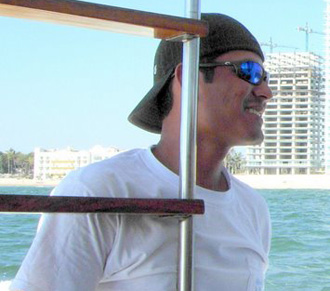 First Mate Guillermo de la Rosa Flippen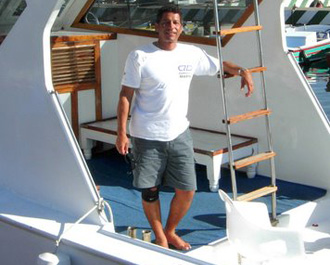 Capitán Sergio Gómez Piñas

Husband's and my friend, Morton Holbrook from Owensboro, Kentucky, had a favorite toast "Here's to the best people on earth... there aren't many of us left."


Whenever we were with, or thought about, Valerie and Paul McMullen that toast always popped into my mind, as it did last week when we were privileged to accompany daughter Melinda on the boat Jupiter to mix their ashes with the salty blue water of the Bay of Banderas with love, rose petals, Oso Negro (their drink of choice) laughter and tears.


We met Paul and Val soon after moving to Puerto Vallarta in 1988. Paul was the President of the then new Condominium on the block, Villas Vista del Sol, developed by Rhoda Linda Pérez and Clyde James who had also developed our Condominium La Palapa.


We seemed to hit it off from the start even though there wasn't a 'drap of southern' in their bodies. Paul was born in Alaska and spent his early life there before his pioneering mother sent him off to the state of Washington to "get cultured and educated." In that state he met the love of his life, Valerie, whom he later married and spirited off to adventures in foreign lands before settling in California to raise their two children Melinda and Michael.


Show business was their passion and they toured the world singing and dancing in musical productions. It was during a stint of "Guys and Dolls" in Japan that daughter Melinda was born - practically between acts.


Though they settled down to a more conventional life, they never lost their love nor their participation in musicals. And no matter where they were, if it was someone's birthday, Val and Paul were enlisted to perform their hilarious original birthday song that they altered to fit any age or situation.


Mexico was a natural for Val and Paul as they possessed many of the wonderful characteristics that so attracted Husband and me to the people of Vallarta... sincerity, generosity, loving and fun loving.


They seemed to live their lives doing and being good - to each other, to their two children, to their grandchildren William and Marielle, to their many friends from all walks of life and origins and, indeed, to the world. They saw each day through eyes that sought out beauty, music, laughter and love. Daughter Melinda's final salute to them was "They were the best parents in the world," uttered as we prepared to spread their ashes in Banderas Bay, off shore from their beloved Vallarta home in Villas Vista del Sol.


Lesley Slavitt, Melinda McMullen, Ed Cannon, Jerry Wilson, Paul Bernard, Husband and I on the Jupiter, with Joan Cannon and Margaret Tolton watching from the shore on the balcony of Val and Paul's Condominium in Villas Vista del Sol, placed a colorful wreath of native flowers into the waiting water with love and laughter as well as the petals and the vodka.


As Capitán Sergio Gómez Piñas and First Mate Guillermo de la Rosa Flippen headed Jupiter back to the Marina, someone said, "Look!" and pointed to the wreath making its way back toward us. When Melinda saw it she said, "Isn't that just like Mom and Dad, coming back for the encore!"


Paul McMullen died on October 10, 2006
Valerie McMullen died on June 7, 2007
Both live on through those they touched while with us!
---

Polly G. Vicars and her husband of 55 years, Hubert (a.k.a. "Husband") retired to Puerto Vallarta in 1988 and soon became active members of several charitable organizations. Polly is the author of "Tales of Retirement in Paradise: Life in Puerto Vallarta, Mexico" [a sell-out!] and "More Tales of Retirement in Puerto Vallarta and Around the World." Proceeds from the sale of her books go to the America-Mexico Foundation, a scholarship foundation that is their passion.

Click HERE for more articles by Polly Vicars.
Tell a Friend
•
Site Map
•
Print this Page
•
Email Us
•
Top