Vallarta Living | Veteran Affairs | May 2008
Suicide by American Veterans - Part II

David Lord - PVNN

After reading my article published last week, I thought about how depressing it was to be living in Paradise and be exposed to even the subject of suicide. So, in an effort to keep any Puerto Vallarta residents from committing suicide themselves, remember you may have an opportunity to lend some support in the future. However miserable this subject, you may be critical for troop support.


The fact is, we all will know in the years to come if this war was a terrible mistake (my opinion) but time will reveal the true cost or benefit. I know you and I are trying to enjoy our retirement, and our U.S. Veterans are important to our peace of mind, so store this information - do not absorb it as it is too painful.


Part II:


CBS News asked to run a detailed analysis of the raw numbers they obtained from state authorities for 2004 and 2005. It found that veterans were more than twice as likely to commit suicide in 2005 than non-vets. (Veterans committed suicide at the rate of between 18.7 to 20.8 per 100,000, compared to other Americans, who did so at the rate of 8.9 per 100,000.)


One age group stood out. Veterans aged 20 through 24, those who have served during the war on terror. They had the highest suicide rate among all veterans, estimated between two and four times higher than civilians the same age. (The suicide rate for non-veterans is 8.3 per 100,000, while the rate for veterans was found to be between 22.9 and 31.9 per 100,000.)


I think if we remember to take extra care when we are around veterans to support them and their families each of us can make a positive difference after all, "We remake our military after every war with new equipment, new weapons - now we need to do the same thing at the VA. No matter where you stand on the war, we've got to take care of the warriors."


Wednesday 23 April 2008
The news this week is getting worse as more details surface about the insiders at the V.A. attempt to cover up the serious problems of the warriors returning.


Washington - The Veterans Administration has lied about the number of veterans who've attempted suicide, a senator charged Wednesday, citing internal emails that put the number at 12,000 a year when the department was publicly saying it was fewer than 800.


"The suicide rate is a red-alarm bell to all of us," said Sen. Patty Murray, D-Wash. Murray also said that the VA's mental health programs are being overwhelmed by Iraq and Afghanistan war veterans, even as the department tries to downplay the situation.


"We are not your enemy, we are your support team, and unless we get accurate information we can't be there to do our jobs," Murray told Deputy Secretary of Veterans Affairs Gordon Mansfield during the Senate Veterans Affairs Committee hearing.


Mansfield told Murray and the other senators that he didn't think the VA had deliberately tried to mislead or the public. But the existence of the e-mails, uncovered as part of a class-action lawsuit filed against the VA in San Francisco, first reported by CBS News on Monday became known.


"Our suicide prevention coordinators are identifying about 1,000 suicide attempts per month among the veterans we see in our medical facilities," Katz wrote in a Feb. 13 email to Ev Chasen, the department's communication director. "Is this something we should (carefully) address ourselves in some sort of release before someone stumbles on it?"


Chasen responded: "I think this is something we should discuss among ourselves, before issuing a press release. Is the fact we are stopping them good news, or is the sheer number bad news? And is this more than we have ever seen before?"


CBS reported that the VA had provided it with data earlier that showed only 790 attempted suicides in all of 2007.


"How do we trust what you are saying when every time we turn around we find out that what you are saying publicly is different from what you are saying privately?" Murray asked Mansfield. "How can we trust what you are saying today?"


Mansfield responded that the situation was unfortunate and didn't "send the right message" to or the public. Mansfield continued, "the VA is spending $3 billion on mental health programs this fiscal year and has 17,000 mental health workers."


I look forward to vacation in my motor home with Susan, traveling to see the Country that possesses the artifacts and ruins of great Mayan civilizations. The wonders we will see again this year will be the same places but always new in the light of another day. I expect to drive to the Yucatan and then south to Chetamal, San Cristobel, Oaxaca, Monte Alban, Palanque, and several other locations that will materialize as we go.


I also know I will find any number of veterans out there seeking help on veterans Benefits. Lunar, my dog and friend, Harry's two Chihuahuas, Miggy and Pete, and Susan's cat and the road boss "Snake," slaps the dogs around just for fun. We have had a great year and are ready for some time together traveling through Paradise and helping veterans wherever we find them.
---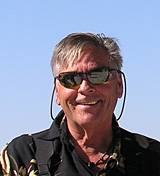 David Lord served in Vietnam as combat Marine for 1st Battalion 26th Marines, during which time he was severely wounded. He received the Purple Heart and the Presidential Unit Citation for his actions during the war in Vietnam. In Mexico, David now represents all veterans south of the U.S. border all the way to Panama, before the V.A. and the Board of Veterans Appeals. David Lord provides service to veterans at no fee. Veterans are welcome to drop in and discuss claims/benefits to which they are entitled by law at his office located at Bayside Properties, 160 Francisca Rodriguez, call him on his cell: 044 (322) 205-1323, or email him at david.lord(at)yahoo.com.
Click HERE for more Veteran Affairs with David Lord »»»
Tell a Friend
•
Site Map
•
Print this Page
•
Email Us
•
Top