Vallarta Living | Art Talk | June 2008
Why the Guggenheim Won't Open a Branch in Guadalajara

Jason Edward Kaufman - The Art Newspaper
go to original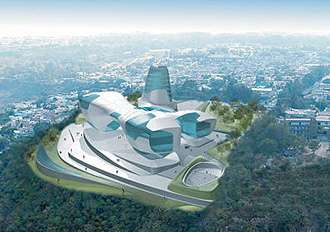 Asymptote's entry in the 2005 competition for the Guggenheim in Guadalajara imagined the museum as an undulating mass rising from four sculptural corner volumes, with a central atrium acting as an "urban balcony." A computer-generated ceramic tile would have covered the steel. (Asymptote/Hani Rashid, Lise Anne Couture)

New York - The Guggenheim Foundation's proposal to build a museum in Guadalajara has failed because the foundation's director Thomas Krens refused to scale down the project to fit Mexico's art budgets, says Guadalajara businessman and art collector Jorge Vergara.


Mr Krens says that Mr Vergara has "absolutely nothing to do with our project in Guadalajara". However as a powerful figure in the region — Mr Vergara owns the nutrition and cosmetics company Omnilife, four football clubs, and produces films — he is in a position to offer an insight into the processes that have resulted in the impasse.


He says that Mr Krens insisted on a project comparable to the Guggenheim Bilbao, with a $170m construction budget and a $20m fee to the Guggenheim, both of which are far more than the government and private backers in Mexico could afford.


The project began in 2004 when a private consortium in Guadalajara hired the Gug­genheim to undertake a $2m feasibility study for a branch, which was envisioned as a tourist destination that would transform the capital of the state of Jalisco. Mexican architect Enrique Norten won a competition to design a 24-storey tower. When the City approved donation of the land in 2007, officials predicted the museum could be completed in time for the Pan-American Games scheduled for Guadalajara in 2011.


As recently as March of this year, the director of the Guadalajara Capital Cultural consortium, Fernando Fernandez, told a local newspaper that he remained optimistic — however the project has now stalled. "We finished the feasibility study three years ago and have had no contact with the client for more than 18 months," says a Guggenheim spokeswoman.


Guadalajara officials estimate the total costs for the proposed museum could top $300m, but according to news reports the consortium had lined up only $4m in pledges by spring of last year. Mr Vergara says a building of no more than $30m might be possible, and that the fee would have to be reduced if the project were to move forward.


The Guggenheim Foundation has always sought to construct architecturally significant satellites with the capacity to host the foundation's large-scale travelling exhibitions. It proceeds with projects only when there is secure and ample funding to complete and operate them.


Meanwhile, the Guggenheim recently announced that Mr Krens would step down as head of the foundation as soon as a successor is named, and he would consult on international projects, most notably the Guggenheim's Abu Dhabi outpost, designed by Frank Gehry and scheduled to open in 2012.
Tell a Friend
•
Site Map
•
Print this Page
•
Email Us
•
Top