Vallarta Living | June 2008
Adiós Olas Altas

JOY! - PVNN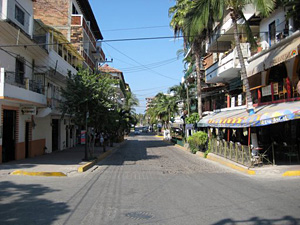 Olas Altas is one of the most popular areas in Puerto Vallarta and a favorite gathering place for a cosmopolitan blend of locals, foreign residents, and international travelers.

Sitting at my 'main office' Café San Angel on Olas Altas, sipping a Yelapa smoothie, avoiding the final stages of packing, taking in the sights and sounds of Vallarta even more deeply than usual. Everything becomes so poignant when you know you might not see it again.


Smartly dressed Mariachis are strolling and strumming. Next door at Apache's, Mary-Ann is holding court with regal grace, Chewy, dressed more outrageously than usual, dances up and down the sidewalk sweeping passersby into a mid-sidewalk jig, while the irresistible Freddy charms men, women and babies alike.


Across the road by the best taco stand in town – the one outside Pekin Restaurant - a young father kisses and tickles his baby until she laughs with delight. There is nothing more wonderful to watch than the Mexican family, especially the fathers with their children. Nine times out of ten it's the Dad holding the baby, the children here are so loved!


A mate of mine once coined a phrase that stuck with me: "As happy and well behaved as a Mexican child." Randal, what's your Mexplanation for the magic of the Mexican family? I was here six months before I heard a baby cry!


Kayte and I were marveling as we watched one family, the children aged roughly 2, 6, 8, and 13 were playing so beautifully and patiently with each other, truly enjoying one another's company. Such a stark contrast to most North American children. "Why is it so different here?" we asked each other as we watched the young teen playing catch with the younger children, everyone helping the 2 year old to be a part of the game. We still don't know and would love any insights you might have.


The bird trill whistle of the knife sharpener sends me into advance nostalgia for Vallarta's different sounds. The blaring honk of the gas truck, the shrill whistle of the agua vendors, the clanging and banging of the garbage men, barking dogs, crowing roosters, even Banda music, heaven help me I never got used to Banda music, but somehow I think I'll miss even that.


OPCs are hustling "Hey lady where you from?" Kids are selling "chiclets" and bobble-headed magnets, crones are selling roses to the ever present, always touching lovers. This is my favourite street in the whole world.


I love coming out of my jungle apartment at the very end of Olas Altas, standing at the top with the ocean on my left and directly in front of me, bougainvillea blooming all around me, cobblestones under my feet as I begin the walk down. Past Picnic, still the best chicken in town; past Blu where Len, Miguel or Clay will usually be out having a smoke at their makeshift sidewalk table, past the taxi ranks "No gracias", being cheerfully greeted by name at least half a dozen times in each block. I love being part of this sweet little Old Town community.


Perhaps I'll stop at Page in the Sun to swap a book or two. Sometimes I'll walk straight down to my 'corner office,' D'Fever Café, where I donated most of my books today, they are selling them and giving the money to R.I.S.E. D'Fever has come ahead in leaps and bounds in the last few months and David the orange cat now has a namesake who is a dab hand at the outside grill.


It's a different feel at this other end of Olas Altas by Parque Lazaro Cardenas, lovely to chill amongst the ferns and be served by Oscar whose beautiful smile lights the whole place.


I don't have internet at home, a deliberate choice or I'd be too tempted to never leave my nest. I do most of my online work at Café San Angel, D'Fever, and Mami's - my 'central office' in Plaza Romy.


I'll stop to check in on my favourite vendors along the bottom end of the Parque and say "g'day" to persuasive Pede who'll be ushering folks away from Burros and into Canto del Mar, and will always take time for a hug hello.


Next to Pede's place, Adrianna and Benjamin have opened a fabulous new spot that makes it even harder to leave; Fuego en La Playa. Yes folks, FINALLY, just as I leave, there's Fire on the Beach. Adrianna's food is as excellent as ever but it's the atmosphere that really makes it, she's invested in some seriously comfy furniture so you can sit on the beach in style, and right by the surf line they have a big old bonfire with a circle of chairs and a circle of tiki torches. As I sat there tonight with new friend Ginger I realised this is what's been missing from Vallarta, it just ain't a real party on the beach without a fire.


On the way home I stop at Andales for a dance, I just can't go past that music, then, for the last time, I make the climb back to my denuded jungle nest. Sigh. I'm going to miss Olas Altas, but its time for grander adventures on different shores. Hasta luego amigos, thanks for the memories, keep in touch.
---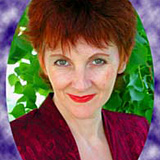 JOY! Is an internationally acclaimed life transformation coach, famous for her unreasonable success in helping people move through their challenges with her unorthodox approach and emPOWERment tools. For more information, visit her website ExperienceJoy.com.
Click HERE for more articles by JOY!
Tell a Friend
•
Site Map
•
Print this Page
•
Email Us
•
Top