Americas & Beyond | July 2008
Keys Angler Sets the Pace in Day 1 of the IGFA Inshore World Championship

Pete Johnson - igfa.org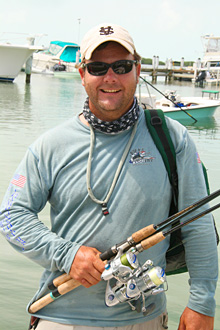 Day One leader John Timura, Islamorada, is all smiles after scoring 600 points on the releases of three snook and three redfish, all on artificial baits in the Flamingo area of Florida Bay. Timura was also part of the winning team in May that won the IGFA Offshore World Championship in Cabo San Lucas, Mexico. (Adrian Gray/IGFA)

Local Keys angler John Timura is atop the leaderboard among 32 world class fly and light tackle champions, after releasing three snook and three redfish for 600 points after the first day of the IGFA Inshore World Championship.


Dubbed the "super bowl of inshore fishing," the International Game Fish Association's celebrated catch-and-release format features the anglers stalking the surrounding Florida Bay waters for bonefish, tarpon, permit, snook and redfish.


The three-day eighth annual IGFA IWC runs through Wednesday, July 2.


Timura, Islamorada, caught all six of his fish on either artificial shrimp or jerk baits. He was guided by Capt. Mike Hutchinson, Miami Springs, Fla. who he credited with spotting the redfish during the hot, humid and sometimes overcast day.


Qualifying for the championship by winning the Mercury Baybone Celebrity Tournament last year in Key Largo, Timura has his sights set high.


"My goal is to score three slams (three fish of all five species) and I'm two-fifth of the way there," he chuckled. "I have 18 hours to score three permit, three tarpon and three bonefish."


In second place with 500 points is Art Bokor, Robbinsville, N.J. who like Timura fished the Flamingo area below the Everglades, releasing three snook and two redfish. He was guided by Capt. David Denkert, Tavernier, Fla.


In third is Mark Cooper, Aurora, Colo., with 450 points with three snook on fly. The former NFL lineman for the Denver Broncos and the Tampa Bay Buccaneers said he plans to fish the fly division throughout the event. He was guided by Capt. Larry Syndor, Key Largo, Fla.


In fourth place is Troy Pruitt, Naples, Fla., with 350 points releasing two permit on bait using circle hooks. He was guided by Capt. Eric Herstedt, Homestead, Fla.


The anglers gained entry winning one of over 55 fly and light tackle IGFA tournaments during 2007 held in eight countries around the world representing nearly 3,000 anglers on four continents, vying to be in the "tournament of champions." Of the champions, 15 are first time invitees including anglers from Sweden, Uganda, Africa and Darwin, Australia.


Defending champion Robert Collins, of Naples, and Islamorada, Fla., is tied with several anglers at 300 points after catching two redfish and a 39" snook each on artificial baits. Collins, who was guided by Capt.Ken Knudsen, Islamorada, also won the tournament in 2005. In May Collins and Timura were members of a five-man team winning the IGFA Offshore World Championship in Cabo San Lucas, Mexico, out fishing 63 teams from 27 countries.


Also with 300 points is Phil Clark of Darwin Australia scoring his points on three redfish, guided by Capt. Dale Perez, Tavernier. He qualified after winning the Northern Territory Barramundi Classic.


The anglers participated in a captain's draw matching a different guide and angler for each of the three days. Mike Myatt, the event's tournament director said, "To a degree the rotating guide and angler format relieves the 'home field' advantage and lends itself to maximizing not only the angler's strengths, but also the guide's."


The contestants are vying for timepieces in the prestige tournament. The four major award categories include: Grand Champion (the angler who accumulates the most points for all five targeted species); and first places in the fly, artificial lure and bait casting divisions. Trophies and merchandise for second and third place divisional winners as well as to the top three guides. The point value of the fish is determined by species and the angler's fishing preference.


The Islander Resort is the tournament headquarters, while fishing and daily scorekeeping takes place from the World Wide Sportsman marina. Both are located near mile marker 82.


The daily results of the IGFA IWC along with photos of the previous day's round is being posted each morning on the IGFA's home page at IGFA.org.


Sponsors this year include Mercury Outboards, Bacardi, Costa Del Mar, G. Loomis, Hook and Tackle, Islamorada Fish Co., Islander Resort, King Sailfish Mounts, Rapala, Shimano, Stiffy Push Poles, 3M Scientific Anglers, Reel Life Art by Pasta, World Wide Sportsman, Zane Grey Lounge, KD & G Sea Life Masterpieces, Redbone Gallery, Image Graphics 2000, Momoi, Diamond Illusion and Daiichi.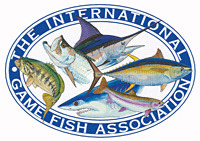 The International Game Fish Association is a not-for-profit organization committed to the conservation of game fish and the promotion of responsible, ethical angling practices through science, education, rule making and record keeping. It was founded in 1939 and has members in over 125 countries. The association welcomes visitors to their 60,000 square foot IGFA Fishing Hall of Fame & Museum in Dania Beach, Florida. The IGFA web site is IGFA.org.


For further information, contact Ms. Hartman at the IGFA, 300 Gulf Stream Way, Dania Beach, Florida 33004; (954) 927-2628; Fax (954) 924-4299; Email: DHartman(at)igfa.org.

Tell a Friend
•
Site Map
•
Print this Page
•
Email Us
•
Top