Americas & Beyond | July 2008
Former Champ Leads with 5-Fish Slam After Day 2 of the IGFA Inshore World Championship

Pete Johnson - igfa.org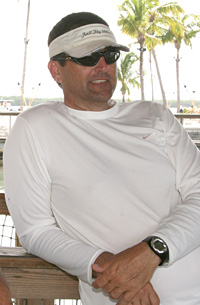 With one slam of five fish species under his belt Joe "Pepe" Lopez, Coral Gables, Fla. leads the eighth annual IGFA Inshore World Championship going into Wednesday's final round. (Adrian Gray/IGFA)

Joe "Pepe" Lopez, Coral Gables, Fla. the 2006 winner of the IGFA Inshore World Championship, became the leading angler after two days by catching and releasing all five tournament species to complete his first slam towards again reigning in the grand champion title.


The International Game Fish Association's celebrated catch-and-release tournament, nicknamed the "super bowl of inshore fishing," features 32 anglers from around the world stalking Florida Bay waters for bonefish, tarpon, permit, snook and redfish.


The three-day eighth annual IGFA IWC concludes on Wednesday, July 2.


Adding to his Day 1 total of two redfish and a snook both on bait, Lopez on Tuesday, guided by Capt. Bruce Stagg, Islamorada, caught and released one permit, two tarpon and three bonefish, all on bait to round out his scoreboard leading slam. "He needs a permit and a snook to complete his second slam," said IGFA IWC tournament director Mike Myatt.


That's what defending champion Robert Collins, of Naples, and Islamorada, Fla., is hoping for as well. Collins, who Monday had a 300 point day on two species (two redfish and a snook) had a better day Tuesday catching-and-releasing two tarpon on artificial, one permit on crab and three redfish all on bait. He's the only other angler with four species for a 925 point total.


"I'm hoping to get doubles on Wednesday of the remaining species we need to pull together two slams," said Collins, who was guided by Capt. Steve Friedman, Islamorada. Collins also won the this tournament in 2005 added, "I think with this deep field of competitors it will take at least two slams, maybe three to win the grand champion title."


Also in contention is Greg Zaepfel, Williamsville, New York, who was "on fire" with Tavernier guide Capt. Steve Thomas, releasing three permit, three snook and three redfish on a variety of baits and artificial lures. Zaepfel, who won the Redbone @ Large Greater Niagara Bass-eye Celebrity Challenge in Buffalo last year to qualify said "they were in the right places at the right times."


"Yesterday I was looking for permit but never found them, but today we were looking for redfish and snook, but also found the permit." Zaepfel who didn't catch a fish Monday now has 975 points on the triple catches of the three species.


Mark Cooper, Aurora, Colo., widened his lead to three species in the fly division catching a redfish and a tarpon to add to his three snook on fly Monday. The former NFL lineman for the Denver Broncos and the Tampa Bay Buccaneers was guided Tuesday by Capt. Eric Herstedt, Homestead, Fla.


After releasing three snook and three redfish for 600 points Monday, first day leader John Timura, Islamorda stumbled in his goal of two slams, catching a single permit Tuesday.


The 32 anglers gained entry winning one of over 55 fly and light tackle IGFA tournaments during 2007 held in eight countries around the world representing nearly 3,000 anglers on four continents, vying to be in the "tournament of champions." Of the champions, 15 are first time invitees including anglers from Sweden, Uganda, Africa and Darwin, Australia.


The anglers fish with a different guide each of the three days based on a drawing the opening night. Myatt, said, "The rotating guide and angler format relieves the 'home field' advantage to a degree and lends itself to maximizing not only the angler's strengths, but also the guide's."


The anglers are vying for timepieces in the prestige tournament. The four major award categories include: Grand Champion (the angler who accumulates the most points for all five targeted species); and first places in the fly, artificial lure and bait casting divisions. Trophies and merchandise for second and third place divisional winners as well as to the top three guides. The point value of the fish is determined by species and the angler's fishing preference.


The daily results of the IGFA IWC along with photos of the previous day's round is being posted each morning on the IGFA's home page at IGFA.org.


Sponsors this year include Mercury Outboards, Bacardi, Costa Del Mar, G. Loomis, Hook and Tackle, Islamorada Fish Co., Islander Resort, King Sailfish Mounts, Rapala, Shimano, Stiffy Push Poles, 3M Scientific Anglers, Reel Life Art by Pasta, World Wide Sportsman, Zane Grey Lounge, KD & G Sea Life Masterpieces, Redbone Gallery, Image Graphics 2000, Momoi, Diamond Illusion and Daiichi.


The Islander Resort is the tournament headquarters, while fishing and daily score keeping takes place from the World Wide Sportsman marina. Both are located near mile marker 82.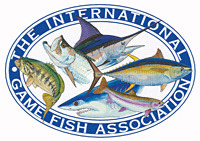 The International Game Fish Association is a not-for-profit organization committed to the conservation of game fish and the promotion of responsible, ethical angling practices through science, education, rule making and record keeping. It was founded in 1939 and has members in over 125 countries. The association welcomes visitors to their 60,000 square foot IGFA Fishing Hall of Fame & Museum in Dania Beach, Florida.


For further information, contact Ms. Hartman at the IGFA, 300 Gulf Stream Way, Dania Beach, Florida 33004; (954) 927-2628; Fax (954) 924-4299; Email: DHartman(at)igfa.org.

Tell a Friend
•
Site Map
•
Print this Page
•
Email Us
•
Top